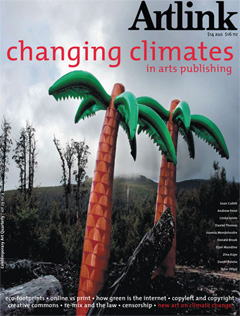 Changing Climates in Arts Publishing
vol 29 no 4, 2009
In a world where newspapers and journals are being replaced by online versions, and traditional copyright is being challenged, many new scenarios present themselves. Artists and publishers are being asked to make choices and address questions that are environmental, technical, aesthetic, legal and financial all at the same time. * carbon emissions from print/online content * should all content be free * effect of re-mix and Creative Commons on creators' rights * search engine uses of arts content * catalogues and zine publishing * art biography as online data bases emerge. Powerful climate change imagery, new work by emerging and established Australian artists, flows through the pages. Plus bonus review section: 17 recent books & catalogues. Based on the Changing Climates in Arts Publishing forums organised by Artlink in Adelaide and Sydney in 2009 More on the forums including programs and vodcast. Discussions of a lively team of experts, writers, artists, copyright lawyers, arts publishers, activists: Zina Kaye, Elliott Bledsoe, Linda Jaivin, Daniel Thomas, Tess Allas, Joanna Mendelssohn, Sean Cubitt, Tamara Winikoff, Andrew Frost, Donald Brook, Lisa Havilah, Djon Mundine, Zoe Rodriguez, Bill Morrow.
You are here
»
Artlink
»
vol 29 no 4, 2009
»
Lean, mean and living dangerously
Lean, mean and living dangerously
Joanna Mendelssohn, feature
Associate Professor of Fine Art at the College of Fine Arts, Uni of NSW, Joanna Mendelssohn analyses a slice of the current state of art publishing in Australia from reviews in newspapers to the DAAO (Dictionary of Australian Artists Online - now rechristened Design and Art of Australasia Online).
---
Subscribe to the Artlink newsletter now