Shelter: On Kindness Curators: Suzanne Davies with Vanessa Gerrans and Sarah Morris RMIT Gallery, Melbourne 25 September – 25 October 2009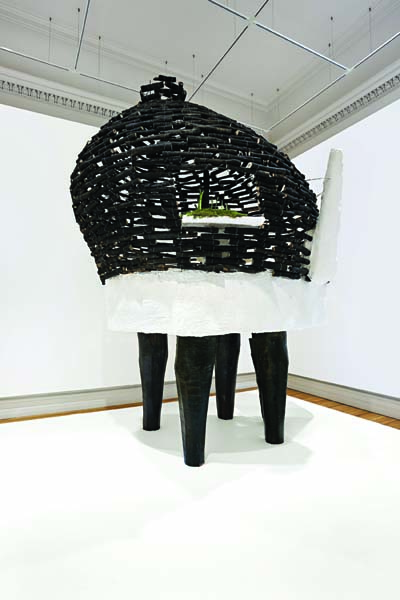 An exhibition initially posed around the question of what forms of shelter will be desirable in the future, evolved to intersect with the ideas of Adam Phillips and Barbara Taylor's book On Kindness; an amalgam which resulted in a fascinatingly diverse group of installations by more than fifty contributors covering multiple disciplines of architecture, art, writing and philosophy.
The methodology devised by the curators, encompassing a broad framework where the commissioned participants were given two reference texts - one by Adam Phillips and one by Murdo Macdonald, signifies a purposeful shift away from the dominant curator narrative, and resulted in remarkably different responses to the concepts of shelter and kindness. Indeed, coming out of this exhibition, I felt as if I had been taken through a spatial journey of cultural, historical and philosophical dimensions. The experience, while intellectual, combined sights, touch and smell to make it also entirely sensorial; the lack of elaborate wall text also gave viewers the freedom to explore the works without overwhelming explanations.
Three large monuments in the first gallery contrast spectacularly in mood and materiality. Greg Burgess and Pip Stokes' collaborative work SENSE (2009) is a yellow curved igloo-like structure, which on closer inspection is two overlapping circles creating a third space. When walking through the golden bricks, the subtle aroma of honey becomes noticeable and discloses the material as beeswax. The open, transitory space acts as a passage while the floating cloud above it perhaps addresses the human (and animal) desire for nature and the need to be close to it - a combination of shelter and openness offer freedom from each other. SENSE, evoking the beehive not only through the materials used but also through its construction - bricks being an abstraction of the honeycomb's hexagonal cell - parallels the communal society of bees with human cooperative and interdependent structures, both physical and social.
The colours and warmth of SENSE were in stark contrast to Lab Architecture Studio's Safe-House (2009), a maze of seven metal panels draped on one side with folds of felt out of which plastic cable ties protruded, which delved into darker, psychological realms. Each panel represented a specific personal story or account. One, titled Diary of a Young Girl (Anne Frank), has a passage from Anne's diary engraved on its metal back. Her words express the possible ambiguity of shelter – Anne's shelter or safe-house was at once a prison, where she endured years of confinement, but simultaneously a hiding-place from Nazi raids. All of the panels represented specific shelters, fictional or real, which have provided protection from fear and the outside world, but also point to notions of unkindness.
March Studio's 4" x 2" Nest (2009) was a Jenga-like tower of timber, seemingly impenetrable and solid, but hiding a hollow centre with benches and a light (representing the hearth?). It was a cosy space; an interpretation of non-man-made shelters such as cocoons, dens and nests. The idea of being concealed but able to peek out continued with Teranobu Fujimori and Jun Sakaguchi's BLACK TEA HOUSE: A memorial to the 2009 bushfires. The teahouse, constructed from salvaged, scorched wood from the Victorian bushfire-affected area of Kinglake, was accessible from below via a ladder into a space raised off the ground (a distinctly Fujimori take on the traditional Japanese teahouse). The blackened wood was used as a reminder of the bushfire devastation, while a small ledge of green plants symbolised regeneration and the phoenix-like capabilities of nature and humans alike.
The idea of a dedicated space for sharing tea and conversation is a warm, positive idea; drinks and food often characterise hospitality. John R. Neeson's Bowls (2005/09) consisted of 6 paintings of enlarged white bowls; vessels of kindness. The begging bowl or the act of serving someone something in a bowl invokes kindness. This act of doing something for someone else was reflected in Charles Anderson's Untitled (2009) where illuminated photographs, forming a mosaic-like rooftop, are images of different ceilings under which the artist has slept in the last 15 years. This work engaged with ideas of shelter and with care, and cleverly combined the dual concepts of the exhibition – both emotional and material shelter.