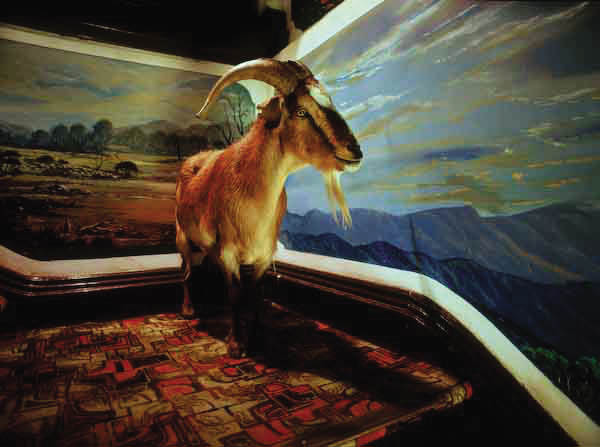 NSW
Australian Centre for Photography, Sydney
29 January 2010 - 6 March 2010
Mind Games: Photography, Identity and
Play: Eric Bridgeman, The Jackson Twins,
Suk Kuhn Oh, Toshie Takeuchi. Exploring
four diverse cultures, the psychology of
play and the construction of identity.
Australian Centre for Photography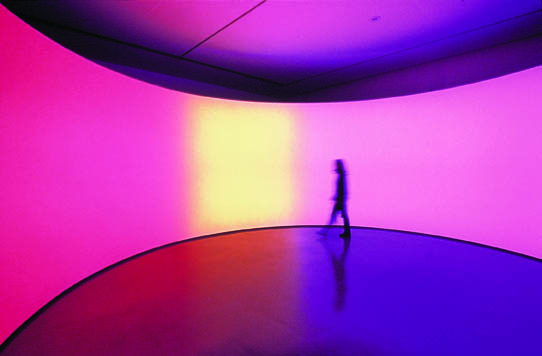 Macquarie University Art Gallery, Sydney
7 December 2009 – 12 February
2010 Located Aesthetics (Experiments
Between Art and Ethnography) Curator:
Jennifer Deger. Examples of creative
collaborations between anthropologists
and indigenous people in arenas
from remote communities to urban environments.
Macquarie University Art Gallery

New Media Space - Western Plains
Cultural Centre, Dubbo
24 October 2009 - 31 January 2010
The Line of Lode & Death of Charlie Day:
Angela Mesiti. Video about social groups,
animal and human, that inhabit an
Australian outback town. The bike-riding
scene was developed out of a workshop
involving 12 kids from the Broken Hill
PCYC Youth Club.
Western Plains Cultural Centre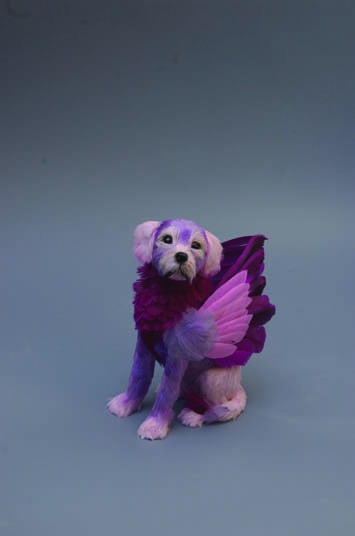 Artspace, Sydney
29 January 2010 – 27 February 2010
Camp Pell lectures: A set of orations
and evidentiary images on a parkland
and its utility. The result of a two-year
collaboration between Tony Birch and
Tom Nicholson involving multiple
volunteer collaborators reading aloud and
in silence.
Artspace

MCA, Sydney
Dec 2009 - April 2010
Take your Time: Olafur Eliasson. An
immersive survey by Icelandic-Danish
artist Olafur Eliasson, curated by MoMA
(San Francisco) in 2007, shown to wide
acclaim at MoMA and PS1 in New York in 2008.
MCA


QLD
Artspace Mackay
18 December - 31 January 2010
Local studies: Fiona MacDonald. Fiona
MacDonald's major creative focus has
been the archives from her hometown
Rockhampton often drawing on folk
traditions such as weaving and collage.
Artspace Mackay
QUT Art Museum
31 October 2009 to 31 January 2010
footnotes of a verdurous tale: Sebastian Di
Mauro 1987-2009. Survey of recreations as
well as new works.
QUT Art Museum
Cairns Regional Gallery
11 December 2009 - 31 January 2010
Talking Tapa: Pasifika Bark Cloth in
Queensland. Curator: Joan C Winter.
Tapa in the context of families, their
homelands and new homes in Brisbane.
Cairns Regional Gallery

Caloundra Regional Gallery
20 January 2010 – 7 March 2010
The Promised Land: The Art of Lawrence
Daws. Six decades of work by Lawrence
Daws from leading private and public collections.
Caloundra Regional Gallery

TAS
Academy Gallery, Launceston
12 February 2010 – 28 March 2010
Prosopography: Inflight ARI.
Prosopography is an investigation of the
common characteristics of a historical
group by means of a collective study of
their lives.
Academy Gallery
Burnie Regional Art Gallery
12 December 2009 – 7 February 2010
UnStill Life: Christl Berg, Junko Go & Alison
Thomas. Three artists from different ends
of Tasmania, examine local flowers and
other plant life.
Burnie Regional Art Gallery
Carnegie Gallery
26 November – 1 January 2010
Light & Shade: Chantale Delrue &
Lorraine Biggs. Large works on paper and
installation that exploring the artists'
concerns about the Tasmanian forests.
Carnegie Gallery
Criterion Gallery, Hobart
12 March – 3 April 2010
Ceramic Surgery: Adam Geczy and Jan Guy
A comment on biogenetics and its
relationship to endangered species.
Criterion Gallery

ACT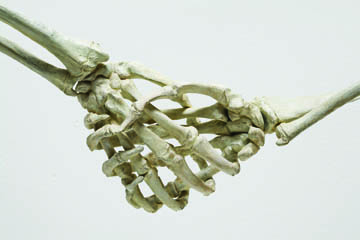 National Gallery of Australia
4 December 2009 – 5 April 2010
Masterpieces from Paris: Van Gogh,
Cézanne Gauguin and beyond
A hot masterworks show of 112 works
from the Musée d'Orsay.
National Gallery of Australia

Craft ACT Gallery
11 February 2010 - 20 March 2010
Emily Valentine. Through the use of
feathers combined with recognisable
animal forms, Valentine looks at the
cross-pollination of animals with machines.
Craft ACT
Canberra Glassworks Gallery, Kingston
3 February 2010 – 11 March 2010
Brian Corr The elements of volume,
void, light and shadow highlight the
contemplative nature of glass.
Canberra Glassworks

NT
Museum and Art Gallery of the Northern
Territory MAGNT
21 November 2009 - 14 March 2010
Beautiful Beasts From the MAGNT
Collection, artworks from Indigenous
and non-Indigenous Australians as well
as Indonesian and Papua New Guinean artists.
MAGNT
Araluen Arts Centre
20 November 2009 – 31 January 2010
Other side art: Trevor Nickolls. A survey
of paintings and drawings 1972-2007.
Curator: Michael O'Ferrall. Paintings and
works on paper from public and private
collections across Australia.
26 October 2009 – 31 Jan 2010
Paper Cuts From the collection, eccentric
and innovative works on paper from
1950 to 2008 by non-Indigenous artists.
Includes Christine Godden, Rod Moss,
Myrtle Noske, Sally Mumford, John
Wolseley, Mike Parr, Helen Geier and
Alison Alder.
Araluen Arts Centre

VIC
Tarrawarra Museum of Art
21 November 2009 - 14 March 2010
George Baldessin Curators: Elizabeth
Cross and Maudie Palmer. Paintings
and drawings as well as etchings and
sculptures, rarely seen works from public
galleries, private collections and the
artist's estate.
Tarrawarra Museum of Art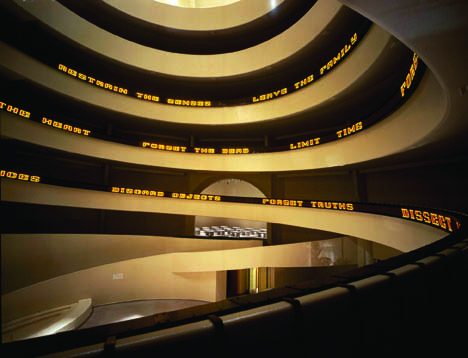 Heide Museum of Modern Art
24 November - 8 April 2010
Cubism & Australian Art. Curators: Sue
Cramer & Lesley Harding. Over 200 works
by more than 80 artists from the 1920s
to the present exploring the influence of
Cubism on Australian art.
Heide Museum of Modern Art

NGV Australia
16 October 2009 – 28 February 2010
The bricoleur: Ricky Swallow. Curator: Alex
Baker. Iconic carved wooden sculptures
as well as a range of new works in wood,
bronze, plaster and on paper.
NGV Australia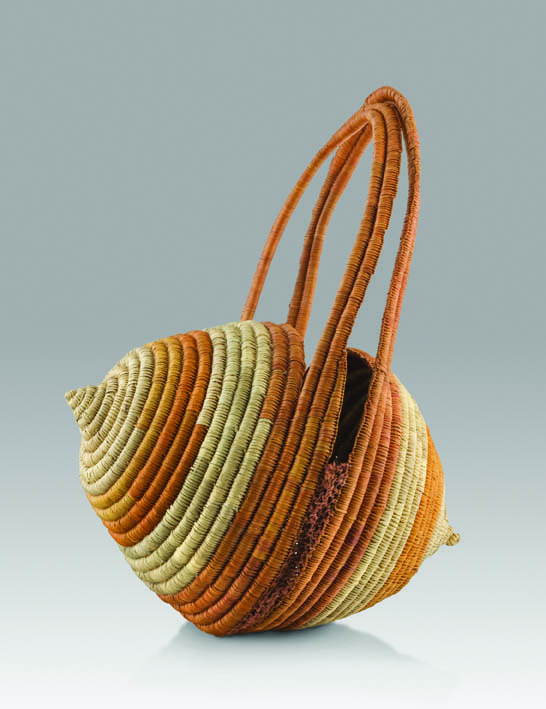 NGV International
16 October 2009 – 4 April 2010
Re_view Curator: Isobel Crombie. The 40th
anniversary of the NGV's Photography
Collection, a selection of 36 key works
spanning the medium's history from the
1840s onwards.
NGV International

ACCA
17 December 2009 – 28 February 2010
Survey: Jenny Holzer. Paintings, LED
installations and a new projection of
moving poetry for ACCA's main exhibition hall.
ACCA

WA
Moores Building Contemporary Art Gallery
5 - 18 December 2009
Displacement and Belonging: Peteris
Ciemitis, Lidija Dombrovska-Larsen,
Selga Esots, Indra Geidans, Maija Kins,
Gabrielle Mazalevkis, Maris Raudzins,
Lolita Skye-Lark, Arvids Sodums, Len
Zuks. Curator: Judith Hugo. Marking the
60th anniversary of the arrival in WA of
thousands of Displaced Persons from
Latvia. Art by their descendants.
Moores Building Contemporary Art
Gallery
Central TAFE Art Gallery
6 February 2010 – 6 March 2010
CONTAINED: Cecile Williams. Artworks
derived from stories of residents
of Christmas Island, mostly the Malay
and Chinese population, made with the
plastic waste and relics which wash up on
this remote shore.
28 November 2009 – 24 January 2010
Revelations: contemporary visions of
apocalypse Curator: Thea Costantino.
Six Western Australian artists Tori Benz,
Pia Bennett + Joshua Fitzpatrick, Travis
Kelleher + Andrew Nicholls, and Ryan
Nazzari investigate themes of collision,
disruption and dislocation inherent to the
Apocalypse.
Central TAFE Art Gallery

PIAF Perth International Art Festival
PICA and Perth Cultural Centre
12 February – 5 April
Jeppe Hein: Appearing Rooms. Danish
artist Jeppe Hein's ever-changing outdoor
sculpture.
PIAF
Lawrence Wilson Gallery, UWA
21 February – 2 May
Aernout Mik: Touch, Rise and Fall.
Panoramic video projection casting an
intimate eye at airport life.
Lawrence Wilson Gallery

SA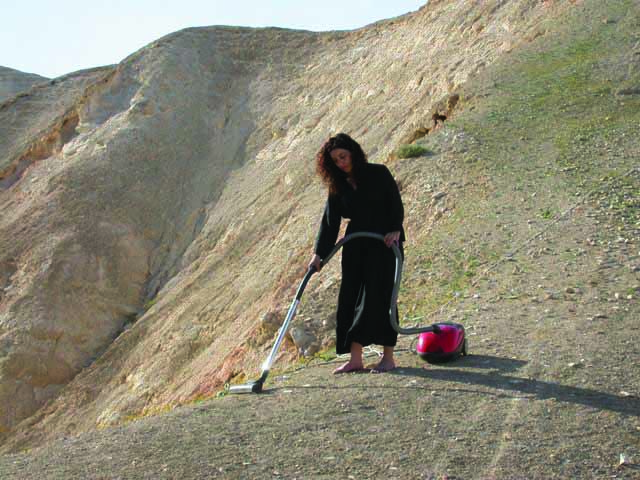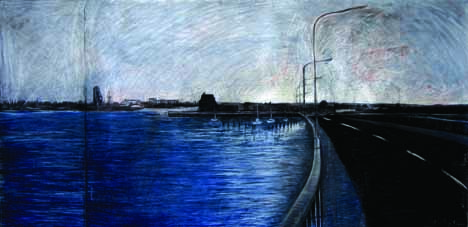 Art Gallery of South Australia
4 December 2009 – 31 January 2010
Bravura: 21st Century Australian
Craft Curator: Robert Reason. From
the collection, a survey of Australian
contemporary decorative arts in the 21st
century reflecting on notions of place.
Art Gallery of South Australia

ADELAIDE FESTIVAL OF ARTS
2010 Visual Arts
26 February 2010 – 14 March 2010
ADELAIDE INTERNATIONAL 2010: Apart, we
are together Program Curator: Victoria
Lynn. Thirteen artists from outside
Australia over five venues.
ARTISTS' WEEK
26 February – 1 March 2010
Four days of free talking. Keynote
speakers: Gerald Raunig, Lucy Orta, Geert
Lovink, Michael T. Taussig.
Adelaide Festival of Arts
Tandanya
25 February – 2 May 2010
Putsch. The proppaNOW collective of
Queensland Indigenous Artists confront
racism in Australia.
Tandanya
SASA
26 February 2010 - Friday 26 March 2010
Series and Transformations: Anton Hart
and George Popperwell. A critical dialogue
about contemporary art, its place within
culture and in the possibility of forming
new beginnings.
SASA Gallery

Prospect Gallery
Event 19-23 January 2010, Show 7-28
February
Line Up 2010, A contemporary drawing
project facilitated by Laura Wills, Annalise
Rees, Brigid Noone, Thom Buchanan and
Rohan Fraser.
Prospect Gallery
4th Palmer Sculpture Biennial, on site
and at Murray Bridge Regional Gallery
7 March 2010 – 13 March 2010
Opening at noon on March 7, a site -
specific outdoor sculpture biennial, with
work by 24 artists from South Australia,
Australia and offshore. Includes the Short
Ladies Make Landscape Art Collective.
Palmer Sculpture Biennial
Fantom Gallery, Ebenezer Place
27 February 2010 – 12 March 2010
Format Festival: Let Me In . Two
weeks celebrating new participatory
culture practices with exhibitions,
workshops, projects, zine fair.
Conference guest Daniela Swarowsky's
film presents an open dialogue
around the idea of paradise.
Fantom Gallery