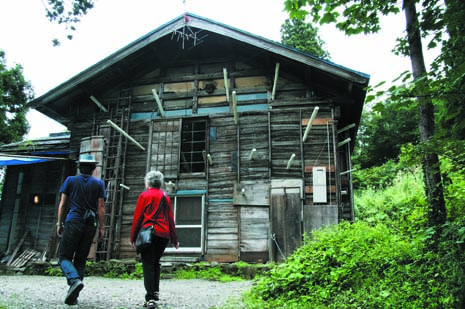 Changing the world
Echigo-Tsumari is a remote mountainous region in Japan which hosts a Triennial of contemporary art unlike any other. It happens in a large rural area which has gradually lost population to the point now where the majority of people are over the age of 65 and to see a child is a novelty. The most recent edition of the 'Echigo-Tsumari Triennial', the fourth, ran from July - September 2009 and amongst the 300-odd artists were several from Australia. Art was sited on the sides of hills, in rice paddies, forests, gardens and restaurants, but by far the most numerous sites for the works of art were abandoned houses and empty schools.
With nine days in the area, Artlink Executive Editor and Chair traversed the mountains, valleys and tunnels of this drop-dead gorgeous region of 350km2, gaping at the sheer scale of this event and the impact it is having on the socio-economic climate of a place which 10 years ago was teetering on the edge of collapse through depopulation.
The 'Echigo-Tsumari Triennial' attracts proposals from the world's top artists – Anthony Gormley, Marina Abramovic and Christian Boltanski are just a few. Australia's Hossein Valamanesh's haunting 'In Memory of Snow' was installed in a forest in the 2003 event.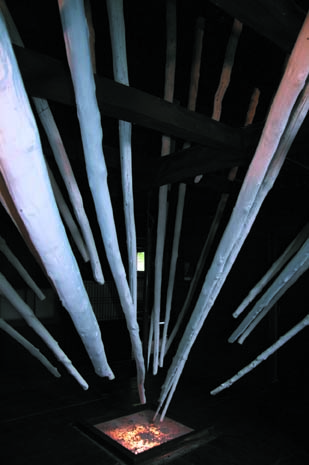 This year Asialink, the Australian Embassy in Tokyo and the Australia Council joined forces to sponsor a new site, with residencies for Alex Rizkalla, Lucy Bleach and Richard Thomas. The project included the renovation of one of the old wooden farmhouses for hosting the artists and the resulting work, and subsequently opening the house to the public. Sitting on the side of a lush green slope looking over a deep valley and some distance from the nearest tiny hamlet, it is goes by the name of Australia House. Another Asialink resident, Cass Matthews, arts lawyer from Sydney with prior Japanese experience, acted as an essential facilitator between the Embassy, the Triennial curators, the artists, the media and the community. The House is simultaneously remote, exotic and hospitable. Visitors to the Triennial reach the sites via one of four special tour buses which run daily day-long tours throughout the event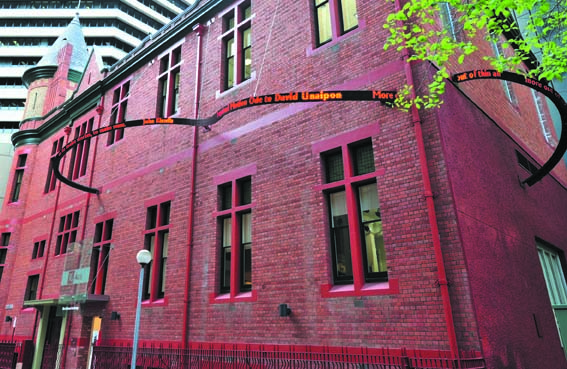 We interviewed a dedicated 85 year old volunteer host to visitors to Australia House, who took up rice farming when he retired from his job as a violin teacher at the local high school. He described life as a child in a mountain village as one of extraordinary harsh conditions, houses wedged in for five months of the year by 3m high snowfall – the open hearth in the floor the only source of heat. The installation by Richard Thomas took the hearth as its focus, with long white poles leaping out of it and piercing the thin cedar exterior walls. Alex Rizkalla used the simple beauty of the main room, all dark polished creaking floors, to display a collection of things Japanese, kitsch and otherwise, some collected in Australia, some in Japan, much to the amusement of local visitors, who were invited to participate in story telling sessions. In the next room Lucy Bleach created a new Shinto altar containing wax casts of the ears of local residents, and an illusory fishpond in the floor using video.
In the context of the role of art in effecting social change, Artlink plans to explore the work of legendary Triennial Director Fram Kitegawa in establishing and sustaining the 'Echigo-Tsumari Triennial', a model which he is now extending to other regions. We invite writers and others to contribute information on other enterprises world wide which attempt or achieve this.
Sculpture loving syndicate
Simon Gilby is a sculptor in Perth and like all sculptors he finds the costs of making bodies of new work can stymie the realisation of the ideas. Following a trend nurtured in WA where a group of collectors/artangels bankroll the artist to produce a pre-agreed limited edition print or a suite of paintings, a new group called simply The Syndicate has emerged – ten collectors in love with sculpture. Simon Gilby was their choice to produce ten life-size figures and the artist has been very busy for two years doing just that. www.simongilby.com.au. The works were launched at the Central TAFE Art Gallery in October 2009. (see review p.85)
The Syndicate has now invited the next lucky creator to produce a suite of works, mid-career WA sculptor Peter Dailey. Other WA patron groups are the Mark Howlett Foundation for WA artists to work for a year on a body of commissioned work and Art Angels for whose members Turner Galleries run three residencies each year where Australian artists produce new work.
Art Investment 50% tax break for small businesses
The Australian Tax Office has announced that for a short time small businesses (up to $2M turnover) are eligible to receive an investment allowance of 50% on new artworks but they must be purchased before 31 December 2009. Hurry!
ArtStart
If you cant find a patron or sell your work to a small business, and if you are recently out of art school and intend to make money from your art, rather than get a day job, try this newly announced Australia Council initiative to build stronger careers for artists: The ArtStart scheme offers grants of up to $10,000 to fund 'services, resources, skills development and equipment that help graduate artists to build an income-generating career in the arts practice they have studied.' You can't spend the money on actually making art. But you could buy a computer and an accounting program to record what you spend on your work... including GST.
There are two closing dates next year: 8 March or 26 October 2010
Two horns
'Jawun' are an ancient form of basket unique to rainforest people and made from lawyer cane. Artist and Girramay Traditional Owner Abe Muriata from the tablelands of far north Queensland finds that studying examples of these bi-cornual baskets from museum collections can add to the knowledge of the form that his grandmother taught him. Tineriba Gallery of Tribal and Fine Arts in Hahndorf in the Adelaide Hills is mounting a special exhibition of his work for the Adelaide Festival in March 2010.
Asialink
2011 is the year of cultural exchange between Korea and Australia. Mid 2009, Korean arts professionals, senior curators Sunjung Kim (Samuso Art Gallery, Seoul) and Seungwan Kang (National Museum of Contemporary Art, Seoul) travelled to Melbourne to participate in a strategic half-day discussion. Now, a delegation of visual arts people to Seoul in December 2009 – Sarah Bond, Visual Arts Manager, Asialink, leads the delegation comprising Alessio Cavallaro (ACMI), Amy Barrett-Lennard (PICA) and new director of Experimenta, Jen Mizuik – will continue the momentum. Their aim is to discuss future possibilities for new ventures in the visual arts between Australia and Seoul, meet with colleagues in museums/galleries and other organisations with a focus on specific new projects, and generally increase understanding of Korean visual arts and likely new pathways.
Awards: last drinks
• The '2009 Clemenger Contemporary Art Award' is the final exhibition in the series of triennials established by Joan and Peter Clemenger through a gift to the NGV in 1991. The last of the winners is sculptor Ah Xian with 'Concrete Forest 2: Sagittaria trifolia ?(Threeleaf Arrowhead)' 2008-2009. An invitational event spanning almost twenty years, the Clemenger has focused the public's attention on the achievements of Australian artists. A $50,000 award accompanied the exhibition and each artist given an honorarium to help create new work.
• Michelle Nikou and Amy Lawler are the winners of the Samstag Scholarships for 2010.
• Pam Hallandal is the winner of the $25,000 Dobell Prize for Drawing 2009 for her work, 'Tsunami'. The exhibition is held at the Art Gallery of New South Wales
Ticket to a mural
'After the Missionaries: arts in a bilateral world', our June 2009 issue, edited by Kevin Murray, included a section in which artists were asked to describe a hypothetical scenario to be undertaken in a third world country sister city. One of the most imaginative came from the Chilean Claudio Torres in which local artists would be invited to design a mural for a prominent rented ghetto wall, the winning design to be selected by popular vote.
Torres has based himself in Kenya for the last few years, working with local artists in the ghettos of Nairobi, so it was perhaps inevitable that he would decide to test his hypothetical. The only snag was the prominent wall, normally rented to corporate interests, costs money, more than he has, but not enough to be eligible for philanthropic trusts. So the resourceful Murray invented a neat way to raise the approx US$1300 needed by setting up a link on Craft Australia's 'Craft Unbound' website, of which he is the resident editor, and asking for small donations in the form of 'tickets' to members of the public to view the wall. Once the target is reached Torres and his friends will go forward with the painting. Read more and book your ticket at www.craftunbound.net.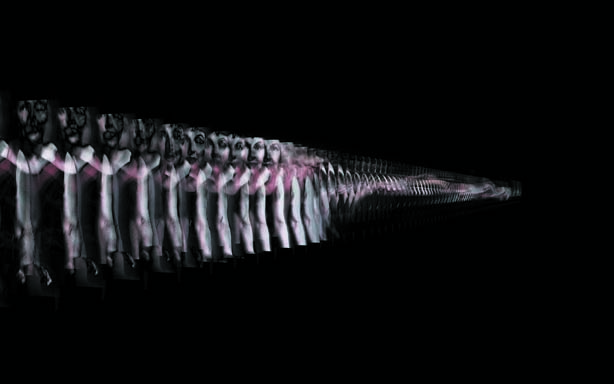 Art science technology
• RiAus opened its doors in Adelaide in October with a show of art and science works amid a gathering of art & tech old-timers all happy to finally be in a real venue where art and science can be debated, archived, and communicated. Sited in an impressive refit of the old Adelaide Stock Exchange building, RiAus, (Royal Institute Australia) is a science education centre, and a sister institution to the Royal Institute of Great Britain. RiAus will operate as a national entity hosting science and technology events anywhere and fostering public literacy in science. With the strong support and blessing of the SA Government and a link to the very successful Thinkers in Residence Program, it looks like making a real difference. Linda Cooper, is the curator selected the work of Joyce Hnterding and David Haines, John Tonkin and George Khut. A very successful public art work by David Kerr and Karl Meyer wreathes the buliding with a long ribbon of LED echoing ASX style display, which here will carry evocative texts on various subjects, starting with poetry by John Kinsella.
www.riaus.org.au/science/home.jsp

• The Edge is a new institution run by the State Library of Queensland. A classy new building on Southbank, it is dedicated to a youth based digital world, facilitating work by emerging artists and designers and supplying three fully equipped media labs, an auditorium for screenings, staff to instruct and mentor and a raft of other services to pump the best out of young Queensland talent. www.theedge.slq.qld.gov.au
Global or national?
The Experimental Art Foundation, the first contemporary art space established in Australia, has had a name change, adding the word 'Australian'. Irishman Noel Sheridan, its inaugural director in 1975, set an international agenda for the EAF and it quickly became a well-known node in a global network of spaces for risky new work along with The Kitchen in New York, De Appel in Amsterdam and Mercer Union in Toronto. EAF is now AEAF. Times may change, but it's hard to imagine these organisations willingly voting to become The American Kitchen or De Dutch Appel.
Arts Councils Summit
The Australia Council for the Arts was the successful bidder to host the 5th World Summit on Arts and Culture in October 2011 in Melbourne. Established to lubricate the joints of the creaky world of government arts policy, the Internatonal Federation of Arts Councils and Cultural Agencies (IFACCA) based in Sydney, moves the biennial summit around the 69 member countries. The 4th was held in 2009 in Johannesburg. In October IFACCA welcomed the Ministry of Culture of Qatar as its first member from the Middle East.
Summer Events
Hobart is where it's at for edgy music and art from 4 – 31 January 2010 for the 2nd MONA FOMA festival. This year's big attraction is the installation Dyddiau Du/Dark Days, and its creator, the legendary singer songwriter John Cale. The Festival of Music and Art is masterminded by David Walsh, founder of the Museum of Old and New Art which opens in 2010, and the curator of MONA FOMA, Brian Ritchie, aka the bassist with the legendary post-punk band the Violent Femmes. Punters will expect a program of dynamic, eccentric performances, in venues across Hobart and surrounds, including the wonderful Salamanca Art Centre.
People
• Janice Lally is taking on the public art portfolio at Adelaide City Council
• Jen Mizuik is the new Director of Experimenta in Melbourne
• Shaun Gladwell has been commissioned for the Australian War Memorial 2009 War Artist Scheme to work for a month with the Australian Defence Force in Afghanistan.
• Kristian Pithie is Director of the new private gallery of that name where Christine Abrahams Gallery used to be in Gipps St, Richmond.
• Michael Snelling is the new Chair of Artbank
• David Pledger, Artistic Director of the cross-artform company 'not yet it's difficult' is shifting to Brussels soon to take up his new position as Project Director of the Collaboration Project between the International Network of Contemporary Arts (IETM) – and the Australia Council. IETM is a unique European membership-based organization which facilitates contacts, exchanges and generally supports experimental performing arts.

Vale Emil Goh
The sudden death of Emil Goh from heart attack at the age of 43 leaves many in Australia and Korea shocked and bereft. Malaysian-born Goh, who first went to Korea on an Asialink residency and ended up settling in Seoul, was one of Australia's great ambassadors in Asia, an energetic artist, curator and publisher who was always ready to help and guide visitors around Seoul and facilitate introductions. His talent, charm and generosity will be greatly missed.
Vale Sue Ford
Sue Ford died in November in Melbourne after a long illness aged XX. She was a photographer whose various bodies of work, starting in the 1970s, became a beacon for an attitude of humanism in photography in Australia. One of her enduring interests was in picturing the human person as a time-based experiment, documenting aging, change and constancy.
Death of Nick Waterlow
As we go to press the horrific news about the murder of Nick Waterlow and his daughter on the night of 9 November 2009 is ricocheting around the artworld. Waterlow was a living treasure and leader of the visual arts community, a curator of three Sydney Biennale, Senior Lecturer at the College of Fine Arts in Sydney and Director of its Ivan Dougherty Gallery. He was universally loved and respected as a great mind, a mentor and teacher and this terrible event has untold ramifications.
From Tamara Winikoff, Director of National Association for the Visual Arts:
Warning bells after recent forum. Twit or Tweet?
Some of the attendees at the 'Revealing the Arts' forum in Sydney (26-27 Oct 09) came away with a sense of unease, especially because the event was jointly presented by two very powerful opinion shapers – the Australia Council for the Arts and the Australian Broadcasting Commission (ABC). As one person put it, 'There seemed to be an agenda which was anti-copyright and it needed balance. All we heard was a message from the don't ask/don't pay lobby.'
The two bodies have formed a partnership to 'deliver more arts content across the ABC's digital delivery platforms'. That's a great idea you will think. But there's a catch. Have a close look at the recently developed (June 2009) Australia Council strategy paper 'Arts Content for the Digital Era'. The general tenor of the document is encouragement of artists to embrace new technological methods of delivery. However, it contends '…digital content is designed to be reproduced and repurposed, not protected.'
The paper goes on to say 'audiences often expect digital content to be free' but 'this does not mean that artists should not get paid'. The cruncher is when responsibility is placed firmly on the artists to 'revisit existing business models to figure out who will pay them'. Is it realistic to expect generally financially stretched artists to individually negotiate a new way to earn income with the likes of the media giants ABC, SBS, Google and Amazon?
The afterthought to the forum by Australia Council CEO, Kathy Keele did include the following, 'For artists, a top priority is the re-evaluation of copyright and patent laws in the digital context and/or the building of realistic agreements between content producers and deliverers which recognise that artists should be paid. Why should all the profit go to the techno/supplier end of online? Too often, the artist is the first to be exploited in the rush to celebrate the great new access and democratic engagement of the digital experience. Some Twitterers at the forum anarchically enthused about throwing all texts, images and protections to the digital wind. But I'm concerned that a new media does not become a new opportunity for commercial exploitation.' http://www.australiacouncil.gov.au/news/news_items/kathy_keele_on_arts_in_the_digital_era