Silver Artrage 25 Curators: Andrew Gaynor, Marcus Canning Perth Institute of Contemporary Arts (PICA) 18 October 21 November 2008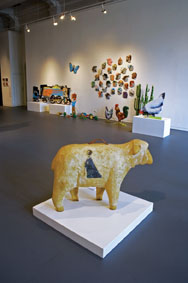 Artrage celebrated 25 years with a monumental exhibition surveying the artists who have been associated with the Festival, lovingly selected by curators Andrew Gaynor and Marcus Canning (also Artrage Honcho). The show, which relies upon sourcing new and old works from some 16 collections (plus artists and various collectors), jumps around all over the place in the most appealing way. While so many survey group shows are like flicking absently through a magazine never really finding a place to settle, 'Silver' is like going to a carnival and encountering favourite old rides as well as being diverted by the latest amusements.
Over the years, Artrage was the 'Fringe' of the 'Perth Festival', later an independent annual festival, and now a year-round program with its own venue. Thus Artrage has evolved into a key production company supporting contemporary culture in Western Australia. Like Artrage, the exhibition was full of joy and laughter and confirmed for me what fun art can be. The nostalgia was overwhelming for those of us who have been watching art in Perth as the show harks all the way back to 1983, reminding us with memory jolts of a stream of shows and past happenings. Recent examples featured were the very beautiful and silly 'Pet Photo Booth' by Justin Spiers and Yvonne Doherty in 2003; and Tom Muller and Stuart Clipston's 'Supermarket' art installation/shop 2003-2005 – its manifestation in Silver comprised life-size cut-outs of the two artists/curators in store manager suits and a compelling video sales catalogue featuring highlights from earlier showings of the artworks (on sale at knockdown prices). Documentation from a work 'Black and Gold Car: Artist Son, Mechanic Dad' from 1995 by Mick Hender and his Dad (assisted by Lucas Ihlein) expanded upon the consumer bent, whereby a Holden Gemini had been entirely deconstructed as an outdoor performance in the middle of the city, the components sold by auction after having undergone 'black and gold' label branding.
A number of major works greeted me at the door of the main space, a spray of artfully arranged coloured wooden ladders dominated the first room, bursting out of the floor and reaching for the sky of PICA's vast space. 'Climbing Ladders' by Paul Caporn and Tim Courtley was reconstructed from a previous incarnation at what was an Artrage hotspot, the now defunct Jacksue Gallery. I was tempted to test out this precarious arrangement but the sharp-eyed PICA invigilator stymied that.
Nearby a giant 15 metre mural, a scene of bloodshed and fiesta painted loosely on an army tarpaulin by Patrick Doherty, 'Taking a Gun to a Knife Fight', imposed itself across the room, setting the scene for a lively interaction. Jo Darbyshire's provocative 'Wildflowers', also painted on a tarpaulin dates back to 1994 but still confronts with its 'unashamed celebration of lesbian love, and brazen riposte to masculine 'ownership' of the great outdoors'.
A Rodney Glick replica of himself, seated on a milk crate in lotus position plus a few extra arms, sits in quiet contemplation amongst the outpourings of creativity like Christian de Vietri's wilting crowd control rope and posts, and Cecile Williams' 'Neighbourhoods', a creepy family of suspended masks fashioned from recycled jumpers. These particular works seem to sum up the quirky practice of each artist, their approach to materials, to making and to the world.
Looking down on all from aloft is Justin Smith's 5 metre billboard of Cate Blanchett as an amputee Madonna. I wondered whether she was enjoying the antics. Upstairs with Cate were hundreds more exciting new and old things posing as art. A giant urban art wall, the traces of opening night performances by Martin Heine and Peter Stafford, a look inside the strange head of David Watts, more films and the exhausting Silver timeline, referencing over 560 exhibitions with memorabilia and numerical links to some of the works displayed.
The room brochure tied artists together based on the Perth art institutions and eras from which they sprang but it didn't really matter if you knew any of this or any of the artists; the exhibition took the viewer on a rollicking roller coaster - they should have sold tickets!