avoiding myth and message: Australia artist and the literary world, Museum of Contemporary Art, Sydney 7 April 12 July 2009, curator: Glenn Barkley.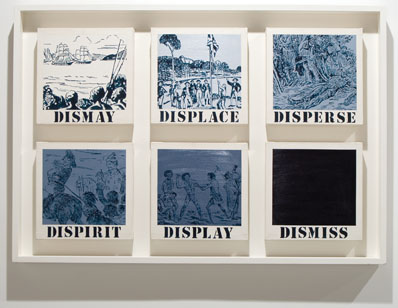 This exhibition explores the rich and varied links between Australian visual artists and the Australian literary world with a particular emphasis on poetry.
'avoiding myth & message: Australian artists and the literary world' is primarily an MCA collection-based project, augmented by selected loans from artists and local collections. The exhibition looks at some of the major themes within the Australian literary and visual traditions and considers where the two streams of creativity overlap: the landscape/interior, text and image, urban life, politics and the personal. The exhibition also includes ephemera, publications and media-based works produced by artists and publishers.
It explores artists who work or have worked in an illustrative mode; artists who use words and texts within their work; and practitioners who adopt a more poetic, narrative-based approach inspired by literature's ability to create a visual world based on language.
'avoiding myth & message' has its beginnings in the early 1970s where the intermingling of figures from the visual and poetic world was much more fluid than in the contemporary scene. The exploratory and innovative nature of art and workshop spaces in Sydney such as Inhibodress (an artist-run space initiated by Tim Johnson, Peter Kennedy and Mike Parr in 1970) and later the Tin Sheds (an art workshop complex attached to the University of Sydney), provided a supportive environment for the intersection of theory, art, music, performance and poetry.
Two works from this period by Mike Parr, 'Wall Definition' (1971) and the seminal conceptual artist's book, 'Black Box of Word Situations' (1971–91), will be displayed as they were in Inhibodress when first exhibited. Later key collaborative bookworks and journals such as 'Assembly Book', 'Magic Sam', 'Surfers Paradise' and 'Cocabola' will be included, as well as individual writer and artists' texts and publications, performance footage and works that trace the emergence of feminist, multicultural and gay voices within the literary and artistic scenes. This historical section will also include a number of texts reproduced straight onto the wall, as well as works by major figures within the Australian literary and artistic worlds, such as Tim Johnson, John Forbes, Tim Burns, Anna Couani, Vicki Viidakis, John Tranter, Pam Brown and Micky Allan.
A series of works will look at the influence of concrete poetry: a fusion of text and image, treating words, letters, punctuation and textual formatting as the medium of the work itself. Works can be resolved on the page; on the wall such as the work iz az ez oz (2008) by Melbourne-based concrete poetry pioneer Pi O; or in the case of the work by Christopher Dean 'Concrete poetry' (after Rudi Krausmann 1975) (1996 - 2009), on the floor. Its political potency is highlighted in Vernon Ah Kee's video, 'whitefellanormalblackfellame' (2004) and vinyl wall piece Many lies (2004) which has been specially reconfigured for the exhibition cascading down an 11 metre wall. Its more whimsical potential is addressed by Richard Tipping's 'Sydney Morning' folio (1989 - 94) covering over 25 years of work. A major reflector work by Rosalie Gascoigne 'Tiger Tiger' (1987) is also included, her collaged use of text sourced from reflective road side signage depicting a sort of 'stammering concrete poetry' .

The exhibition also includes a number of works by younger artists such as Patrick Hartigan whose work 'My Neighbour is a Painter' (2006–07) documents through text and objects the struggles of a neighbour who takes up weekend painting. Sandra Selig is represented by 'Surface of Change' (2007), a work created using pages from a children's science book that have had words removed, leaving a new kind of poetry; and the author/zinester Vanessa Berry who over a 12 year career has created over 120 zines, culminating in 2007 with the publication of her book 'Strawberry Hills Forever'. Of particular note is the inclusion of a recent gift to the MCA Collection, 'PORTRAIT OF MICHAEL DRANSFIELD' (2004–05) by Shaun Gladwell.
Public programs are an integral part of the exhibition and many of the works have a performative or interactive component. The project will also include poetry readings and a repeat of the successful MCA zine fair.