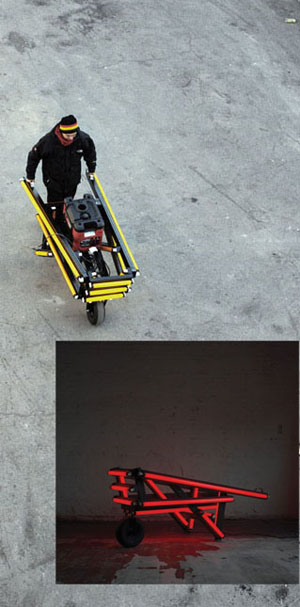 Gifts and largesse
" Allan Myers, a Melbourne QC, has given the National Gallery of Victoria a cool $6 million towards purchasing Asian art, both historical and contemporary, as part of its new $10m Asian Art Acquisition Fund, topped up by a cluster of other patrons and benefactors. This endowment should bring the Asian art holdings of the NGV up to scratch with its rivals in Brisbane and Sydney.
" Not to be outdone, the Art Gallery of NSW is getting a new wing – to accommodate the gift in April 2008 by John Kaldor of his celebrated Collection which is now worth around $35m. Thanks to a grant from the Belgiorno-Nettis family, a former storage area within the museum will be converted to the John Kaldor Family Gallery and a new offsite storage facility has been funded by the NSW Government.
The Kaldor Collection is the kind of gift an art museum can only fantasise about – one which brings more and great examples of the kinds of works they were collecting anyway. It comprises 260 international works by many of the big names of 20th Century art including Christo, Jeff Koons, Robert Rauschenberg, Sol LeWitt, Gilbert & George, Richard Long and Carl André. Kaldor, who started to collect art in the 1960s, came to prominence with the commissioning of Christo and his wife Jeanne Claude to wrap Little Bay near Sydney. This was before they wrapped an assortment of other large entities like the Reichstag in Berlin and covered the sea around a whole island in the Caribbean.
The Kaldor children grew up amongst large numbers of works of art by more or less unknown artists who are now expensively famous. The early range was eclectic in the way it encompassed American, Latin American, British and its strongest area – European art; it was consistent in that its focus was conceptual art, which was then of marginal interest to museums and dealers. Later the Kaldor Collection fanned out to include other areas including new German photography by Thomas Demand and Andreas Gurky and later still new Asian art.
As the decades rolled on, it was enjoyed by the Australian public in a range of special exhibitions and loans of works, contributing to the educating of professionals and the public alike.
" The Museum of Contemporary Art was awarded $10m by the NSW government towards a new $50m wing for education, more galleries and a better entrance. The MCA has raised another $15 in private donations and fundraising, including $5m from Foundaton Chair Simon Mordant. They aim to start building in two years.
" Adelaide Festival illuminations...
It was one of the strangest sensations of the so-called autumn in Adelaide. A darkened North Terrace filled with a throng of people in temperatures over 30 degrees at 10pm. They had come from far and near on a Friday night during the Adelaide Festival to look at buildings changing colour. Generously ignoring the large black boxes obscuring the view they stood patiently while the facades changed from puce to lime in the slowest of slow motion. During daylight, when the streets and footpaths thrummed to the beat of 40 degrees, the work of various well-respected international artists using light as a medium were presented in a range of the official Festival venues. But apart from the Russian AE+F's three-screen video Last Riot in the JamFactory which seems to have mesmerised all and sundry (except this humble blogger), there was no one show which captured the imagination. The danger of announcing a theme like 'light' is that if the work is not profound the theme will appear to have dictated the choices. The videos by the 'young star' Taiwanese artists in Penumbra at the Samstag Museum were impressively techo-competent but immature works. Visitor by Wang Ya-hui, a simple idea about a cloud which travelled through a house and then went back to the sky was entrancing. But the main installation, by Kuo I Chen, commissioned by the Museum, was conspicuously elaborate and his toy lunar landing paraphernalia and big projected moon image in the gloomy space did not seem to be going anywhere conceptually.
Iván Navarro at Greenaway was superbly engaging, witty and layered, bringing Bauhaus, Dan Flavin and the gritty reality of street life together. The video of a poor bloke in some forsaken urban zone wheeling his angular barrow with its glowing fluoro tubes powered by a portable generator in turn fuelled up by stolen petrol, speaks of the sad state of things now and to come, but hints that human imagination may find a way.
Also at Greenaway, under the GAG Projects label (a new enterprise between Berlin and Adelaide) was Thomas Rentmeister's 'Dirty Minimalism', in the form of an intimidating mountain of refrigerator corpses which had been collected by the gallery. The sheer size of this, the effort of which it spoke and the thought of the global scale of this waste made it hard to spend time in the space.
A visit by Graffiti Research Lab organised by Carclew gave a high tech take on being on the street, with the building of a mobile projector/tricycle which can throw images onto walls and move on. GRL is operated by James Powerly and Evan Roth, two funny clever Americans with serious training in robotics and computer vision technology. Taking the vandalism out of graffiti they use a laser beam with which a skilled tagger can temporarily transform high rise buildings to canvases for tags and slogans. They also teach unskilled people to use 'throwies', LED-type coloured lights which stick on the building at which they are thrown.
Unrelated to the theme of light, unless you count the soft glow of pearl shell, was Kay Lawrence's This Everything Water at the South Australian School of Art Gallery. In the tension between the eloquent physicality of the materials (pearl shell and woollen blankets) and the underlying historical reality of the old pearling industry in Australia there was much to savour for the senses and the intellect. The judicious inclusion of old post-contact Indigenous carved pearl shell trading artefacts created an uncanny link across time between the hands of these crafters and those of the superbly gifted Lawrence. The show is part of the series of exhibitions curated by Mary Knights, director of the SASA Gallery, who has succeeded in proving, in the era of excessive spending, that good exhibitions are a largely a matter of good curating. On a stringent budget her strategy is to find university funds for a visiting scholar from another state to write the essay for a seriously conceived catalogue and speak at the opening, thus creating cross-pollination of ideas between the artist and the scholar, national traffic, and a record of all of the above. The next logical step would be the instigation of a residency program.

Leaving aside the Adelaide Biennial, and noting the outstanding success of the 2008 edition Handle With Care (see review), the visual arts program of the Adelaide Festival is often hit and miss. There is a sense that the Festival limits its options by overriding the ambitions of the various organisational venues that are welcomed into the official program so long as they accept the exhibition allocated to them. With musician Paul Grabowsky moving into the hot seat as Festival Director for 2010, one hopes that in any claim for pre-eminence over the Sydney, Brisbane, Melbourne or Perth festivals, he will embrace the strength and popularity of the visual arts program as one of the major points of difference. Giving the directors of the venues a chance to propose outstanding exhibitions and helping them fund these, might enrich the selection.
Chat show
The 14th edition of Artists Week, coordinated by Julianne Pierce, demonstrated the infinite variety of the Australian art world in that each edition sees a whole new mixture of tastes and flavours. Dominant strains were graffiti, activism and science/art connections, all enlivened by some plain speaking not to mention downright disorderly conduct. This latter from Chicks on Speed who not only piled the armchairs up in a pyramid and climbed on top of them but also, by getting untactfully personal, caused Philip Brophy to leave the stage not to return, followed by fellow panelist Danius Kesminus who was heard playing the piano backstage.
There were curators on curating and artists on their brilliant careers, and the kind of serious embodied in European dealer galleries which aspiring careerists must invest in. There were grumpy writers challenging audience members' mental TRUE or FALSE buzzers on a range of statements including that Australian art magazines are on the whole not worth the paper they are printed on.
There were supporters of Creative Commons and OpenSource, and elsewhere we were urged to secure our copyright. Marcus Westbury of ABC-TV's Not Quite Art fame said the visual arts ecosystem is top heavy and the few voices that get heard seem so loud. Melinda Rackham said that we are all terrified of being critical and in other cultures you can have a good old barney and go out for a drink afterwards. Julie Copeland said 40 seconds on prime time is worth the same as a learned catalogue, that in Germany everyone goes to everything, that 'culture is a duty', and that Labor governments here practise benign neglect when it comes to arts funding. Michael Keighery, Chair of Viscopy, got the attention of restive first years sent en masse to Artists Week with the eyebrow-raising activities of his alter ego Dr Bernice Leach of the Institute of Pornographic Antiquities. Jason Eades of the Koori Heritage Trust told the man from the ACCC about the fake Rover Thomas paintings and Indigenous artists being locked up in hotel rooms with blank canvases and slabs of beer, a new authenticity label promoted by the Melbourne City Council and the bored housewives setting up Indigenous art galleries syndrome.
A packed hall heard Hossein Valamanesh talk with Sarah Thomas about his working life, and in a session chaired by Natasha Mitchell of the ABC's science unit we learned that The Synchrotron in Melbourne is a very bright lightbulb whose beam, if artist in residence Chris Henschke had walked across it, would have sliced him in half vertically and neatly seared the two halves. Henschke did manage to crash it by uploading the call of a cicada.
And talking of the wonders of technology the audio visual system supplied by the Festival was in no small measure part of the success of Artists' Week. The magical performance of the tiny head mikes and seamless still and moving image projections allowed speakers and chairs to relax knowing that all they had to do was talk. As Artists' Week matures and grows the organisers could ramp up the intensity and commitment of the national field by devolving the convening of some sessions to chairs both in terms of selecting speakers and proposing the topic. Although 2008 was one of the livelier editions, there were moments when this unique vehicle for the exchange of ideas was in danger of sliding into celebrity chat show format. Getting braver about talking out does not have to end in bitching.
Finally, it was sad to think of all those keen followers of culture expiring in the Writers' Week tents in the worst heatwave in 70 years, like the Germans, doing their duty by supporting the arts, while the art crowd were sitting back in the cool of Elder Hall with all this fun and erudition. Surely it is time for the Festival, instead of cramming both Writers' and Artists' Week into the opening week, to bite the bullet and run Artists' Week in the first week of the Festival (so that the visiting artists coming for the openings of the exhibitions can participate in it), and move Writers' Week (which is not tied to any opening events) to the second week. That way this ever-growing audience, not having to choose between the two, will be enriched and informed. Max Delany has been tipped as the next Visual Arts Coordinator. Perhaps he will take up the cross-disciplinary challenge.
People
" Jason Smith is the new director of Heide Museum of Modern Art coming from a year directing the Monash Gallery of Art and previously 10 years a senior curator at the National Gallery of Victoria.
" Hannah Mathews is Associate Curator at the Australian Centre for Contemporary Art in Melbourne.
" Daniel Birnbaum has been appointed curator of the 53rd Venice Biennale, 2009. Currently Director of Portikus in Frankfurt, he co-curated the Yokohama Triennial 2008 and the Moscow Biennials in 2005 and 2007.
" Doug Hall is the Commissioner for the Australian Pavilion at the 2009 Venice Biennale.
" Del Kathryn Barton won the Archibald Prize with You are what is most beautiful about me, a self portrait with Kell and Arella.
" Neil Haddon won the annual $30,000 acquisitive Glover Prize (inaugurated by the John Glover Society in 2004 for a landscape of Tasmania and acquired by them) with his painting Purblind (opiate).
" Dan Wollmering won the 2008 Contempora Sculpture Prize for his work Waterfront sponsored by the City of Melbourne and VicUrban.
Broken record
" The previous owner of Women's Dreaming by Judy Watson Napangardi must have been celebrating after it sold for the record-breaking price of $216,000 at the Lawson Menzies 'Art Brand Sale' in March. Until Resale Royalties are legislated, presumably the senior Warlpiri artist from Yuendumu and the mother of 8 living children, gets zip. Minister Peter Garrett, make it happen!
Second Life
Even if your actual life is OK, you are allowed to be interested in Second Life without being labelled a nerd. There are three perfectly normal flesh and blood artists-in-residence there now to interact with, funded by the Australia Council. We will be reporting on this in the next issue but in the meantime have a look at http://babelswarm.blogspot.com/ and as they say, jump in. Lucky people living in Lismore had a real world interface installed at the Lismore Regional Gallery in April. Quite a jump.
Exchanges
A group of ten young designers studying at the Rhode Island School of Design participated in a three-week design intensive in Jan/Feb 2008 in a collaboration with JamFactory's Furniture Associates. A field trip to Kangaroo Island enabled them to draw inspiration from Australian flora and fauna, investigating its design in evolutionary terms and interpreting this in their own design practice in JamFactory's Furniture Studio.
Get out there and paint
Entries for the The Fleurieu Art Prize for Australian Landscape Painting close on 1 August. The prize is($50,000 Acquisitive sponsored by Wirra Wirra Vineyard, Hardy Wine Company and Tinlins Wines. www.artprize.com.au
Real Estate
" PVI Collective, with funding from the WA government, are very excited to have opened the new Centre for Interdisciplinary Arts, CIA Studios, in a big old school in Perth. They will nurture artists and groups from around the world working in live art, contemporary performance, hybrid art & new technology. Space can be hired at subsidised rates. http://www.ciastudios.com.au/
" A new facility for adult and youth education at the Lake Macquarie Art Gallery will be completed and opened in June. It underscores the vital role of regional galleries in art education in centres remote from the big teaching institutions.
" The Casula Powerhouse finally reopened on 5 April after a massive $13.26m redevelopment which delivers a climate-controlled exhibition space and huge storage facility as well as a 328-seat theatre and artist studios and residences, to serve the people of Liverpool and South West Sydney, one of the fastest growing areas in Australia. At the time of our going to press the only information on the opening exhibition was its title Australian, 'featuring the works of 12 of Australias most renowned contemporary artists'.

Sydney Biennale and more
" The Biennale's famous symposium will be held at the Art Gallery of NSW on 20-21 June. Bookings recommended. The Biennale, (which is free to the public) opens on 18 June. www.biennaleofsydney.com.au
" Saf/ARI is a new push by artist-run initiatives to showcase emerging artists during the Biennale in three inner-city venues: - China Heights, Level 3, 16-28 Foster Street, Surry Hills, Gaffa Gallery, 1/7 Randle Street, Surry Hills and MOP Projects, 2/39 Abercrombie Street, Chippendale. 0430 338 349
" As the Sydney Biennale closes this year so there are four more huge shows ready to launch in our region. A travel package Art Compass, will help the intrepid get to all or some of these: Gwangju Biennale(5 September (Korea), Shanghai Biennale(9 September, Singapore Biennale(11 September and Yokohama Triennale(13 September. www.artcompass2008.com
" Asian art closer to home can be seen until 29 June at Campbelltown Arts Centre. Ai Weiwei: Under Construction, curated by Charles Merewether is the first international survey of work by this Chinese polymath, who recently disassociated himself from the design of Beijing Olympics' Birdsnest Stadium, originally his brainchild. Comprising around 45 sculptures, videos and installations assembled from private and public collections in Europe, America and China, as well as personal loans from the artist, and a commission of a chair carved from a solid block of marble. Concurrently Sherman Contemporary Art Foundation in Paddington is showing his massive installation Through.