Nuha Saad, Soda_Jerk, Ron Adams, Mimi Tong, Nana Ohnesorge, Liam Benson, George Tillianakis, Huseyin Sami, Adam Norton, Ruark Lewis, Maria Cruz, Elizabeth Day, Michelle Hanlin, Sarah Goffman, Anna Peters Hazelhurst Regional Gallery 8 December 2007 - 3 February 2008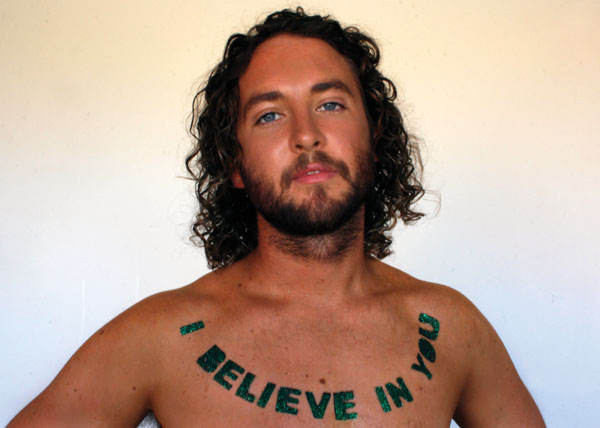 This collaboration between Hazelhurst Regional Gallery in Gymea and Chippendale's artist-run-initiative MOP Projects is an intriguing one. The Lucky Country (Still Different) is the second and final in a set of exhibitions featuring the work of sixteen artists in response to the notions and vagaries of community, cultural difference and what it means to be Australian in the wake of the December 2005 Cronulla riots. Specifically bounded and inspired by the idea of creating a considered response to the riots, the two exhibitions have served as bookends to a twelve-month residency by all the artists at Hazelhurst. (Still Different) presents the work and musings of this eclectic group after a year spent in and around the Shire, engaging with the community and musing on our slippery understandings of self and difference.
Liam Benson's series of works, featuring photography and video, is perhaps the most unfettered and certainly the most optimistic of responses to this post-riot Australia. Referencing a number of pop-cultural influences including Kylie and the Bra Boys, Benson's video I Believe in You is a disarming and highly charming treatise on love and acceptance. Performing Minogue's song of the same name, Benson stares directly into the camera, almost Christ-like with his bare chest, blue eyes and long curly hair, wearing only a green glitter garland-like tattoo that reads 'I BELIEVE IN YOU'. With an unwavering, entreating stare and a twinkle in his eye, Benson, a patriotic gay Australian, really does believe in us. In his other work I Love the Shire, a series of free postcards of Benson, in full ocker drag regalia, fake tan, fake tits, blonde hair and an 'I e the Shire' t-shirt, poses on the beach draped in the Australian flag. Benson isn't necessarily being provocative, he's certainly not being cynical and it's this mix of cheery faith and drag-meets-ocker male fantasy that makes his work so effective.
The installation and video-based performance work of Adam Norton is also food for thought though it's not as direct as Benson's. What appears initially as a clunky sort of installation, featuring a floral couch, mannequin and a series of suitcases and odd fabric jumpsuits hanging on the wall is brought sharply into focus by the accompanying video work. Camouflage Suit features a series of unconnected shots of unassuming landscapes - gardens, bushland, urban industrial areas - and it's not until Norton 'emerges' from his not-so-hidden-hiding-place without fanfare or provocation that you realise he's been there the whole time, outfitted in different camouflage suits, the same suits now hanging in the gallery. In many ways it's quite a witty work, you find yourself scanning the landscape trying to spot Norton before he reveals himself, but it's also a work that resonates long after you leave. There's a disquieting sense of menace to the work, playing as it does with notions of invisibility, camouflage, surface appearance and expectations and overwhelmingly it reiterates the fact that donning camouflage is a deliberate choice we make, a skin we wear and an interchangeable one at that. Indeed, despite our appearances, our socio-cultural or ethnic backgrounds, each of us have the ability to choose the environments we melt into and when to step out of them.
These are only two of the more compelling works in Still Different but they are by no means the only ones that pick away at a myriad of social, cultural and aesthetic ideas. Works by Soda_Jerk, Ruark Lewis, Mimi Tong and Elizabeth Day are all memorable - by turns humorous, clever, evocative, provocative and beautiful. The balance between overt social discussion and abstract visual exploration is nicely measured throughout and that each of the artists has responded so uniquely and thoughtfully to the residency suggests that the relationship between regional galleries and artist-run-spaces is one to explore further.
Firmly anchored by the level of thoughtfulness that twelve months of concerted reflection brings, Still Different makes for a cohesive, thought-provoking, funny and empathetic experience.
Jo Higgins