Papunya Tjupi: A New Beginning Ivan Dougherty Gallery 6 September 6 October 2007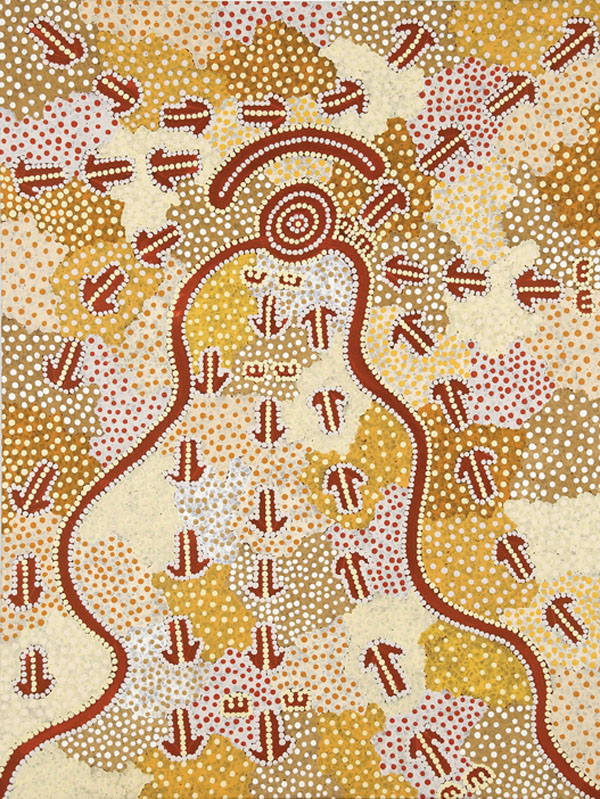 Despite being the foundation of the Aboriginal desert painting movement in Australia, it is little known that the Papunya community, located some 260 km north-west of Alice Springs, has been without a communal painting facility for over thirty years. However things are set to change.
Papunya Tjupi: A New Beginning demonstrates the insistent voice of a community in need. Curated by the proactive UNSW College of Fine Arts Professor Vivien Johnson, the exhibition showcases the work of over thirty artists including senior Papunya painters, Long Jack Phillipus Tjakamarra (who at 76 is the last of the founding Papunya Tula painters still producing work), and Michael Jagamara Nelson. Both artists were the driving force behind the move for an art centre for the youth of Papunya, which with Johnson's ongoing endeavours and assistance will soon be realised.
Not to be confused with the Papunya Tula Artists company whose gallery is based in Alice Springs, Papunya Tjupi (Tjupi means Honey Ant in the local Pintupi/Luritji language and connotes the sacred ancestors of the Papunya area) comprises mostly the descendants of some of the original 1970s Papunya artists.
Closely involved with the Papunya community since the eighties, Johnson has for the past two years facilitated their crusade to sustain the region's artistic merit by campaigning for the much needed art centre. Johnson has assisted the Papunya Tjupi artists to form a professional incorporated association, and has instigated a partnership between the group and COFA staff and students through several workshops and artist residencies. The first was a printmaking workshop conducted by Head of Printmaking Michael Kempson in October 2006, assisted by COFA postgraduate students Simon Taylor and Kasumi Ejiri.
The contemporary ensemble of recent paintings and prints in Papunya Tjupi: A New Beginning illustrates a bold new direction for these gifted artists. The primary strength of this exhibition lies in the heedful juxtaposition of accomplished paintings such as Michael Nelson's Possum and Rain Dreaming and Long Jack's Rain Dreaming with Lightning with equally engaging work from developing and emerging Papunya artists. Aesthetically radiant, the paintings materialise with unrivaled energy. Traditional iconography is intensified through vibrant and deeply infused hues as in Valerie Lynch Napaltjarri's Women Digging for Honey Ants at Karrinyarra.
The innovative prints on show exude a freshness that could only be unleashed through the artists' introduction to new forms of art practice. Alice Poulson's distinct triangular forms are like no other in the exhibition, revealing an almost abstract graphic element. Lorraine King Napurrula's bone-shaped iconography and Taralyn Major's markedly rectangular, sectioned linocut demonstrate both the capacity and originality of these young artists.
Johnson is enthused about the work, produced specifically for the exhibition and during the first COFA printmaking workshop. 'All of this creativity has been dammed up in some sort of time warp& it is important to give these artists exposure to show them that there are other directions in which they can go.'
The Papunya Tjupi Art Centre will enable artists to work across a variety of artistic disciplines, particularly as there is a perception among the young members of Papunya community that traditional painting is 'old people's business'. The COFA partnership aims to further skills development in new media areas such as printmaking, jewellery, sculpture and textiles, where the younger generations of Papunya can pursue the art-making legacy of their elders while forging their own identity.
This superlative vehicle highlights the enormous artistic vitality within this small community, whose long anticipated art centre is no longer just a glimmer of hope, but a real possibility.
Amanda Muscat