Fremantle Print Award 07 Fremantle Arts Centre 8 September - 21 October 2007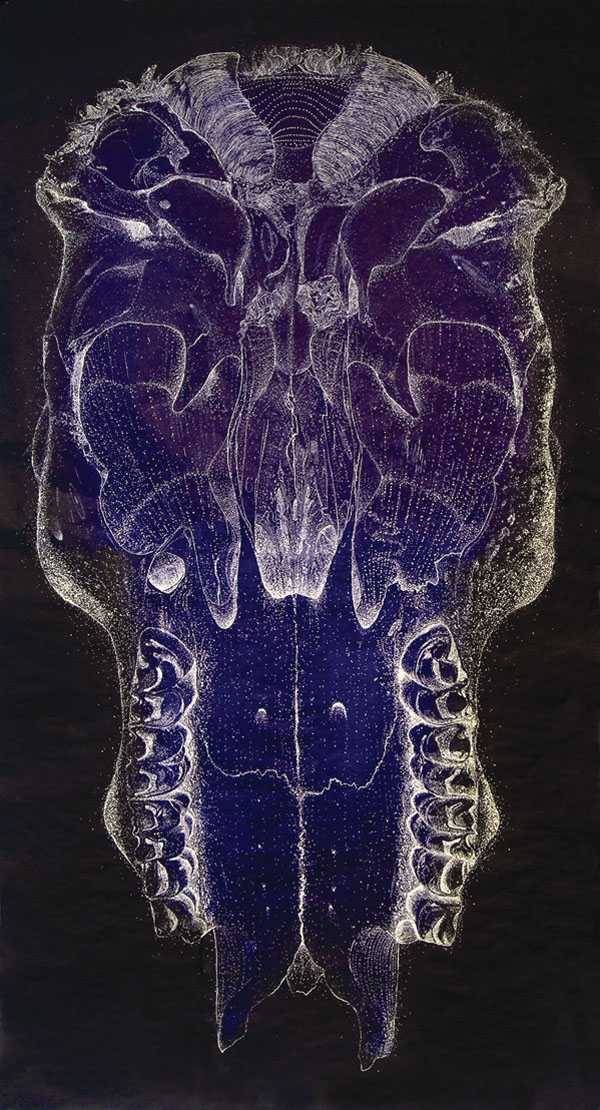 In this its thirty-second year, the Fremantle Print Award once again presents examples of excellence in printmaking. The Fremantle Arts Centre received some 300 submissions from around Australia and considering the quality of the 59 exhibits presented, one assumes the field of entries was of exceptionally high standard. This was the first year when entries were selected by digital submission, and the resulting exhibition has not suffered from this refinement of process.

The deserved winner of this year's $10,000 Acquisitive Prize is Tony Ameneiro's (NSW) colour linocut on Japanese Kozo Paper, Big Night Skull. This large almost mystical image of deep blue and white on a black ground suggests concepts of mortality and eternity as it implies constellations and comets of the night sky confined within the contours of a cow's skull.
The $3,000 Non-Acquisitive Prize was collected by Rose Farrell and George Parkin (Vic) for their collaborative digital colour print Chinese Birds of Prey. This dual self-portrait with large bird-kites attracts with its unusual poses and strange meeting of man and bird. However close examination reveals the subjects are emulating the bird's expressions, as each seems to meld with their colourful kite. The work is inspired by the pair's residency in China where flying a kite is much more then just child's play.
These major prize winners attest to the fact that the most ancient form of making art has grown stronger by accommodating explorations of contemporary techniques alongside the older printmaking methods. What impresses the viewer most about this eclectic exhibition is the variety of styles and procedures employed and how they contribute to that evolution.
For example Julie Brooke (ACT) and Tommy May (WA) both celebrate the primary element of art - line - in their etchings. Brooke's Rabbit employs delicate swirling black lines on white paper to create a sense of volume and give movement to an image that appears to be a free-hand illustration for a specific narrative. But the story, if there is one, is of less interest then the delightful dancing line. May's lines seem more restricted and stronger, giving them a sense of determination and importance. His Kurtal Dance suggests the accoutrements necessary for a ceremony as the dark ochre lines on a buff coloured ground draw what may be objects of important to the 'dance'.
While discussing engraving, the mezzotint Das Einhorn and La Licorne by Greg Harrison (Vic) are excellent examples of this arduous method of printmaking. Here two mythical animals; an armor-plated rhino and a reclining unicorn are beautifully sculpted in tones from rich black to clean white. Two fine illustrations of power and fantasy. Employing more modern techniques, Erin Coates (WA) offers Currency of the Commonwealth a digital collage printed on metallic paper. This is a fascinating image of great detail that speaks of colonisation and what constitutes wealth in two different hemispheres as suggested by the Southern Cross and the North Star. Here are moose, beaver, emu, kangaroo, the regal lion marching over the land and sailing ships crossing oceans.
Eldorado Springs, the pigment inkjet print on paper by Val Sparks (Vic) is another example of pushing the limits in modern printing methods. This 420cm long image depicts architectural and sculptural references to every major organised religion. Composed in black and white they seem to hover in the mist over water. If this is indeed the legendary city of great wealth, it would seem that the treasure found is nature. The image hosts colourful gum trees and flowers in a variety of radiant hues.
Also much appreciated is Vitamin C for Dolly by Liz Deckers (NSW). Here dried fruit skins are printed then sewn into small pouches. They look like ancient artifacts or perhaps rubbery shells vacated by fantastic hatchlings. But the one that made me smile is the polyethylene print with photo etching, I Can Hear my Girls Calling by Katie Martin (WA). It's a simple image of a farm shed on a moody morning and it must be milking time.
Judith McGrath