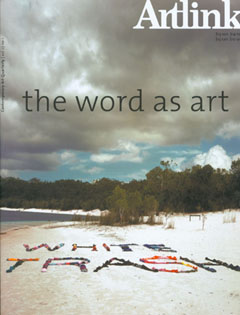 The Word As Art
Vol 27 no 1, 2007
How is it that so many artists continue to choose text as a means of communication over visual imagery? What do words in a visual arts context contribute to the nature of art practice, and where has this tradition come from? The marriage of image and word in the contemporary urban environment is only one aspect of a subject which goes back to ancient history and forward to mobile phones. Guest editor Richard Tipping and a raft of great writers survey the subject - from public art, slogan art, language, calligraphy, installations to artists' books.
You are here
»
Artlink
»
Vol 27 no 1, 2007
»
Hiraki Sawa
Hiraki Sawa
Anna Zagala, review
Hiraki Sawa
New Media Gallery, Level 3
National Gallery of Victoria International
Melbourne
7 July - 3 December 2006
Hiraki Sawa is an artist that stays home. A lot. An exhibition of his work, aptly titled Six good reasons to stay at home showed six video works spanning a prolific four-year period by the young London based, Japanese artist. Going places sitting down – a large-scale three-channel colour digital video projection that faces the viewer on entering the gallery space was commissioned by the Hayward/Bloomberg Artists' Commission and is the most complex of the featured videos. Against a background of a quiet and stately bourgeois home Sawa takes us on fantastic flights of fancy.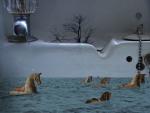 View Larger Image

Hiraki Sawa Going places sitting down 2005 (still from video). Image courtesy of James Cohan Gallery, New York.
Across the three screens wondrous things occur: on a mantelpiece a tiny, antique rocking horse rocks gently to and fro; in a half-filled hand basin rocking horses push through the choppy waters. Elsewhere, a man on a camel traverses the flat plains of a red carpet while below him in the shadow cast by the spine of leather bound books, a fleet of miniature ships set sail over a blue sea. Sawa's work takes great pleasure in the surreal possibilities generated by taking rescaled objects, often juxtaposing several fantastical elements in a single frame, and placing them in ordinary domestic environments. As such these visions of the animal kingdom and far-flung places recall the experience of childhood with its singular passions and unfettered imagination.

The other five video works featured in the exhibition are much smaller and more austere. They are all black and white. Moreover, it's Sawa's own modest apartment that provides the setting for the strange and delightful goings on. In the largest of these, Dwelling (2002), dozens of small model airplanes navigate Sawa's home deftly negotiating the congested air space of the kitchen and hallway and taxing in neatly to their assigned ports on the bedroom floor. While in Migration (2003) and Trial (2005) unexcitable, mainly static medium shots capture the pilgrimage of naked men and women, herds of mountain goats, elephants and the occasional horse as they cross the vast surfaces of Sawa's kitchen bench top and bathroom, through forests sprouting on the edge of bath tubs and past the occasional palm tree. Where are they going? If we're not sure of the destination, their deliberate and steady steps tell us that this is a journey of necessity.

Sawa's black and white moving figures recall the early photographic stop motion studies of animals and humans made by Eadweard Muybridge in the nineteenth century. Much about these videos, like the antique toys and ancient technologies that inhabit these unassuming homes, recalls an earlier era. Sawa assembles his videos by the relatively simple photographic method of superimposition, a technique that dates back to early cinema when the cinema's ability to create illusionary effects was considered a marvel. In addition, the videos' brief duration and either minimal or totally absent soundtrack brings to mind the simple experiments of early motion pictures.

Perhaps because Sawa shoots and edits the videos in his own home, and because of his own background, reviews of Sawa's exhibitions have focussed on his engagement with the subject of migration and the work's melancholic undertones. And while the motion of planes and the walking figures of Sawa's videos may seem relentless the landscapes that these objects and people journey through are strangely and thrillingly magical. Here, among the alpine vistas and desert plains, where Ali Baba and Little Red Riding Hood might cross paths, the world seems alive to the possibilities of exploration and unforeseen encounters.

Anna Zagala












---
Subscribe to the Artlink newsletter now