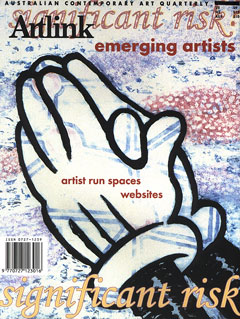 Emerging Artists
Vol 17 no 4, 1997
Guest editor Stephanie Radok. A diverse, challenging collection of articles which examines the issues confronting the newest category of funding - the emerging artist. Are the needs of emerging artists so different from those of other artists?
You are here
»
Artlink
»
Vol 17 no 4, 1997
»
Talk Artists Initiative
Talk Artists Initiative
Artist: Ms Sandra Bridie, feature
Set up in March 1997, Talk Artists Initiative is an artist run space in Melbourne Victoria "whose external structure was no longer the institution but the city, operating within a community of like minded activities in Melbourne." Talk Artists Initiative was set up by Jonathan Luker, Jenniffer Mills, Penelope Davis and Sandra Bridie and includes other VCA students Peter Lambropoulos, Angela Bailey, Caroline Dew, James Morrison and Maxine Addinsall.
The full text for this article is yet to be uploaded.
---
Subscribe to the Artlink newsletter now