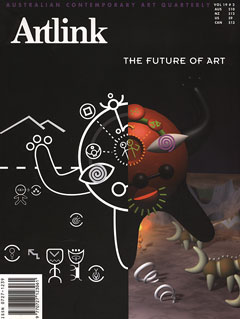 The Future of Art
Vol 19 no 2, 1999
Speculations about art practice, art education, and questions of access to art are illustrated by case studies of five individual artists, and analyses of the state of play in our educational institutions and surveys of new media, regional and multicultural debates. Professionalism for artists is examined, tax and copyright, as well as e-commerce as a new direction for marketing. Curators address the changing role of art museums in relation to new work.
You are here
»
Artlink
»
Vol 19 no 2, 1999
»
The Rise and Rise of Michael Eather
The Rise and Rise of Michael Eather
Author: Ms Pat Hoffie, feature
Examines the work of Michael Eather as art maker, gallery director, educator, project promoter and consultant. He established Campfire Consultancy with others. Also established the Fireworks Gallery: Aboriginal Art and other Burning Issues in Brisbane, Queensland.
---
Subscribe to the Artlink newsletter now