Tanks Arts Centre, Cairns
28 July – 18 August 2015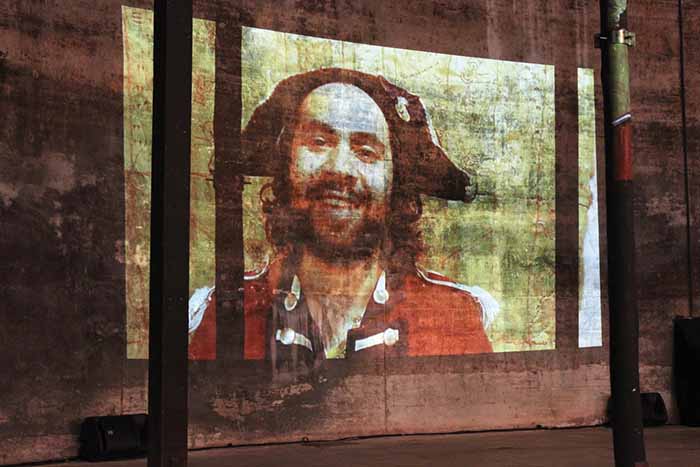 We all now know Australia was colonised and there are oodles of records from the point of view of the colonisers, but what about the colonised. Who recorded their personal experiences and histories, who documented their viewpoints?
Bungaree's Farm, a multimedia installation held at the atmospheric Tanks Arts Centre and programmed to coincide with the Cairns Indigenous Art Fair explores the story of Bungaree, an Indigenous man from Sydney's Hawkesbury River area who was a celebrated participant in Sydney's early colonial history. The exhibition aims to interpret the complex character and life of Bungaree under the following themes: Travelling Bungaree, Being Bungaree, Walking Bungaree, Singing Bungaree and Team Bungaree.
The Bungaree project celebrates the 200th anniversary of the establishment of Bungaree's Farm at Mosman in New South Wales by Governor Lachlan Macquarie. It commemorates the first land grant to an Aboriginal person by colonial authorities in Australia. For this project, Mosman Art Gallery, commissioned well-known indigenous curator Djon Mundine to collaborate with seventeen established indigenous artists on an exhibition and performance project Bungaree: The First Australian, was held at the Mosman Art Gallery late last year, with its second showing as Bungaree's Farm in February staged in a heritage-listed WWII Camouflage Fuel Tank T5 at Georges Heights, the site of the original parcel of land granted to Bungaree.
Its third showing in Cairns is also in a heritage-listed WWII fuel tank at the Tanks Arts Centre: it runs on a projection and sound loop for 45 minutes and has been pared down to just include one object, Dream Run by Melbourne artist Clinton Nain, an ink and gouache painting depicting Bungaree near Sydney Harbour Bridge holding a fire torch Olympic-style. I speculate as to why this exhibition was programmed to feature at the Tanks during the annual Cairns Indigenous Art Fair - an event held to showcase Queensland Indigenous artists – as Daniel Boyd and Bjorn Stewart are the only Queensland participants with the remainder largely from NSW.
Dressed in red military jackets, the participating artists on screen take on the role of Bungaree, either individually speaking out, or in slow procession as a group. Bjorn Stewart, an actor, provided a warm and human version of Bungaree. There was poetry too, with Daniel Boyd's beautiful projections of night sky-like dots in clusters extending from the walls onto the columns of the building, creating magic and space for contemplation.
Bungaree's Farm is supported by an excellent catalogue that includes background information on the story of Bungaree, academic essays and statements by the original participating artists with photographs of the works produced for the earlier exhibition.
While this show would have benefitted from further development spatially and editorially to be truly immersive, any opportunity to expand our knowledge and understanding of our country's First Nations people and the role they played in the wider Australian historical framework is welcome.
Paloma Ramos is a sculptor and installation artist and Director of Canopy Art Centre in Cairns.