Cemeti Art House, Yogyakarta
5–27 June 2015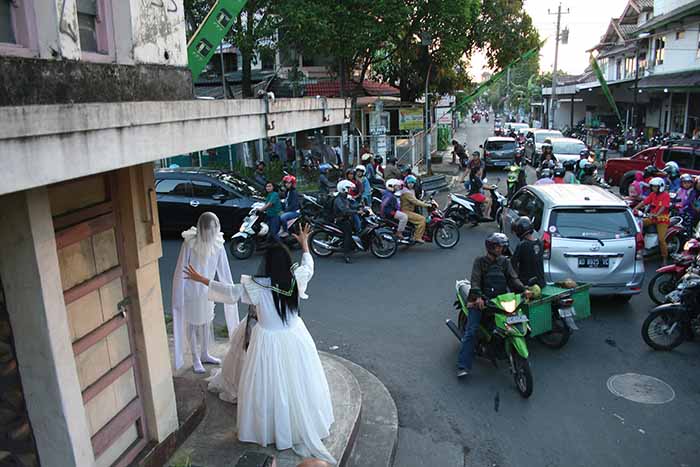 The collective Mulyarkarya transformed Cemeti Art House's reception space into a gemstone exhibition during the Liminal exhibition, exploiting the latest fad to grip Indonesia. Flirting with the boundaries between consumer culture, and contemporary art, this comic-book inspired artist group's playful diorama installations belied a serious understanding of the broader historical context of gemstones, as in the opal held aloft by a digger surrounded by toy soldiers. This was a stand-out work in the exhibition's exploration of the relationship between the artist and society.
Beginning in February and culminating in an exhibition in June, Liminal was one of a series of projects initiated by Cemeti founder Nindityo Adipurnomo, exploring participation, engagement and the artist's role in society. Artists attended discussions and lectures on these topics, responding through installations, performances, and experimental research projects. Public presentations kicked off in a week that saw Yogyakarta inundated by international curators, collectors and art enthusiasts, as the annual art fair Art Jog opened with a similar but more grandiose theme "Infinity in Flux: the unending loop that bonds the artist and the audience".
In Liminal, three main themes emerged from the eight artists/groups involved: value and auction as participation; memory, history and fiction; and engagement through installation. The first two themes were evident in works which hinged on the audience's presence during the opening event; Elia Nurvista's riotous fast food auction Fast and Foodrious, which garnered prices up to ten times local retail value for hamburgers and fried chicken; Gatot D. Sulistiyanto's complicated process for accumulating audience members for exclusive sound art performances through bidders nominating the number of audience members they could provide (Santiswara); and a stirring performance of (real or fictional?) victims' testimonies of violence.
In the following days, delegated performances titled Cautionary Tales took place as Natasha G. Tontey's response to the biography of an enigmatic, deceased local character. Unfortunately, the fantasy costume and make-up, and lack of legible reference points, meant the entertaining performance more closely resembled roving street theatre than the intended response to the ambiguous relationship between memory and gossip.
Nindityo Adipurnomo's Tekor Tilas took audiences out of the exhibition space, with audio tours mixing fact and fiction, taking in local arts and cultural sites where Adipurnomo had installed sculptures that invited audiences to, for example, bury their heads inside large carved stones to block out surrounding noise.
Habsari Banyu Jenar's sound and text installations were lost completely beside Timoteus Anggawan Kusno's powerful site specific installation Anatomy of a Lost Memory. Donning gloves and facemasks, visitors were admitted in groups of five to see a wooden box purportedly containing the "Gonomanggala-Sangid Monument", which remained in quarantine for administrative reasons. The room's walls and desk were adorned with traces of research into the monument's mysterious appearance at massacre sites throughout Indonesia and East Timor: fragments of bones, photographs, typed reports and obsolete technology replaying those same testimonies performed at the opening.
In the context of Indonesia, a society still beset by forgetting and impunity towards the perpetrators of past violence, and state-fictionalised history, the absence of memorial represented in Anatomy of a Lost Memory evoked the potency art holds when it emerges from the liminal space that anthropologist Victor Turner described in 1979 as a realm of hypothesis where event, experience and knowledge intermingle to teach us new things.
Elly Kent is an artist and writer currently based in Indonesia, and a PhD scholar with the ANU School of Art.