Ararat Regional Art Gallery, Victoria
27 March – 17 May 2015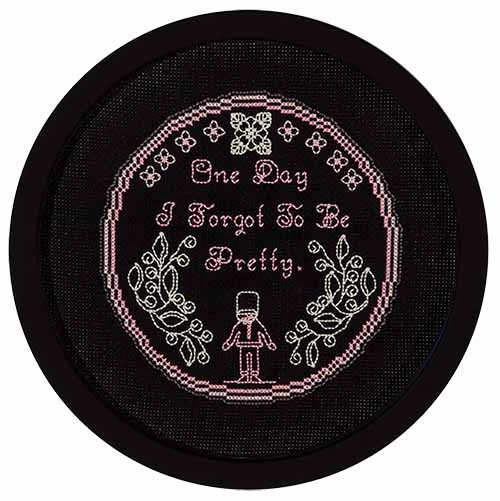 Embroidery has become a strong presence in contemporary art, independent of the established textile/fibre art scene dominated by older female artists and situated within a self-referential textile specific zone. Ararat Art Gallery seeks to document this increased visibility in Slipstitch, a travelling exhibition and excellent catalogue. This re-positioned embroidery synergises the strongly artist-led drawing revival and the ''new craft'' movement.
A drawing aesthetic shows through the stress upon informal, energised linework, liveness being valued above precision, translated into loose threads and haphazard machine-sewn trails. Hanging threads and obvious linear backtracking and pentimenti are a demarcation from the order and minute punitive discipline often popularly associated with embroidery – think of Victorian and Regency girls diligently working at their samplers.
Equally, links between contemporary drawing and embroidery emerge in the preference for a Goth, grunge alchemy of anatomical illustration and a narrative, figurative based imagery, exemplified by Elyse Watkins. Her use of sheer organzas and georgettes emphasises the current trend to dematerialise textile art, thus shifting into ambiguity and away from the literal tactility and content that often dogs studio textiles. Quirky and whimsical drawn content such as works by Tim Moore also communicates a sense of current preoccupations and difference from earlier paradigms.
The return of the hand has particularly impacted upon male artists. Alongside the craftist revival of nostalgic domestic crafts, the hipster movement has reconfigured male personae with a certain abstracted neo-Victorianism – and also an engagement with the bespoke and hand-crafted, and the facilitation of a male emotional nuance and sensibility that translates into the narrative work on view in Slipstitch.
The use of found vintage textiles in Demelza Sherwood's work again emphasises new modes of cultural and urban inhabitation engaged with the design and craft of the recent past and their direct impact upon design, craft and materially based practices. Matt Siwerski connects with a different genre of creative display in urban life, referencing graffiti and street art.
Emphatic and gutsy, South Australia-based Sera Waters' works star: the range of her techniques and components offer a sense of satisfying plenitude. Highly stylised and punchy, her designs are never wan or half-hearted, and are underpinned by a clear conceptual and intellectual nous behind the object. Robustness in thinking and connections to a wide range of cultural influences from landscape painting to domestic design, the use of found tea towels, and engagement with nationalist memes, ensures her work stands out.
Silke Raetze's materials and aesthetic are superficially more traditional in their finesse, but references to critical practices of post-modernist feminist irony and also the inheritance of 70s text-based art, poesie concrete and artists' books offer a sophisticated and critical rigour. Jane Théau's floating embroidery provides the tour de force expected within a textile context.
The exhibition also probes a wider backstory to the stitch/graphic interchange, particularly its British connections: Alice Kettle is globally renowned for having resuscitated embroidery's contemporary art impact in the 1990s. David Green is another key senior Australian/British presence, with a vast influence via academic teaching as well as practice across several decades. Ilka White is an interstitial figure between two generations, the great white hope of late twentieth century Australian studio textiles who was warmly welcomed on account of her youth in a once, but no longer, diminishing field.
Juliette Peers is an art historian and Senior Lecturer in the School of Architecture and Design at RMIT, Melbourne.

Slipstitch artists include Alice Kettle, David Green, Demelza Sherwood, Elyse Watkins, Ilka White, Jane Theau, Lucas Grogan, Matt Siwerski, Sera Waters, Silke Raetze, and Tim Moore