White Rabbit Gallery, Sydney
27 August 2014 – 1 February 2015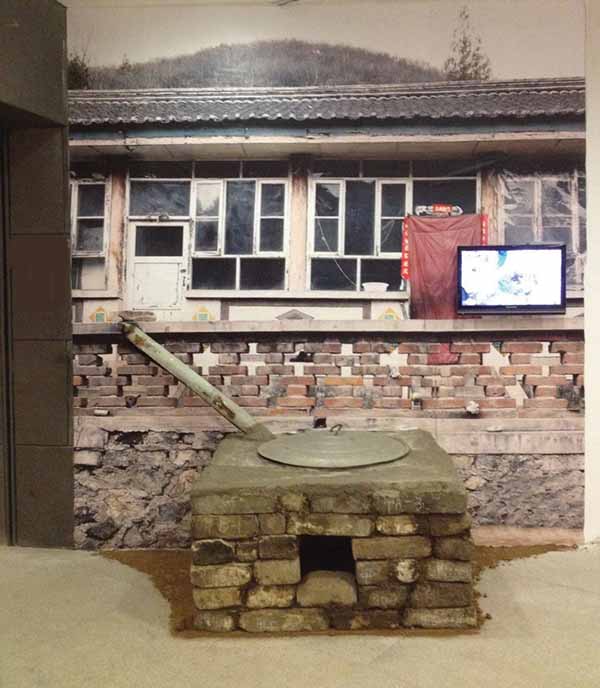 Commune is White Rabbit's fifth anniversary exhibition. It raises the question of the place of the individual in a society where it is claimed that Confucian ideals of family fidelity and Communist ideals of loyalty to the commune have been recently replaced, at least to some degree, by more emphasis on 'long-deplored concepts like ziwo, the self, and ziyou, individual freedom'. Yet my viewing of the diverse artworks by 23 artists gave me a sense of a great awareness of history and responsibility to society. An example is The Remnants of Images (2013) by Hu Jieming, archival cabinets containing a mixture of animated historical and contemporary photographs although it does emphasise the fogginess and mutability of memory as much as its precision. The home-cooking style TV show video in Kwan Sheung Chi's Doing It With Mrs Kwan ... Making Pepper Spray? (2012) brings dissent into the equation.
Commune includes a few works of incredible feat, such as The Static Eternity (2012) by Gao Rong, a recreation of her grandparent's rural home with all its ageing in place made in embroidery. This work induces a kind of vertigo as you approach it as a museological diorama and begin to see that there is something three dimensional about the textures on all the surfaces because they are stitched. This is especially effective in depicting well-worn paint, rust and old fabric. The work memorialises the ordinary, and indeed poverty, treating it with great affection and care.
Then there is Afraid of Water (2013) a very basic Chinese bathroom made by Lin Zhi entirely from dried mud, again a recreation, a model, a museum piece. The mud is very pale grey and fine. If the work was watered it would dissolve. Pieces of the Great Wall itself as used by locals to make a pigsty and a communal oven are present in Wang Cheng's work The Great Wall Plan (2011-13). Large photographs of the places where the originals were made are flanked by these simple constructions. However bleak, however impoverished, and marked above all by necessity, they assert that people have lived and live in these places.
In the video Assembly Line Project (2010 – ongoing) by Li Xiaofei we see workers talking about their lives in terms of daily issues of rent, income, leisure, sleep, food, interspersed with images of the relentless machines, among them a Heidelberg printing press, which fill their long working days. It confronts this Australian with yet another view of China – the industrial powerhouse where so much of what we use everyday is made. Contemporary art from China is often characterised by scale and ambition. In Commune I noticed the more sensitive pursuit of intimacy, and the intense presence of an almost sociological inquiry and documentation involving a self-examination that is also self-revelation.