Helen Grace: Imitation of Life, ArtHere Exhibition Space, Sydney 24 July – 3 August 2013; Candice Breitz: Working Class Hero (A Portrait of John Lennon), Anna Schwartz Gallery, Carriageworks, Sydney 27 July – 28 September 2013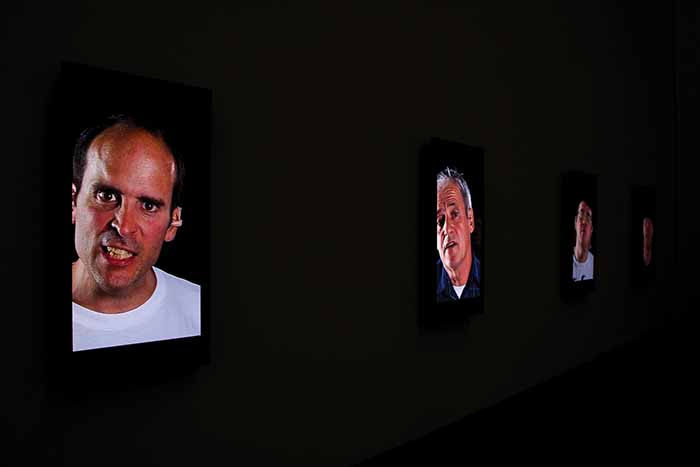 Appearing at once both intimate and distant, the six unframed photographs pinned against the modest walls of the ArtHere Exhibition Space provide a glimpse into the memories of Australian artist and filmmaker Helen Grace, while also questioning the role of the viewer in an age of visual ambiguity.
Each untitled Cibachrome print is presented as if it were an enlarged still from a film, leaving the viewer searching for context at the edges of the image. Photographs that began as sketches for potential (and subsequently unmade) film projects, Helen Grace: Imitation of Life examines the boundaries between cinema and photography. Here photographs become instants in a flow of movement rather than moments unique in themselves.
The first photograph features the artist's sister: brow-furrowed, champagne in hand, rebuking the camera. The woman, captured mid-sentence, is wearing an expression that can only truly be defined by the tone and volume of her words that have been silenced by the motionless medium of analogue photography. This same unease is reiterated in an image of a yellow chair sitting solitarily in a backyard - the same chair that was, or is to be, inhabited by the personality in the aforementioned photograph.
Imitation of Life explores the fragility of memories as they are constantly reconstructed in a digital age. Grace's research investigates the relationship between 21st-century audiences and the photographic image as we become increasingly disconnected from images that we have no empathetic connection to. Thus she identifies a continuum between the flood of "incommunicable" camera phone images and large-scale, big-name art photographers whose subjects can be equally unfamiliar to us as an anonymous Instagram picture. Despite the inevitable self-portraiture of her photographs, Grace is less interested in her personal story and more interested in questioning photography and the moving image within broader social and historical processes and how these shape our personal identities.
Taking a similar approach, South African artist Candice Breitz examines the potential of identification through photographic portraiture in Working Class Hero (A Portrait of John Lennon) at Anna Schwartz Gallery, Carriageworks. The intermittent echo of voices can be heard immediately on entering the gallery. It isn't until passing into the exhibition space that the disquieting harmonies are given ownership in a 25-channel video installation. Each video – presented on a 42" plasma screen – is an intimate portrait of a John Lennon fan's idiosyncratic interpretation of his first solo album, Plastic Ono Band (1970).
Standing exposed in the centre of what feels like an open-air amphitheatre, there is a feeling of vulnerability. On settling into the space, you may find comfort in what becomes a form of reality-TV voyeurism. The "performer" in each video has the same visual presence, appearing on a black background as if auditioning, or in a private karaoke session, or confession booth. Working Class Hero is the fourth in an ongoing series of cultural portraits by Breitz that survey the delicate relationship between an icon and his/her community of fans. Legend (A Portrait of Bob Marley), King (A Portrait of Michael Jackson), and Queen (A Portrait of Madonna) – all 2005 – draw on personal experiences, reflections and memories generated by this relationship.
Breitz received over four hundred responses from fans interested in paying tribute to John Lennon by re-performing Plastic Ono Band from beginning to end. Forty were invited to a professional recording studio in Newcastle upon Tyne. The location's historical significance, as a place of post-industrial urban redevelopment, mirrors the transitory state of the Plastic Ono Band album. The twenty-five fans on display are predominantly male, aged forty to fifty years, and together form a distinct, yet discordant a capella. In this work Breitz addresses portraiture on many levels. Plastic Ono Band, an album that explores personal childhood memories of isolation, abandonment and death, is a portrait of John Lennon through his musical lyrics, produced at a time when he and Yoko Ono were undergoing intense Primal Therapy with Dr. Arthur Janov. Yet first and foremost, Working Class Hero is a portrait of Lennon's fans. Each unidentified participant takes hold, possesses and reinvents their idol's music as a deeply personal reflection of their own lives.
Aided by the introspective space at Carriageworks, Working Class Hero is a hauntingly resolute installation that is compelling, honest and at times incredibly moving. Breitz's synchronised portraits, like Grace's endearing sequence of stills, challenge us to rediscover our own memories and question the different ways we connect and embody individual photographs, people and experiences.
Greta Stevens is a Sydney-based arts writer currently undertaking the Masters of Art Administration at the UNSW College of Fine Arts, Sydney.