Inflight Artist Run Initiative Hobart 4 – 25 February 2012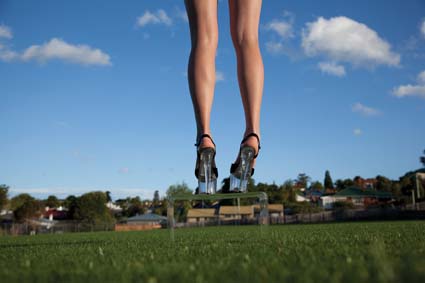 Better known in recent years for her curatorial projects, Sarah Jones' new solo exhibition at Inflight ARI in February was something of a knock-out; literally and figuratively speaking.
Positioning herself as both protagonist and object, You'll Always Be My #1 was a complex and interwoven display of the personal versus the spectacle - what seemed to be a carefully crafted baring of the soul; self-consciously staged yet still brazenly candid. The tight body of work was über-slick and installed with decided finesse, though the content gave way to a slightly more fallible unfolding of events. It was this interplay between technique and subject matter that highlighted the sentiment of the exhibition – more about a provocative and attempted perfection, an ambitious gesture and a winning attitude, than winning and perfection itself.
Prefaced at the doorway by a shimmering wall of blue glitter, the darkened gallery was punctuated with pockets of light – video projections and spot-lit objects. The unconventional and at times awkward positioning of works made for a subtle, more attentive navigation of the space.
Two small looped video projections played at either end of the gallery – one level with the floor, the other level with the ceiling. The first showed the back of Jones' head and shoulders rhythmically lifting in and out of view as she performed sit-ups ad infinitum. The second featured Jones' bare legs, shod in gruesomely impractical, clear-heeled platforms, completing repetitions of step-ups onto an acrylic podium in a suburban sporting oval. These videos bracketed the larger and dominantly louder projection in the centre of the gallery, titled Cut 'n' Polish. Here, a gold latex bikini-clad Jones wields an angle grinder as she "methodically strips the paint off her black '75 Toyota Corolla, two-door, sports coupe, which has been parked on a hill for the occasion".
Taking visual cues from the male-dominated worlds of sporting, car culture and power-tool fetishism, Jones places her own body within these narratives, nominating her primped, primed and altogether ill-fitting (yet impressively competent) self as worthy of fetishisation too. It is the try-factor (not tri-factor), though, that is foregrounded. Repetition plays a significant role – not as a means toward completion or specific victory, but rather as a relentless aspiration that gives rise to a different measure of achievement. It is not so much the female body that is at stake (for it is more than able), but a more complex psychological construct of the self and the questioning of its role, usefulness and social ranking.
The trio of videos was offset by the careful placement of two objects: a photograph in the back room of the gallery, and a small shelf in the anterior holding the step-up podium from the video. The photograph showed Jones' face iced and decorated like a cake, complete with sugared flowers. An exaggeration of beautification rituals so prevalent in Western culture, the effect was dramatically grotesque. Finally, in a last championing gesture, the step-up podium was elevated like a glorious self-awarded trophy to Jones' stalwart efforts.
The overall impression was that of a hybrid glamour-athletics event for one, but intended for viewing by a 'significant other'. However, shining amidst what might have been mistaken as a narcissistic affair was a vulnerability, a fragility and ultimately a very human imperfection in the works. The gold bikini turned black and dirty, the sky-high platforms teetered dangerously, glitter flaked off the front panelling, and the catalogue image revealed Jones grimacing in her sit-ups.
You'll Always Be My #1, then, was at once extremely personal – in a touchingly honest, albeit bizarre, kind of way – and de-personalised, as if Jones was trying to outsmart the viewer. Cleverly circumventing any simple reading, the works conjured a display of absurd but nonetheless very human behaviour that sustained intrigue and delivered something of a coup de grâce as Jones now ventures overseas.
1 Susan Gibb, You'll Always Be My #1 catalogue essay, 2012