Australian Centre for Contemporary Art, Melbourne 21 December 2011 – 4 March 2012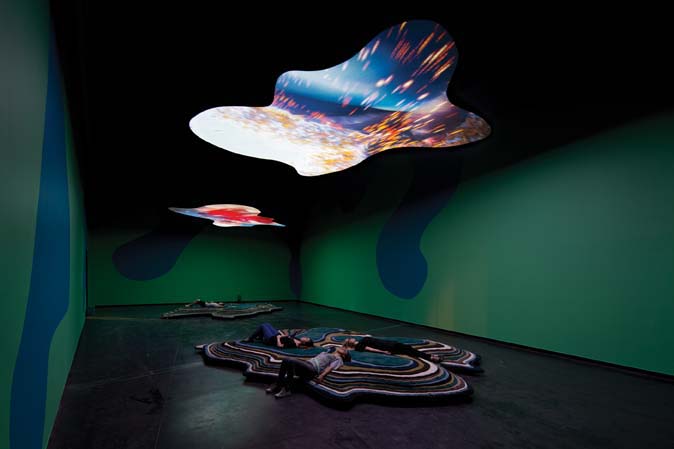 PipilottiRist'sI Packed the Postcard in my Suitcase is an exhibition perfectly timed for the Melbourne summer. With luscious video projections inhabiting the entire ACCA gallery space, this career survey of one of contemporary art's most beguiling figures gives sweat-soaked bodies and sun-stiffened minds the chance to decompress and dislocate.
This isn't to say that the exhibition lacks conceptual weight or critical relevance. On the contrary, what makesI Packed the Postcard in my Suitcase distinctive - radical even – is that its heady mix of erotica, innocence and subversion actively privileges an economy of desire. Rist's exhibition demands that we transcend our purely intellectual minds to reconnect with something deeper, more collective and elemental. Her intoxicating videos challenge conventional, analytical modes of reception and instead summon an embodied and vicarious viewing position. Rist's art is a full-body experience.
A case in point is Gravity Be My Friend (2007). Here visitors are invited to lie upon one of two contoured carpet islands as a dreamy bacchanal of lush vegetation and gambolling nymphs float overhead. The camera soars above and below the water's surface, capturing the tiny bubbles that cling to the protagonists' slippery skin, as well as the refracted, dazzling sunlight that dances at the water's edge. The camera's movement is hypnotic, whirling and gliding with the relentless fluidity of sleep. We listen to the ambient soundscape but are the whole time conscious of our own weightiness and the downward pull of gravity.
In Small Laguna (2011), which was originally created for the 54th Venice Biennale, Rist presents a modest, touristic painting of a Venetian waterway. Peering in, we recognise the artist's trickery: a torrent of seamlessly composited moving-images has been projected over the top of the painting, thus transforming the static scene into a festive and surreal tableau. Mottled, chiaroscuro light turns the canal water inky and phosphorescent, like a Murano glass vase. Metal skewers pierce glistening sausages, which fill the night-sky. Pillowy lips devour a Venetian palazzo. Rist's Venice isn't the contrived toy-town oft reproduced in postcards and travellers' guidebooks, it's a pumping, primal city brimming with imaginative possibility.
For every fantastical image or sensation conjured by the artist, another more earthly one acts as a counterbalance. Water, fire and other elemental symbols carry as much conceptual weight in this exhibition as a hand-scrawled shopping list, a disco ball or a vegetable patch. The divide between external reality and inner fantasy, the physical and the intuitive, and the real and symbolic are brought to a deliberate clash at every turn.
Unfortunately this incongruity is all too literal in the artist's early self-portrait
I Couldn't Agree with You More (1999). In this piece Rist moves serenely through a supermarket, and later her apartment. A miniature night-time fantasy of naked cavorting figures overlaps the main action, playing itself out in the artist's head like a thought-bubble. Presented as a flat, large-scale projection on a vertical wall, this work denies visitors the tactile and immersive experience offered elsewhere in the show, but maybe this is the point. Perhaps we need gravity and distance to see how Rist's pleasure principle might be applied in the everyday world outside the gallery?
The most enchanting work in the exhibition is Administrating Eternity (2011), an ethereal, labyrinthine installation of gauzy fabric screens that visitors slalom their way through. Here an Arcadian vision of flowers, dirt, insects, fruit and nuzzling sheep mingle with strings of binary code, grids, matrices and pixels. As patterns bleed off the curtains and onto the gallery walls we become aware of the precariousness of man-made systems and their day-to-day mediation of our lives.
I Packed the Postcard in my Suitcase is a generous exhibition with a humanistic core. Rist's attempts to reconcile the thinking mind with the feeling body are ambitious and subversive, encouraging elements of human experience that are all too often discouraged and repressed by our polite society.