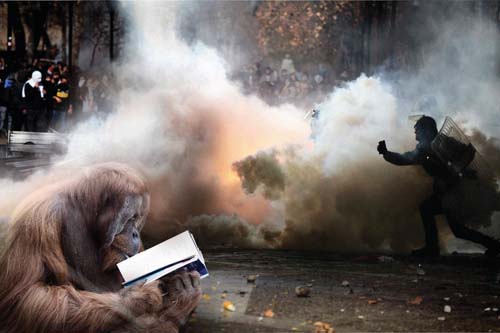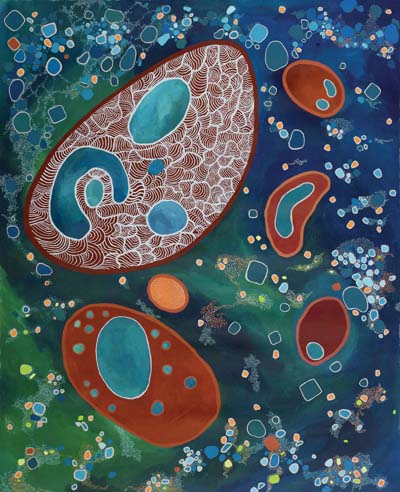 Animalia
Are animals are the new humans or are they just new fodder for our entertainment? If a push to get human rights legally extended to other animals is successful, the performances of whales at Seaworld in the USA may soon be outlawed as slavery. Two upcoming world premieres show different sides of this coin. I Am Not An Animal by The Border Project transforms the Adelaide Zoo into an installation performance where the animals of the Zoo themselves become the subjects in a work of art, engaging with built objects, environments and human co-performers.?An intricate guided audio tour creates an immersive experience for each audience member where the way we represent animals in popular culture, the depth of their importance in our mythology, and what fears they awaken in us are explored. www.adelaidefestival.com
Animal Works is the distinctly less benign, potentially more creepy, and possibly exploitative invention of the Austrian artist Markus Schinwald known for his work with performance artists, and subsequently with live fish in aquariums. February 2012, he built two colossal terrariums as stages at the Sala Verónicas museum in Murcia, Spain, one for tortoises and the other for chameleons. The animals function as actors and create their own habitat in an unexpected theatrical world complete with elements of Schinwald's work, including his altered paintings and videos. http://www.artmap.tv/news_detail.aspx?id=1062
Art and Coal
The Deep of the Modern is the title of Manifesta 9, the European Biennial of Contemporary Art 2012. It will be held in the previously abandoned, recently restored Waterschei mine complex in Genk, Belgium making good use of its multi-layered garden cities, urban planning, factories, canals, roads and railways built to serve the coal-mining industry in the 20th Century. The Age of Coal exhibition comprises artworks from 1800 to the early 21st Century about the history of art produced with a direct aesthetic relationship to the industrial era. 17 Tons aims to activate collective memory and to preserve both the physical and conceptual heritage of coal-mining. The publication accompanying Manifesta 9 takes the form of an encyclopaedic record of the complex research processes behind the biennial while the current issue of Manifesta Journal #13 - "Fungus in the Contemporary" has been developed and edited by the curatorial team: Cuauhtémoc Medina with Katerina Gregos and Dawn Ades. Free access online at www.manifestajournal.org.
Manifesta 9? ?2 June – 30 September 2012 www.manifesta9.org
A couple of 'difficult issues' for the Minister
Simon Crean, Federal Minister for the Arts, has been busy. He has promised to deliver the new National Cultural Policy some time in 2012, possibly mid-year. Mr Crean has been surprisingly assiduous about attending arts events, and is often seen quietly popping into galleries. He has been listening to the arts community's responses to the draft policy paper and there is optimism that he and his team will deliver something if not historic, at least useful.
Perhaps influenced by the intense consultation with stakeholders, many of whom are interested in the changing landscape in the digital era, Mr Crean has also decided to review the Australia Council for the Arts. While committed to the principles of peer review, he thinks it is wise to periodically subject to scrutiny an agency so crucial to the health of the arts community. He has appointed Angus James, a businessman with Aquasia and Gabrielle Trainor, who has worked across arts directorships and in a firm which specialises in the 'management of difficult issues', to look at the Australia Council and its links with other agencies.
People
• Michael Brand has been appointed the new Director of the Art Gallery of NSW, replacing Edmund Capon.
• Christine Morrow is the new Director of the Australian Experimental Art Foundation.
• Gerard Vaughan is retiring as Director of the National Gallery of Victoria in July 2012.
• Brenda Croft has left her lecturing job at the SA School of Art for an ARC grant to do a fulltime PhD at the College of Fine Arts in Sydney.
• Simryn Gill will represent Australia at the Venice Biennale in 2013.
• Victoria Lynn is the new Director of the TarraWarra Art Museum.
• Julianne Pierce is returning to Oz as EO of Australian Dance Theatre in Adelaide.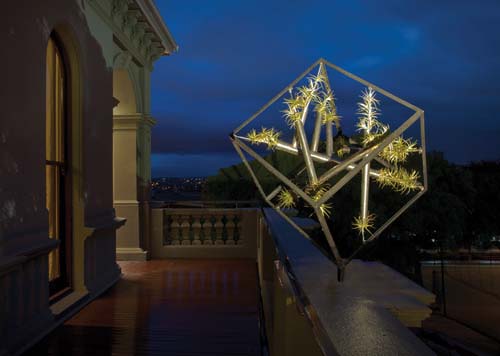 Munday Wall
A commercial glass company, Cooling Brothers, whose factory buildings are on the former Munday wetlands near Perth, have commissioned three Indigenous artists from the Indogo Arthouse complex in Fremantle to create designs for an 8 x 9m glass wall to give a cultural focus to a dreary industrial area, using their ceramic printed glass technology, ImagInk. The wall, which will be spotlit at night, speaks dramatically of the wetlands as a rich source of food and materials for the Beeloo people, the former custodians of the area. Artsource, WA's peak visual arts body for public art and other projects, acted as broker for the submissions and assisted with the selection of artists Deborah Bonar, Wendy Hayden and Joanna Robertson. The artwork uses inorganic pigments to create a printed image that is 100% UV stable to withstand a harsh Western Australian summer.
Artists reach out to help
UBUNTU Art – around 100 contemporary artworks, donated by prominent Australian artists and photographers were sold in late February at Sydney College of the Arts in support of the work of the World Families Australia in treating, rehabilitating and educating blind children in Ethiopia.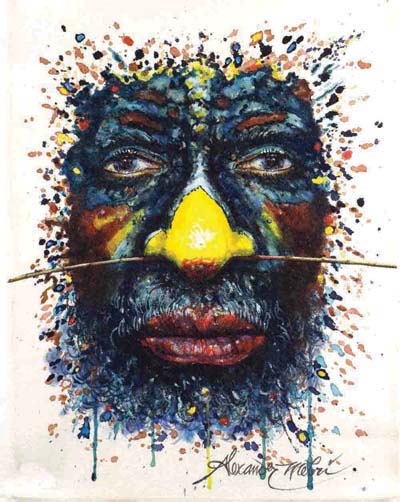 Plants as public art
Lloyd Godman is the only artist in Australia and possibly the world, who uses living plants to make super-sustainable sculpture. Previously a photographer, his 20-year preocccupation with photosynthesis grew from his study of light, and his hybrid photography/plant works led into his current activity – creating art from living bromeliads, a primitive plant which lives on air. He is now devising public art using air-plants suspended above streets and rivers. The plants continue to grow, very slowly, creating more growth which can be used in new works.
Armchair collecting at the VIP Art Fair 2.0
In an artworld spin on online shopping, art lovers and serious collectors from around the world were able to view work from over 2,000 artists via the online VIP Art Fair, in its second edition 3 - 8 February, 2012. The fair provides a platform on the web for 115 high prestige galleries, including two from Australia: Anna Schwartz and Roslyn Oxley9.
Connecting audiences in real time to experience the art and share what they've seen in an environment where intimate drawings and giant museum-scale works can be presented in each gallery's booth in high resolution, makes this a very different experience from a real life art fair. Exhibiting galleries are graded in three levels based on size of display, and there are curated visitor tours, a Museums and Editions Hall, and artist and collector video series. Although visitors cannot actually buy art online, they are able to chat to gallerists online and negotiate their purchases that way.
VIP Art Fair has nine founding galleries that patronise the fair. These include David Zwirner (New York), Galerie Max Hetzler (Berlin), White Cube (London), Gagosian Gallery (New York, London, Beverly Hills, Rome, and Athens), Hauser & Wirth (Zürich, London, and New York), Anna Schwartz Gallery (Melbourne and Sydney), Xavier Hufkens (Brussels), Fraenkel Gallery (San Francisco), and James Cohan Gallery (New York and Shanghai). Carbon 12 joined this year's roster as the VIP Emerging Gallery.
Video works particularly well and a highlight from Winkelman Gallery in New York was Leslie Thornton's?Sheep Machine,?a 5 minute video where some sheep, a pylon and a crane were morphed digitally, for around $5 - $10,000. Roslyn Oxley offered the super dull Hany Armanious?Le Nez sculpture for an incredible $75 - $100,000.
Getting 'em young
Gippsland Art Gallery, Sale has created a free dedicated space for children the Kid's Cube designed to encourage creative thought and enjoyment of art and providing another slant on Wellington Council's stated commitment to lifelong art education. A typical work on show is Tellers and Listeners by Gippsland artist, Rodney Forbes, inviting children to appreciate ways in which people tell stories.
www.wellington.vic.gov.au/gallery
Real Estate
• ShapelessThe National Art Museum of Korea has announced a new building, on a historic site in Seoul. Named UUL its architectural concept is "shapeless building" a description which is less a reflection of the actual model which shows large rectilinear spaces, grassed courtyards and basements, on about 27,000 m2 of land, than a sense of how it fits within some very ancient buildings from dynastic eras.
• MCA reborn bigger and better
The Museum of Contemporary Art in Sydney will reopen in March 2012 with a $53 million redevelopment, increasing its total size by almost 50 per cent with an additional 4,500 m2 which includes a fabulous roof terrace for sculpture. As well as three new galleries, an entire floor is dedicated to the MCA Collection, beginning with Volume One: MCA Collection, curated by Glenn Barkley, featuring works by more than 150 Australian artists. The new National Centre for Creative Learning has a multimedia room and digital classroom, two practical studios, and a 120-seat lecture theatre. Using up to date technology it will connect with classrooms across Australia and the world. A series of Australian commissions include: Hany Armanious on the new Sculpture Terrace, Emily Floyd in the MCA's sensory Bella Room, Brook Andrew responding to the colonial naval dock remains, Helen Eager a large-scale wall painting for the Circular Quay entrance, and Grant Stevens a video for the new foyer.
Marking Time is the opening exhibition curated by Rachel Kent, where eleven international and Australian artists visualise time and its passing. This is complemented by The Clock, a well-travelled and enormously popular 24-hour piece by Swiss-American Christian Marclay. From Thursday 29 March the MCA is hosting a week-long series of launch events culminating in free artist talks and public programs throughout the opening weekend.
• Godinymayin Yijard Rivers Arts and Culture Centre is a new multi-purpose facility in Katherine, NT for Indigenous arts and cultural practices of all kinds, with a safe keeping place for cultural material and a strong commitment to engaging with local schools and communities in what is a notoriously dysfunctional society. A program of activities begins in April and the grand opening event is in June 2012. Inaugural Director Cath Bowdler has accepted the challenge and privilege of establishing this important new centre.
• SAM (Shepparton Art Museum) reopened in February after a $2m redevelopment program.
• As heard on one of the last broadcasts of Artworks 19 January 2012, Australia's first Islamic museum is about to be established because there is no Islamic art in the mainstream ('encyclopaedic') museums.
Australian Honours
It seems that there has been a shift in emphasis this year from previous criteria for gongs. Combing through the clunky website of the Honours Lists, it appears that two lone members of the arts community were honoured with an AM on Australia Day 2012, the cartoonist Jeff Hook, and Simon Mordant, Chair of the MCA until 2010, while the OAM list yields results for 'arts' only for those working in support roles to the arts, mostly at community level. This compares with AMs in 2011 awarded to artists Jeff Mincham, Bob Juniper, Kumantjayi Napanangka (posthumous), filmmakers Arthur and Corinne Cantrill, composer Roger Smalley, arts law founder Shane Simpson, poet Chris Wallace-Crabbe, NGV director Gerard Vaughan and curator Roger Butler, while OAMs were given to artist Richard Larter (shortest citation on record) and gallerists Helen Maxwell and Ross Lake. Notably Liz Ann McGregor, Director of the MCA, collected an OBE in 2010, not from her adopted country but from the British Government.
A love story
Artlink senior editor Stephanie Radok's first book, An Opening: twelve stories about love, was launched in February by Nicolas Jose. As a writer Radok is prolific in the areas of art writing and criticism for journals, so it is exciting to see her take her tough love for the visual arts into an innovative genre of autobiography: romantic and grounded at the same time.
Available from Wakefield Press.
Arts on the ABC
A chance encounter with ABC-TV's 24 Hour News channel early in the New Year revealed a long and well-produced segment previewing recent and current Australian arts events at home and overseas, covering all art forms. But in the wake of the New Year shake up of Radio National, Artrave is mourning the loss of Radio National's Artworks and the ever sharp minds of Amanda Smith and her team which used to give Sunday morning such a deliciously crunchy texture. Artworks was thoroughly researched and made up of high quality recorded and edited interviews and debates, opening up complex content relevant to current art practice and thinking. A truly outstanding arts program. It's early days for its replacement, Weekend Arts, to find its feet, but early signs are not encouraging.
Back to Taree
Brian Wallace, legendary director of Redgate Gallery in Beijing China's very first commercial gallery., was in Sydney in January with Two Generations, a large show of Chinese art celebrating 20 years of Redgate, After its showing at the Sydney Town Hall it was packed up for its Australian tour, first stop Taree, Brian's home town, where his mother is turning 80. This is the spirit that has endeared Brian to his friends around the world. A delegation from Chengdu was in sister city Sydney for the exhibition, and to participate in Chinese New Year.
Artlink to Chengdu
Artlink will be taking a piece of Australia to Chengdu in July, when we launch Artlink Indigenous there and participate in the Australian Studies Conference at the Xihua University. Indigenous curator Djon Mundine will team up with Chinese artist Zhou Xiaoping who has spent 20 years on and off in Arnhem Land and Melbourne. It is known as China's most livable city. The pandas think so anyway.
Remembering
Dick Bett AM 1947 - 2011
The contemporary art world in Australia, and particularly Tasmania, has lost a major and important figure with the death of Dick Bett on 29 November 2011. For the past 25 years The Dick Bett Gallery has been the pre-eminent commercial gallery in Tasmania and has developed a nation-wide reputation for the excellence of its exhibitions and the quality of the artists it has nurtured and represented. The significance of the Gallery and of Dick's personal contribution as a gallerist is obvious in the choice of artists represented and the levels and the types of support provided for them, but it is Dick's innovative methods and passionate commitment to developing an informed audience and market for contemporary art, that has been one of his major contributions to the field.
All galleries undertake activity to build a strong and loyal clientele, and all galleries of quality take on a variety of means to create opportunities for their artists, this much is not new. Beyond the Gallery Dick and Carol Bett established the Derwent Collection, based on ideas Dick had trialled as a gallery director in New Zealand, prior to setting up the Dick Bett Gallery, (later simply the Bett Gallery), in Hobart in 1986.
The Derwent Collection brought people together from various walks of life, linked by a developing interest in art and a desire to collect. Many initially knew very little about contemporary art but through regular contact with other members, at evenings and events both social and instructional, a cohort of supporters grew to become astute, informed and confident supporters of contemporary art. A feature of the Derwent Collection was that works regularly rotated around the homes or offices of the group, so all became beneficiaries. After a period of time the works held by the Collection were sold off within the group and a new collecting group started. It is impossible to estimate the value of this innovation but clearly it supported the work of younger to mid-career artists at a time when their work was affordable and created a loyal base for further purchases. The success of the Bett model is that it is being applied by others to the lasting benefit of artists and audiences alike.
Superficially Dick's gruff, no-nonsense style, aversion to wasting time or suffering fools gladly occasionally confused people but he was a very warm, generous, gentle and funny man with a wry, dry wit and a genuine love of people. Some artists will know the levels of support and loyalty he provided during their early development but it is not something he would have wanted to make a fuss about. It was, like the Derwent Collection, all part of building something good and lasting, and being prepared to take the time to do things properly and create something of substance and depth. That Dick and Carol Bett have certainly done.
Having known for some time, as his illness developed, that the time remaining to him was quite limited, Dick bore that knowledge with his characteristic pragmatism, grace and dignity and worked right up to the end. Earlier in 2011 people from all over the country gathered to celebrate 25 years of the Bett Gallery. A sweet sadness permeated that occasion, as many were aware of Dick's situation but the love and respect we all held for him, and he for us, was palpable.
The Bett Gallery will continue, in the hands of his son Jack, daughter Emma and wife Carol, and his legacy lives on as well in the lives and the memories of those who were fortunate enough
to know him and those for whom art is more a passion than a commodity. Perhaps that is the legacy he would have wanted to leave behind.
Sean Kelly is Arts Officer at Moonah Arts Centre and a writer and curator based in Hobart.
James Martin 1944 – 2011
Last year South Australia lost a sculptor of note and a much-loved teacher and mentor in James Banks Martin. He was born in the UK and came to sculpture after earlier careers in the Royal Australian Navy and in mental health. After graduating from the South Australian School of Art he tutored there specialising in bronze casting and portrait heads, while he built a profile in public art. He completed several large public works for the corporate sector around Australia and is best known for the major bronze Vietnam War Memorial on the Adelaide Torrens Parade Ground (2006) and the gigantic Merlion Tower on Sentosa Island in Singapore which he designed and supervised in 1995. He was senior lecturer in sculpture at the Adelaide Central School of Art from 2000 – 2010. At his funeral loving friends who came to celebrate his life ranged from artists and ex-students to Vietnam veterans with whom he had worked closely on the Memorial. He is survived by his wife Denise, his son Dan and daughter Kristy.
Stephanie Britton

Independent arts journalist Catherine Wilson is based in the Asia-Pacific region, and sent this letter from Papua New Guinea
Art and drama in Port Moresby
The world's media is currently preoccupied with the ongoing political drama in Papua New Guinea starring coups, the rivalry of two prime ministers and a military mutiny. But the people of Port Moresby have more important issues to focus on, like making a living. Likewise artists, used to surviving without state infrastructure and support, forge on with creative resilience and resourcefulness.
Despite its run-down state, mismanagement of funds and disputes over senior appointments and internal administration, the National Museum and Art Gallery, repository of the cultural heritage of this diverse nation, remains open to the public.
Following eight years of organising the successful Luk Save Art Show, Amanda Adams launched Art Stret Gallery in Port Moresby last year. The nation's first and only commercial contemporary art gallery is playing a leading role in developing local and international support for artists of all generations. This year, senior artists, Martin Morububuna, who regards his role as the 'historian of today', Larry Santana known for mythical scenes deriving from his Madang heritage and Tom Deko, with his distinctive metal sculptures, feature in shows during February and March. April will see an eagerly awaited exhibition of new work by dynamic younger generation artist, Daniel Waswas, who was recently Director of PNG's Melanesian Institute of Arts and Communication. Parliament House will be the setting of Pacific Tales, an invitational show of contemporary Pacific Art in July.
Included in a contemporary print exhibition this month at Art Stret is early and rare work by Alexander Mebri, an artist born in Jayapura, West Papua, in 1960. Mebri turned his back on a potential career in business to enter
PNG as a refugee in 1988, study in Port Moresby and follow his dream of being an artist. His acclaimed figurative paintings have been showcased in international exhibitions since the late 1990s. Mebri's work will be shown at Art Stret again in August.
Art and life are never far apart in PNG. Veteran artist and traditional storyteller, Ratoos Haoapa Gary, who lives in an informal squatter settlement on Paga Hill in Port Moresby, is currently trying to sell one of his paintings to financially assist his community to present a challenge to a large scale property developer. The prime city site has attracted plans for a luxury residential complex which would necessitate the settlement's eviction. A solo exhibition by Ratoos will be held at the Australian High Commission in March.