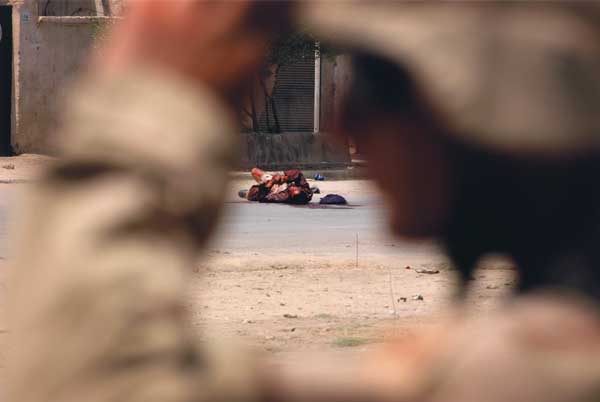 In camera and in public
CCP (a Melbourne Festival event)
16 September - 23 October 2011
Artists: ASIO de-classified photos and footage (selected by Haydn Keenan): Denis Beaubois, Luc Delahaye, Cherine Fahd, Percy Grainger, Bill Henson, Sonia Leber and David Chesworth, Walid Raad, Kohei Yoshiyuki
Curator: Naomi Cass
Includes Luc Delahaye's striking series of faces taken on the Paris Metro, de-classified ASIO street surveillance images from the 1960s, Kohei Yoshiyuki's infamous 1970s sexual voyeurism in Tokyo parks, Percy Grainger's naked self-portraits portraying private fantasies, Denis Beaubois' engagement with multiple surveillance cameras, and Sonia Leber and David Chesworth's clandestine filming from the dome of St Pauls Cathedral, London.

Looking at Looking:
The Photographic Gaze
Photography Gallery, NGV
30 September 2011 – 4 March 2012
Artists: Brook Andrew, Chi Peng, Anne Ferran, Ashley Gilbertson,
Charles Green & Lyndell Brown, Bill Henson, John Immig, Thomas Struth, David Thomas
Curator: Maggie Finch
The gaze can create complex relationships between subject, photographer and audience. From people observed in Bill Henson's early 1980s crowd series to Ashley Gilbertson's surveillance photographs from war zones, and Brook Andrews' images that 'split' our gaze, the exhibition assembles works from the NGV's collection to navigate ideas of looking.
Harun Farocki: War at a Distance
Vernon Ah Kee: Tall Man
Gertrude Contemporary (a Melbourne Festival event)
7 October – 5 November 2011
German filmmaker, Farocki, exhibits four film installations using CCTV footage, military recordings and prison surveillance tapes to illuminate the juncture between war, technology, imaging and control of human behaviour. I Thought I Was Seeing Convicts (2000) puts maximum security prison video alongside surveillance footage of supermarket shoppers. Serious Games 3: Immersion (2009) shows how virtual reality games are used to treat US soldiers' post-traumatic stress and questions the ability of images to mediate between memory and the present.
Brisbane artist Ah Kee's Tall Man (2010), a 4-channel video installation, constructs a view of Palm Island's response to the death in custody of Cameron Doomadgee markedly different from the mass media's, though partly constructed from archival news footage plus video and mobile phone actuality footage (some shot by Palm Island police).
Rafael Lozano-Hemmer: Recorders
MCA, Sydney
16 December 2011 – 12 February 2012
Mexican electronic artist, Lozano-Hemmer presents installations including Close-up (2006) whose built-in computerised tracking system reveals hundreds of tiny videos of others who recently viewed the work. Perverting technologies such as robotics and computerised surveillance, Lozano-Hemmer creates platforms for public participation. Inspired by phantasmagoria, carnival and animatronics, People on People (2010) deploys powerful projectors casting viewers' shadow to create a giant shadow-puppet theatre. A portrait gradually emerges inside a silhouette but the person staring back is not the viewer.