Curator: Eliza Burke Rosny Barn, Hobart 12 November - 5 December 2010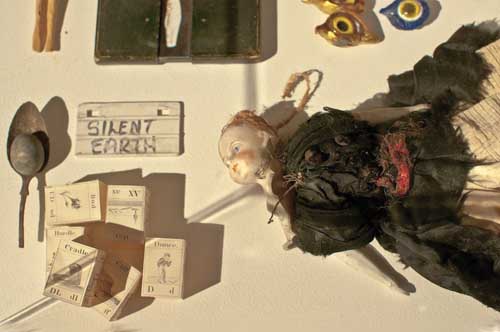 Occasionally (in fact rarely), you encounter an exhibition which far exceeds your expectations. "Trace" is one such experience. Although I was already aware of the late Rosemary Burke's distinctive assemblage work I was quite unprepared for the immensity, depth and richness of the experience of so much consistent quality in one exhibition. The problem was mine, I had simply remained ignorant of the range, density and consistent original force of her output. I am sure I am not alone in this as Burke was quite reclusive and not a prolific exhibitor (she had not shown since her final solo show in 2005), so experience of her work was often obtained in almost accidental and partial ways. For many years Burke worked in textiles and it was not until the eighties that she involved herself more deeply in assemblage and then in 1994 exhibited this new work and went to Europe for the first time. This exhibition covers the later period and is both retrospective and revelatory.
Curated with a consummate hand by the artist's daughter Eliza Burke, the show places finished works alongside ideas in development, notebooks, scraps and scribbles in such a way as to eradicate the steps and stages between collection and completion so that the whole is a seamless evocation of contingency and possibility. The venue of the Barn space at Rosny further enhances this sense of rawness and finish and complements the exhibition perfectly.
Burke was a voracious reader and an inveterate collector. One of the quiet pleasures of this show is the noting of a phrase or passing comment and then recognising its realisation in the work or studying the various photographic recordings of her potential assemblages before locating the final choices manifest in the object itself. Eliza has mediated this process deftly. You sense at times the studio itself, replete with proposals and potentials and are then confronted by finished work of extreme resolution and finely articulated objects of rich, seductive power. Always meticulously crafted, her work never contained more than was necessary. If one small augmentation to a single object was sufficient that was enough, nothing here is in the least gratuitous, no aspect is redundant.
The catalogue contains a telling fragment from her writing.
"These Things"
"They squat in the dark" / "Between where I am and" / "Where I think" / "Uneasy presences" / "Absent" / "They are what I'm looking for"
The curator speaks of discovering some of her mother's hair in a bag in the studio and how this both seduced and repelled her. It is this relationship which underpins the whole exhibition. You are drawn to these objects through their delicate beauty only to encounter a visceral and disturbing aspect at their heart. Three display tables provide a window, one containing found objects, another collages and texts and the third found objects, natural forms and partially modified objects. Preferring conjunction over manipulation you sense Burke simply waiting for the right relationships to fall together. Her written fragments record snippets from Irigaray, Hesse and Bourgeois, among others, and reveal a long and deep engagement with the workings of the unconscious and the interstices between the conscious and the emanations of the imagination. This is of course a major component of Surrealism and the mystical conjunctions it encourages. But unlike much Surrealism it is not an 'accidental' or unbidden conjunction, it is more like the considered relations evident in the work of an artist like Joseph Cornell. It is personal in its language but universal in unlocking the darker and more uncertain areas of the psyche. Her European trip seems to have further unlocked a connection with such sensibilities and traditions. The Fairy Tale, that essentially northern combination of the delicate and the darkness, held an ongoing interest and relevance in Burke's work.
Finally you sense her acute attraction for the 'orphan' object, a tiny ceramic doll which has lost its head for instance. Do things lose one life to no longer exist, or do they sit in Limbo until in the hands of an artist they might take on a new life, one which just might evoke the dark spaces they are now free to inhabit and bring to us? She writes of "things that have lost their point". It is precisely because they have maintained some ghost of their former point that they can attenuate the awkwardness of their new lives as well as strange intense and disturbing presences.
One leaves an exhibition like this completely sated. There is such depth, such curiosity and such a strong sense of having been completely engaged by the mind of an artist that you feel your sensibility temporarily hijacked, and for such experiences I will always be a willing victim.
Seán Kelly