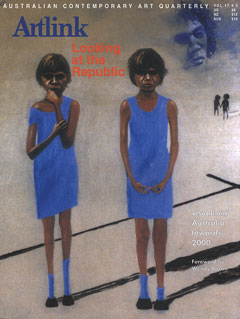 Looking at the Republic
Vol 17 no 3, 1997
Visualising Australia in the lead up to the new Millennium and a possible Republic. How will Australia re-present itself to the region? Icons and logos of Australia, a new flag, sport and porn, art for a banana republic.
You are here
»
Artlink
»
Vol 17 no 3, 1997
»
Festival of the Dreaming
Festival of the Dreaming
Author: Ms Stephanie Britton, feature
Looks at the cultural events planned to accompany the Olympic Games to be held in Sydney in September 2000. There are 4 cultural festivals -- 1997 The Festival of the Dreaming curated by Rhoda Roberts, 1998 A Sea Change curated by Andrea Stretton, 1999 Reaching the World, 2000 Harbour of Life co-ordinated by Leo Schofield.
---
Subscribe to the Artlink newsletter now