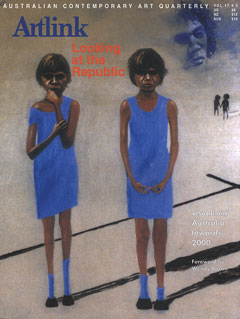 Looking at the Republic
Vol 17 no 3, 1997
Visualising Australia in the lead up to the new Millennium and a possible Republic. How will Australia re-present itself to the region? Icons and logos of Australia, a new flag, sport and porn, art for a banana republic.
You are here
»
Artlink
»
Vol 17 no 3, 1997
»
Sport and Porn
Sport and Porn
Author & Artist: Ms Victoria Spence, feature
Sport and Porn was huge in its scope and scale. The show ran for an hour and a half over a two week period at the Performance Space in Sydney during March 1997. Victoria Spence writes about the performance that she was involved in. The team comprised Morgan Lewis, Scott Wright, Sharon Kerr and Steve Howarth, Adam Kronenburg, Dana Diaz Tutaan, Victoria Spence and Rodgers D.
---
Subscribe to the Artlink newsletter now