The divided heart Rachel Power Red Dog Books, Melbourne RRP $29.99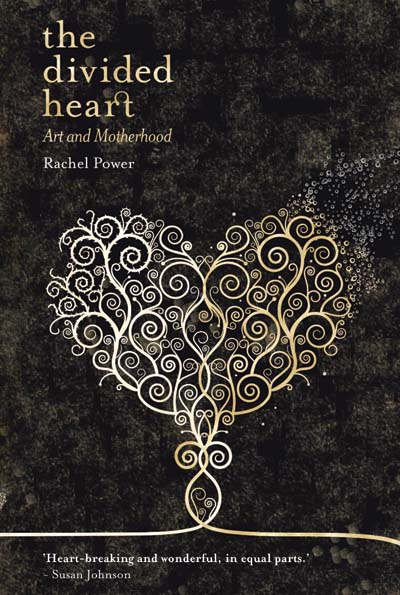 When I was first sent this book, I remember feeling so uplifted after reading these stories. I feel the same after rereading them again months later.
This book normalises the mother and artist combination by presenting women who continue to practise their craft in spite of social or their own confused expect-ations to choose one role over the other.
These women have continued to make work in spite of difficult personal experiences, and in spite of potent mixed emotions, self-doubt, confusion and exhaustion. To continue to work as an artist is not always as seamless as we hope. And that is the reality presented in this book.
'The Divided Heart's' introduction and conclusion includes many interesting historical references to artists and motherhood which place the book in context. Power's desire to write it stemmed from her unsuccessful search for a book that spoke to her about the reality of the artist-mother struggle.
'The Divided Heart' lays bare the author´s own experience of motherhood. Power takes us back to the birth of her first child, her difficult post-natal experiences and beyond. It is powerful and vivid prose, expressing the honesty and rawness that a new mother experiences. And, as she states, a mother-artist has an additional layer of complexity because she will invariably hope to maintain-manage-nurture her own practice while nurturing her child/ren. And this is the hard part.
The realities of parenthood are that caring for children is a totally consuming, exhausting, unrelenting, guilt-inducing journey and finding/making the time to manage an art practice can seem impossible or out of reach for many women, for many years, and for many reasons.
Power interviews 26 women from diverse fields of the arts, from filmmakers, singers, dancers, actors, writers, printmakers, mosaic artists to musicians including Davida Allen, Kathy Drayton, Felicity Bott, Rachel Griffiths, Franki Sparke, Jocelyn Moorhouse, Anna Maria Dell' Oso, Polixeni Papapetrou, Kirsty Martin, Joanna Murray-Smith and more.
Each woman has her own story to tell, her own way of dealing with her circumstances of motherhood and creativity. Common to their stories are issues around childcare, how the body changes physically, dealing with limited and often interrupted creative time, 'that freedom to let your mind roam, just because you enjoy it or just because it excites you' (Martine Murray), or changing spaces to make work (home studio versus a space outside the home) or being away from home to work away from children.
Some women discuss how their work is influenced by children and others speak of the grounding experience of having children. We hear how some manage to be part of their artistic communities, how their work has changed, and how they make decisions about what work to produce.
Power invites her subjects to recall when during their career they had their first child. In most cases this was not always ordered or planned. But to me, most of the mothers represented here were already well on the path to substantial success when they embarked on motherhood. They invariably have supportive representatives/dealers/producers (often other women), have committed career paths or are about to launch into a more advanced stage in their career and nearly all have the practical and emotional support of their partners.
The recipe for success evidenced in these stories is the dedicated teamwork between partners, family, carers and friends. In a few cases the key to reducing household stress is money to pay for childcare. And when these practical and financial support mechanisms are missing, it makes for much harder times.
And without a doubt, all of life's unexpected difficult circumstances interrupt/influence creativity and may threaten its existence altogether. Losing a child at birth, mothering the autistic child or a child with Asperger's syndrome, dealing with cancer, losing parents or experiencing separation for example, challenge us and rock our worlds.
This is a thoughtful and honest book, inspiring and positive. Sadly, I missed reading about other voices, single mothers, the gay parents in our creative communities, the disabled women artists' experiences whose circumstances are much more complicated, and the voices of women who weren't quite so successful when they became mothers, who have slipped through the cracks because their practice was more fragmented and less productive though productive nevertheless. I missed hearing about the determined women who are quietly working away in their kitchens or pantry-studios, whose works we won't necessarily see or read about or experience.
We go into motherhood as artists, into the great unknown. It is sheer determination and drive that keeps us going as artists, whether the journey is interrupted or not and whether we are successful or not. In Franki Sparke's words: 'You can always find a way to adapt your practice and work around your children. Perhaps it's your career that's compromised, as opposed to your art, or yourself as an artist.'
The key, as Sparke suggests, is that we should never stop seeing ourselves as artists. In her experience it is 'other people in the art world that don't view us as artists - as if having children makes us less serious.'