Drifting in My Own Land: Nalda Searles John Curtin Gallery, Curtin University of Technology, Perth Touring Australia 2009 – 2013 19 June - 30 August 2009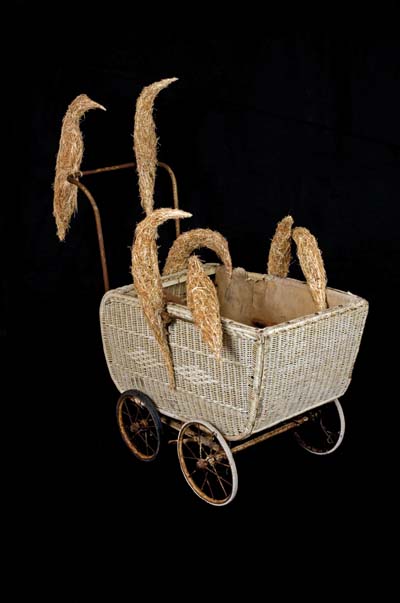 This landmark exhibition - part retrospective, part new works – confirms Searles as an artist at the height of her powers. Over the past thirty years she has become respected and beloved Australia-wide as an exemplary maker, teacher and mentor, bridging indigenous and non-indigenous art worlds. Seeing works spanning her long career shown together in the same exhibition provides an insight into the development of her ideas and methods, and many hallmarks of her continuing practice are evident very early. A commitment to found, gathered and gifted materials; the use of ancient technologies such as coiling, twining and stitching; a fearless approach to building form; a belief in the well-made object; and a steadfast trust in the power of place to inform the work.
Searles' early works comprise sophisticated basketry forms, neckpieces and other objects made in specific locales and with materials found there or given to her. They show her sensitive and sure handling of structure and content, already consciously employing the dialogues of natural/manmade and indigenous/non-indigenous to articulate the work. She cites West Australian ceramicist Eileen Keyes as a major influence at this stage, encouraging her to use what came to hand and to 'listen' to her materials. Both are skills underwritten by her childhood games in the bush around Kalgoorlie, Western Australia, where her parents farmed and where making and making do, were simply how one got along.
Rosalie Gascoigne's work similarly evokes country from found and weathered materials. Time and place are key elements informing the work of both artists. But whilst Gascoigne's elegiac pieces tend toward the minimal, Searles' works are increasingly quickened by narratives of desire and longing. Perhaps it was growing up observing the struggles of farming in the Australian bush that has given Searles her especial keenness in exploring what she calls 'the constant argument' between nature and culture, whilst always seeking to realign the two through the gentle but firm insistence of her art practice. In her new works this undertaking has become more overt and urgent and she has begun unpicking the notion of a boundary between internal and external perception. To truly understand this fluid relationship would have a profound effect on the way we inhabit the land.
In Inland Boundaries Searles has literally unpicked a red linen dress and then stitched the pieces into a large field of earth-stained cloth. Under the edge of each shape she has cut a slit, and from the other side we see thin, flickering red lines tracing a series of irregular rectangles. Searles likens these to the lines of fire in a Tim Storrier painting; to the advancing blaze across a paddock; to the boundaries drawn on the land and around our selves. She says 'sometimes we don't know which side of the boundary we are on'.
Red has been a significant colour in Searles' work from the beginning. She uses it judicially, referencing blood and/or sexuality. 'Loitering at the Dancehall' involves a seductive black satin dress placed in a ground strewn with Kangaroo Paw flowers cut from red blanket. Searles likens them to phalluses in their uprightness against the soft folds of the dress. 'Sweet Desire and When They Danced He was Transformed' approach the erotic intensity of the art of Louise Bourgeois, but here male sexuality is transformative and sweet, unexpectedly portrayed by soft cascades of old muslin adorned with dried pink bush blossoms tumbling from parts of a man's suit.
In 1992 Searles met Wongi woman Pantiji Mary McLean and this had a profound impact on both their lives. They took many journeys into country, worked together and became lifelong friends. Searles learnt Mary's Ngaanyatjarra language and at last came to feel she was no longer 'dumb in the landscape'. In 'Drifting in My Own Land' we hear Searles speak with authority and sureness, confident in what she knows and urgent to tell it. Hers is a mythic and psychic landscape where plants, animals, humans and the earth itself act and are acted upon by each other. In the excellent accompanying catalogue she writes: '... and I am at last taking shelter / in the gnarled / the privileged / woodlands of my mind / 'ngurra walykumunu' / it's a good camp'.
More on Nalda Searles 1 2 3 4 5 6 7