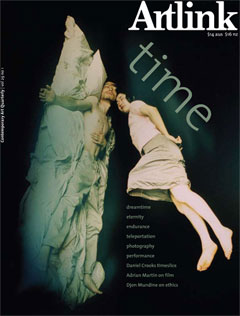 Time
vol 29 no 1, 2009
Art and time have much in common including the fact that they are both very hard to pin down. Art seems to have the ability to freeze or stretch time; it is a medium for imagining future scenarios and retrieving the past. Philosophical notions of time such as the non-specific dimension of Aboriginal Dreamtime are explored by Ian McLean and teleportation by Melentie Pandilowski. In a special section commissioned by Ben Eltham, authors investigate microtime, deep time, duration itself as a subject of art, together with things that decay over time or relate to memory or death. Ulanda Blair surveys the Yokohama Triennial and its theme Time Crevasse. A major essay by Laurence Simmons places the moving image 'time slice' work of Daniel Crooks in the context of the 19th Century science which first captured movement on film. Adrian Martin explores the parallel careers of filmmakers Victor Erice (Spain) and Abbas Kiarostami (Iran). Other features include Stephanie Radok on the currency of Aboriginal art, Djon Mundine on ethical dilemmas for prize judges and curators and Lucas Ihlein on Donald Brook's new book The Awful Truth about What Art Is.
You are here
»
Artlink
»
vol 29 no 1, 2009
»
Atomic Clock: microtime of the molecular and good old-fashioned molar beer
Atomic Clock: microtime of the molecular and good old-fashioned molar beer
Ann Finegan, Feature - commissioned by Ben Eltham
The responses of digital artists David Haines, Jon Hunter and Pete Newman to the molecular scale on which our world is now micromanaged are contrasted with the work of the late Jon Wah whose work stopped time with a saddhu-like discipline of the will. Jon Wah died in August 2008, aged 27. A posthumous retrospective was held for him at Serial Space, Chippendale, Sydney, 8-18 December 2008.
---
Subscribe to the Artlink newsletter now