Fremantle Print Award 2008 Fremantle Arts Centre 23 August - 5 October 2008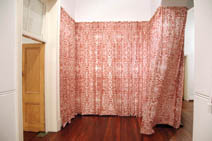 The huge diversity of the print medium is appealingly portrayed in the choice of 52 works (from 300 Australia-wide entries) in this year's Fremantle Print Award which includes books, a huge anti-nuclear billboard, a flowing curtain of faces, linocuts, etchings, and of course, the possibly infamous winning choice of a page of text saying 'Printmaking is so hot right now' in the August edition of Art Almanac. Joel Gailar's Hot Process, the winner of this year's $10,000 Acquisition Prize, according to judges Glenn Barkley, Pamela Gaunt and Ken Watson, 'fits in the gap between art and life, existence and pure thought' and, they also suggest, brings printmaking into a witty dialogue with itself.
This controversial winning choice is bookended by the more traditional exquisitely detailed black and white linoprint of Alick Tipoti titled Kuyku Garpathamai Maibaig as the $3000 Non-Acquisitive Prize winner. This print of a warrior-like figure holding skulls shows the power of this artist's Torres Strait Islander history. To my mind the choice of Hot Process as the winner prioritises cleverness over the more tangible skills seen in Tipoti's work though Hot Process does raise questions about originality and the mainstreaming of ownership of an artwork that can be purchased for the cost of a magazine. Further illustrations of the integration of print images into society are Alyssa Evan's Stuff. A book about hoarding, Stephen Spurrier's The Black Book and the huge banner by Deborah Kelly hanging outside the gallery.
Little Creatures Brewing are fully supportive in their position as sponsor of this Award with their acquisitions ranging from Rona Green's quirky Sergey and Leonid to Samuel Tupou's silkscreen on acetate pink and green Half feke. Julianne Clifford's No. 44 with its spidery lines and dot evocation of screenprint, graphite and gesso on board is also compelling. Another stop and stare work is Martin King's Flooding is a dream, a masterful multi-plate etching which draws you in with its numerous lines evoking the flight paths of a bird and its shadow spreading in triplicate as they fly out of the right side of the work. There is something both majestic and delicate about the lines in this work that shows how the subtlety of etching can be just as powerful as the painted stroke.
When walking into the first room of the exhibition, I found it intriguing to discover which works had already sold numerous copies. These included Mickie Quick's camp Swiss Metal – big fag press poster/brochure of a drag queen astride a large printing press. Another popular work was The inertia of violence by Carolyn McKenzie-Craig, an etching with lines that obfuscate and blur two unhappy figures. In Janet Parker-Smith's Kitty kats special day out the four young children with cat's heads remind me of bad 70s photographic reproductions.
There are a few works of real beauty, including Jennie Drayton's gorgeous waterfall of falling paper with digital photography called Fountain 6. This handcut and folded archival photographic print continues this artist's masterful manipulation of paper and her ongoing interest in how humanity and the forces of nature intersect. Rebecca Beardmore's disappearing face in Seeing Between I is another powerful work that changes your perception. The print compels you to keep walking towards and away from it as the person's face in archival pigment is cleverly accentuated in its 'lostness' to show a face that isn't really there. Beardmore's work is remarkably effective at eliciting the images between images that surround our daily life.
Another strong linoprint is Brian Robinson's Tagai – guardian of the heavens which may not be as immediately grand as Alick Tipoti's god-like warrior though its intricate patterning detail blending traditional and modern imagery of humanity, machinery, fishing and upward movement also effectively utilises negative and positive space.
The movement in the browny-red linocut lines in G.W. Bot's Messages is accentuated by her use of Magnani paper. When I look at it, I can visualise tree trunks swaying or maybe the title references talking sticks. Last year's winner Tony Ameneiro entered a skull-like image which appears to overrun its skull shape to turn into a multi-armed creature. His use of the techniques of serigraph on lithograph and chine collé in Skull Lily incorporate highly delicate lines.
As you walk out into the courtyard, Deborah Kelly's Untitled masquerades in an ad format but speaks its message out loud. The 400 by 350cm vinyl billboard doesn't so much evoke as scream 'nuclear power will solve global warming and feed all the world's children' while a young boy stares out complacently chomping down on missiles.
This latest Fremantle Print Award leaves me pondering the integration of an artform that is on the one hand espousing itself with the winning prize going to Hot Process and on the other hand linking us into everyday life with a 'pin the tail on the culpable cat' game in Inga Hanover's print cut-outs of a cat and the animals it eats. Despite the overall standard of the work being inconsistent, there is enough intellectual exploration and magic of artistic application and craftsmanship on show to make it more than worth the visit.