Some Material Flags, MOT Tokyo, 22 October 12 January 2009. Louisa Bufardeci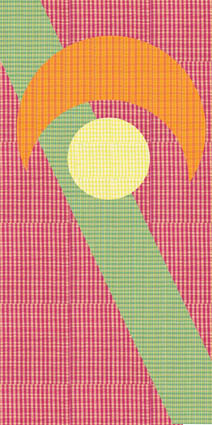 Louisa Bufardeci is a Melbourne artist who lives and works in the United States. She works across a range of media, from sculpture and installation to wall drawings and colourful digital prints and frequently draws upon statistical data in her art, sourcing information from the public domain including the CIA Factbook, the national census and opinion polls. She translates this information into colour charts, maps and architectural diagrams; and in doing so, draws playful attention to gaps, biases and inequalities.
Bufardeci has been selected to participate in a two-part project between the Museum of Contemporary Art (MCA), Sydney and the Museum of Contemporary Art (MOT), Tokyo. For her Japanese premiere in October 2008 she presented a suite of modified 'national flags' in the vast, light-filled atrium of the building, which have been commissioned especially. These works will comprise part of her subsequent MCA Sydney showing in August 2009, along with other work by the artist encompassing eight years. Bufardeci's Sydney exhibition represents the MCA's next 'international pairing' project. She will select a contemporary Japanese artist with whom to show alongside, an outcome of her research and travel in Japan.
Bufardeci's Tokyo and Sydney exhibitions invite the exchange of ideas at both an artistic and curatorial level. Positioning Australian art within a wider, global context, they have come out of discussions between myself and curator Fumihiko Sumitomo of MOT. Responding to a new commissioning initiative at MOT for its expansve public spaces, and the MCA's ongoing pairing series for Australian artists, they forge institutional and individual ties which in turn generate new possibilities for the future.