III PERFORMANCES [in white cube] Linda Lou Murphy Ana Wojak & Fiona McGregor Alison Currie Curator: Melentie Pandilovski Experimental Art Foundation, Adelaide 30 May 5 July 2008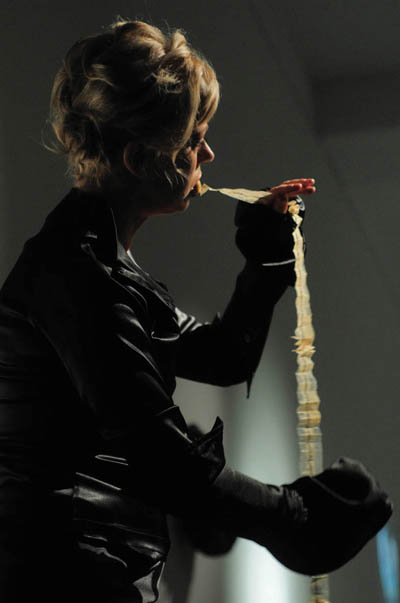 In a recent forum, curator Melentie Pandilovski, questioned the viability and relevance of performance art while the artists of III PERFORMANCES [in white cube] lamented the fact that an art form so well suited for the gallery was not presented more often in it. So why is it so rarely seen in lieu of various permutations of painting and sculpture? The answer is simple; you can`t sell a moment. But you sure can enjoy it while it lasts.
SA-based artist Linda Lou Murphy has been creating performance work as the founder and creative facilitator of the performance group shimmeeshok and on her own as a Master of Visual Art student at UniSA since the late nineties. Murphy`s previous work has drawn out new relations between contemporary craft conventions, sound, video and design. Un/gather placed the audience in the role of voyeur as the interplay between body and object was enacted. This was accompanied by haunting sounds, capes and the dramatic effect of black objects manipulated by white hands. Murphy, dressed in black, wrapped Facepiece (2008), a long pleated paper construction around her face. She then pulled a needle and seemingly endless white ribbon from her mouth and nailed it to the wall. The performance concluded when Murphy wrapped a large roll of paper pleats and pins, Pleatwork (2008), around her arms and torso. The three video projections played throughout the performance which allowed the objects and her hands to take precedence. In the projections Murphy gathered and dropped pins, pushed a needle through the folded ribbon dispelled from her mouth and gathered and unrolled Pleatwork in large waves.
SenVoodoo is a performance collective founded in Sydney in 1999 by artist Ana Wojak and writer/artist Fiona McGregor which has performed across Australia and Europe. Arterial was initiated as a video installation in 2005 and has been viewed in Australia and Beijing, and toured Poland for two months as a live performance. For the first time at the EAF both versions appeared together. Arterial, according to the catalogue, drew on 'Butoh traditions as well as the emballage of Tadeusz Kantor`s Theatre of Death, which deals with transcendence and history inscribed in memory, wherein the individual becomes anonymous'. Accompanied by an ominous atmospheric soundscape, two figures shrouded in white garments walked slowly towards each other on a path of emulsified photographic paper, while blood dripped from an artery in each of their wrists. After the figures met, fell to the floor and exited the gallery a painterly blood trail was all that remained. Blood has played a central role in some of the world's most trenchant rituals and is associated with cleansing, pain, birth and death. Arterial was a ritual in its own right. The solemn mood of the audience and the aura around the performance was indicative of the pervasive sense of peril and intimacy created by SenVoodoo.
Alison Currie received her BA in Dance Performance at the Adelaide Centre for the Arts in 2003. She has performed extensively in Adelaide and also Shanghai, China. 42a has been in development since 2006 and includes eight collaborative artists and performers. In 42a Currie, director/choreographer, sought to create an 'immersive installation performance experience' which dissolved the physical and psychological boundaries between spectator and performer. In the installation the concept of 'home' was dissected and reassembled into separate environments delineated by architectural lines, projection screens, headphones and one's own personal space. Some were familiar, like people lounging in a living room; others unexpected like a giant pink Arnott's biscuit. The audience's movements or `triggers` prompted the performers to enact choreographed acts of domesticity, such as opening a door, mimicking a spectator or feigning shyness. This took place for nine days straight, five to six hours per day. 42a was an ambitious project which succeeded in immersing the spectator in the fluctuating chaos of the home.
When performance art is good it hums and vibrates with energy. It reaches out to the audience and brings them in like 42a. Or it places all their senses in a visceral moment of expectancy like Arterial. Performance art is still out there and still relevant; exploiting the richness of the gaps between various media and disciplines and defying an ideological framework which would strangle its power.