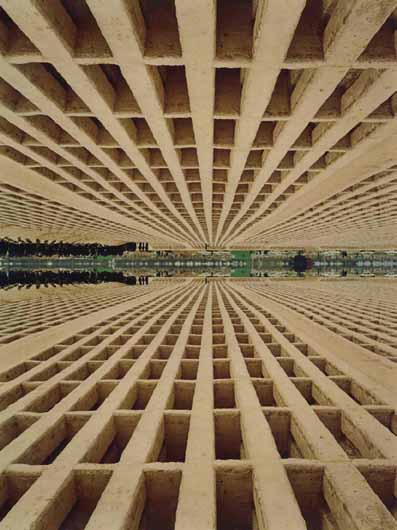 From 21 September to 7 October, the Adelaide Festival Centre is presenting the inaugural OzAsia Festival. This new Festival will highlight work from Australians that identify with an Asian cultural heritage; collaborative work between Australian and Asian artists and a cross-section of the cultures of Asia, both traditional and contemporary. The OzAsia Festival is a way of bringing to the fore culturally important exchanges between Australia and our Asian neighbours by presenting a symposium, performances, visual art exhibitions and a Moon Lantern Festival in Elder Park.
OzAsia includes a full visual art program and remarkable performances from some of Australia's most eminent and talented artists, including William Yang, Leigh Warren and Dancers, Hung Le, Jo Dudley, Yumi Umiumare and Gabriella Smart. It also reflects artists who have endeavoured to understand the complexities and richness of their cross cultural lives and arts production.
The highlight of the visual arts program is Undiscovered Country : the National Cultural Diversity Cluster exhibition
Artspace: Adelaide Festival Centre
21 September – 28 October 2007
In Undiscovered Country, the Adelaide Festival Centre's Artspace is transformed to present a series of multimedia installations around culturally diverse concepts of the human experience of death. Prominent and highly respected culturally diverse Australian artists have come together to share, through their intellect and individual ways of making art, matters of life and death: the loaded and challenging theme chosen for the first National Diversity Cluster group. The works offer visitors profoundly provocative and inspirational experiences through a series of sound and image installations, moving image, photography and filmed performance.
Developed by the Australia Council's Multicultural Advisory Committee, the Cultural Diversity Cluster was formed in 2003 to develop a creative environment where a national group of eight well-established artists in various disciplines were to intensively research Australia's cultural diversity. The Australia Council awarded significant funding for this project as part of its 'Arts and Multicultural Australia Policy'. The artists worked with a team of researchers led by Professor of Drama, Julie Holledge through the Australian Performance Laboratory based at the Flinders University Drama Centre, to interact and learn from each other in cross-cultural and cross disciplinary collaboration. The processes and prototypes of this artistic collaboration were first presented in a series of showcases in 2005.
In a new partnership with the Australia Council, works emerging from the original processes are now presented as a centrepiece for the inaugural Oz Asia Festival at the Adelaide Festival Centre celebrating the rich and diverse connections between Australian and Asian artists.
The originating artists of the Cluster Group are predominantly descendants of first, second or third generation Asian immigrants: namely William Yang, Hossein Valamanesh, Anna Yen, Yumi Umiumare, and Hung Le who have clustered with artists of Indigenous Australian and European heritage: r e a, Mary Moore and Wojciech Pisarek. Their work comes together at the Adelaide Festival Centre in Undiscovered Country to explore expressions of death shaped by language and culture.
Individually and collectively, the artists have combined the rhythms of film and narrative with ancient cultural beliefs, computer-animated graphics, memorabilia, music, photography, sound recordings, film and visual images to produce installations that invoke, not a disparate display of multicultural art practices but a resonance with the universality of feelings and memories invoked by death. The exhibition goes beyond personal memory and grief to face common fears or stigmas about the end of human life.
These talented, contemporary, cross-artform practitioners are experienced in fine art, theatre, modern dance, photography and classical music and together they embraced new technology and popular artforms in digital installation and performance art. No longer working within conventional parameters of national culture, these artists have endeavoured to understand the complexities of not only cross-cultural arts production, but also, the artistic relationships between live performance and cinematic or visual outcomes.
The two-day OzAsia Symposium to be held 22-23 September will feature many of the artists and other speakers. For updates and details www.ozasiafestival.com.au