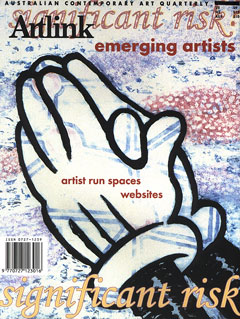 Emerging Artists
Vol 17 no 4, 1997
Guest editor Stephanie Radok. A diverse, challenging collection of articles which examines the issues confronting the newest category of funding - the emerging artist. Are the needs of emerging artists so different from those of other artists?
You are here
»
Artlink
»
Vol 17 no 4, 1997
»
Boomalli Emerging Artists
Boomalli Emerging Artists
Author & Artist: Ms Jodie Chester, feature
Looks at the work of three new artists working within the Boomalli Artist's Co-operative. Leonie Dennis, Shirley Amos and Cedric Talbot. Includes statements by the artists.
The full text for this article is yet to be uploaded.
---
Subscribe to the Artlink newsletter now