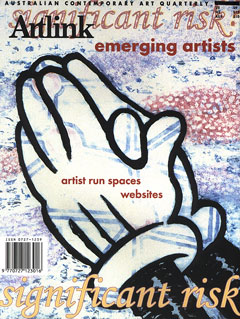 Emerging Artists
Vol 17 no 4, 1997
Guest editor Stephanie Radok. A diverse, challenging collection of articles which examines the issues confronting the newest category of funding - the emerging artist. Are the needs of emerging artists so different from those of other artists?
You are here
»
Artlink
»
Vol 17 no 4, 1997
»
Emerging from What?
Emerging from What?
Author: Ms Daena Murray, feature
Examines the concept of 'emerging artists' in the visual arts practice of the Northern Territory. Features the works of Peter Adsett, Jacki Fleet, Pam Lofts, Rod Moss and Janette Lucas.
The full text for this article is yet to be uploaded.
---
Subscribe to the Artlink newsletter now