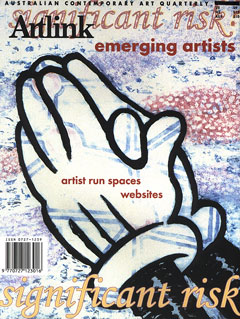 Emerging Artists
Vol 17 no 4, 1997
Guest editor Stephanie Radok. A diverse, challenging collection of articles which examines the issues confronting the newest category of funding - the emerging artist. Are the needs of emerging artists so different from those of other artists?
You are here
»
Artlink
»
Vol 17 no 4, 1997
»
Going Public...Doin' it in the Street
Going Public...Doin' it in the Street
Artist: Mr Gavin Malone, feature
Exhibiting or working in the public space provides opportunities and challenges for emerging artists not available in the gallery system. This article outlines Malone's personal understandings of the three distinct aspects of public space art activity: I Exhibiting in the Public Space, II Public Artwork and III Design of the Public Space. Public art and design contribute to making art more visible in the community and broaden the definition of art practice.
The full text for this article is yet to be uploaded.
---
Subscribe to the Artlink newsletter now