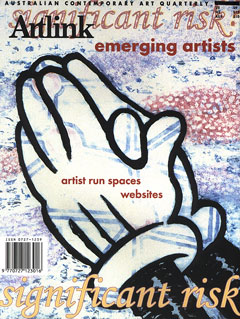 Emerging Artists
Vol 17 no 4, 1997
Guest editor Stephanie Radok. A diverse, challenging collection of articles which examines the issues confronting the newest category of funding - the emerging artist. Are the needs of emerging artists so different from those of other artists?
You are here
»
Artlink
»
Vol 17 no 4, 1997
»
Finding a Place
Finding a Place
Author & Artist: Ms Tara Gilbee, feature
"I chose to be the artist in residence at the Royal Melbourne Hospital for personal as well as professional reasons...". Gilbee here shares her experiences as an emerging artist, the potentials and limitations which come hand in hand with being a self-employed practitioner and her journey into the communal space of the Royal Melbourne Hospital.
The full text for this article is yet to be uploaded.
---
Subscribe to the Artlink newsletter now