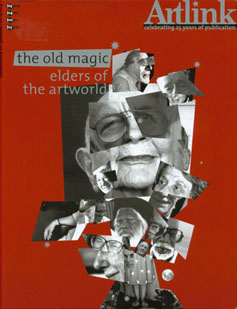 Elders: The Old Magic
Vol 26 no 4, 2006
A group of art practitioners, artists, curators and writers, in their seventh and eighth decades are the subject of our focus. Still actively working, they are charismatic elders whose influence on several generations of young artists has been a crucial part of the development of contemporary practice. The issue of creativity and how it sometimes becomes enhanced in old age, and questions around how we regard our elders, are canvassed. The extreme youth orientation of society today does not always appreciate the value of a fifty year practice.
You are here
»
Artlink
»
Vol 26 no 4, 2006
»
Pioneering Gallerists: Frank Watters
Pioneering Gallerists: Frank Watters
Jo Higgins, feature
This article celebrates the 42nd anniversary of Watter's Gallery and the enormous contribution founding member Frank Watters and his partner Geoffrey Legge have made to the Australian art scene. Scheduling non-selling shows, allowing the gallery to be used for installations, poetry readings and performances – and trust – underpin everything that Watters stands for now. Key figures in the success of Watters Gallery here discussed include Barry Stern, Robert Dickerson, Margo Lewers, Daniel Thomas and the artists themselves.
---
Subscribe to the Artlink newsletter now