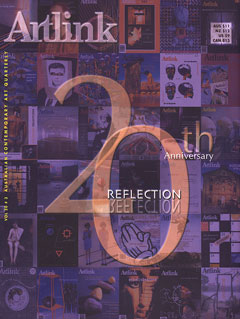 Reflection: 20th Anniversary Issue
Vol 20 no 3, 2000
Guest editor Stephanie Radok Looking back and looking forward. Revisiting some of Artlink's favourite themes over the 2 decades and offering new perspectives for the next decade: ecology, new media, regional arts, Indigenous art, museum practice, craft, theories of art especially that of Donald Brook, multiculturalism and social change. Also an account of Artlink's last decade. Reviews.
You are here
»
Artlink
»
Vol 20 no 3, 2000
»
Adelaide Studios
Adelaide Studios
Author & Artist: Ms Lisa Harms, feature
This article celebrates the diversity of some of the groupings which 'link' artists within the city that is Artlink's birthplace, Adelaide. Gray Street Workshop, Central Studios, Experimental Art Foundation (EAF), Australian Network for Art and Technology (ANAT), Jam Factory Contemporary Craft and Design, Jamboree Ceramic Workshop, SAAW (South Australian Artists Workshop), Red Door Facing East, Butcher's Studio, Blythe Street Studios, Rice Art, Zu Design, SEAS Studios and the Electronic Writing Research Ensemble are all examined.
---
Subscribe to the Artlink newsletter now