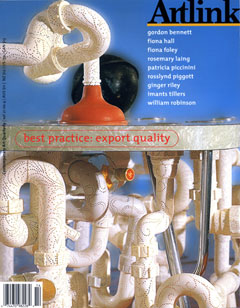 Best Practice: Export Quality
Vol 21 no 4, 2001
What does an artist need to establish his/her name in the competitive international art world? Gordon Bennett, Fiona Hall, Fiona Foley, Rosemary Laing, Patricia Piccinini, Roslynd Piggott, Ginger Riley Munduwalawala, Imants Tillers, and William Robinson are all becoming recognised internationally while working from an Australian base, both physically and conceptually. It seems it is no longer necessary for an artist to leave Australia to become known overseas. Also, Pt I of Donald Brook's radical new 'The Undoing of Art History'; exhibition and book reviews.
You are here
»
Artlink
»
Vol 21 no 4, 2001
»
Ginger Riley Munduwalawala: A Seeing Artist
Ginger Riley Munduwalawala: A Seeing Artist
Author: Ms Judith Ryan, feature
Ginger Riley's superlative colour sense sets him apart from other Indigenous Australian artists. His unique landscape manner, studded with icons of identity and place, is instantly recognisable yet it has attracted both passionate acclaim and vitriolic criticism. Riley's has forged his own way of encapsulating and celebrating the grand sweep and detailed minutiae of a particular tract of land in Southeast Arnhem Land, over which he now holds native title through his role as djungkayi (caretaker). In order to understand why Riley stands alone as an Indigenous painter, Ryan looks at his personal life history and the wellsprings of his art: his intimate connection to his mother's country.
Ginger Riley's superlative colour sense sets him apart from other Indigenous Australian artists. His unique landscape manner, studded with icons of identity and place, is instantly recognisable yet it has attracted both passionate acclaim and vitriolic criticism. This is because Riley's joyous paintings of colour and light capture popular imagination but do not quite fit with mainstream forms of contemporary art or with stereotypical notions of Aboriginal art. Unlike Papunya Tula paintings, Riley's work does not accord with abstract expressionism, minimalism, geometric abstraction, conceptual art or op art. It also sits uneasily with the quiescent ochre tones and sacred rarrk of Arnhem Land, the bi-chrome planar maps of the Western Desert or the tough works by politically aware, city-based Indigenous artists. As Ginger explains, his paintings even 'look different from other mob'1, a reference to fellow artists from the Ngundungunya Association, Ngukurr. Riley has forged his own way of encapsulating and celebrating the grand sweep and detailed minutiae of a particular tract of land in Southeast Arnhem Land, over which he now holds native title through his role as djungkayi (caretaker).2

To understand why Ginger Riley stands alone as a painter with a very particular vision we need to understand more about his personal life history and the wellsprings of his art: his intimate connection to his mother's country. Ginger Riley Munduwalawala comes from coastal saltwater country of the Mara people, having been born in about 1937 on the point of a hill, near where the powerful snake ancestor, Garimala lives. The hill, in country called Yuluru, is about eight kilometres from his current home station, Maria Lagoon (Wamungu), by the Limmen Bight River. Riley's strong sense of identity and place, of knowing where he belongs and where he comes from coastal salt water, not inland fresh water provides an anchor or still point of certainty to which he always returns in his mind. Although he has led an adventurous and independent life open to change, not fixed in one place he does not deviate from his deep rootedness in his 'mother country', the area around the Four Archers, a geographical formation about 45 kilometres inland from the Gulf of Carpentaria on the Limmen Bight River.

A 'saltwater man', Riley grew up in the bush and intermittently went to school at the Roper River Mission, later the Ngukurr Aboriginal community. Seeking employment and the chance to travel, Riley worked as a stockman and labourer on Nutwood Downs Station and elsewhere in the Northern Territory from the 1950s onwards. As a young man, Ginger Riley encountered the great Aranda watercolourist Albert Namatjira (1902–59) and resolved to be an artist. As he put it, 'I saw Namatjira painting his colour country', admired the 'nice paint' and 'saw my colour country'. The meeting with Namatjira forged Riley's idea that the colours of the land as seen in his imagination could be captured in art. But it would be over three decades before he was given access to paints other than natural ochres. When work declined in the late 1970s, Riley moved back to the Gulf country and to Ngukurr. Here, around 1986 or 1987, he began to paint, and quickly established the pictorial style of landscape painting which has since earned him important recognition both locally and overseas.

In 1992, Riley won The Alice Prize and produced a series of works for the new Australian Embassy in Beijing. The following year he won the First National Aboriginal and Torres Strait Islander Heritage Commission Art Award and began to sign his paintings, after being inspired by his visit to London (for the Aratjara: Art of the First Australians exhibition) where he saw signed works of Picasso and other great artists. In 1994 Riley's work was included in Tyerrabarrbowaryaou II, an exhibition prepared for the Havana Biennale, in Cuba. In 1996, in recognition of his outstanding achievements as an artist, he was awarded the Aboriginal and Torres Strait Islander Arts Board of the Australia Council Fellowship for 1997–98 and in 1997 he became the first Aboriginal artist to be awarded a major retrospective exhibition at the National Gallery of Victoria.3

Riley is a singular colourist with an incandescent vision for as he puts it, 'I have to see it: it must be bright'. An image-maker with a rare sense of space and a concern for the whole composition, rather than a mark-maker of abstract sensibility, Riley enjoys working with paint, mixing, layering and experimenting with colours and different visual effects and therefore building up country. His iconic landscape style relates obliquely to the Mara rock art tradition and reflects his enduring admiration for the watercolours of Albert Namatjira. But since Riley took up the brush in 1987, his painting manner has continually evolved, becoming increasingly delicate and sophisticated over time as borne out by the body of work selected for exhibition in Australia at Arco 2002 4.

Riley's career reads as a clear reflection of his statement: 'I do not look backward, I look forward.' He refuses to paint on demand or produce replicas of what has gone before: that would be a denial of the active process of painting as creation or discovery. For Ginger, art issues directly from what he sees in his mind, not previous canvases from another point in time. As he puts it, 'I see my country when I wake up, think what I am going to do sometimes one colour, sometimes three'. This catches the spontaneity of his working method on which the vitality of each painting hinges. He chases after new paint, textures, perspectives rather than regurgitating formulas. His freedom in painting with brush and acrylic on canvas or paper is glimpsed in his statement: 'I'm just a painter I can do what I like I like to paint.' Riley's strong sense of self brings to mind the words of Picasso: 'Actually everything depends on oneself: It's the sun in the belly with a million rays'5. The phrase also touches on Riley's preference for painting in full sunlight, enabling him to capture the radiant colours by which he is known. The images, seen intensely in his mind, stand out vividly in paint, enabling the viewer to see the land up close or in the remote distance with the clarity of truth. Ginger Riley's work provides an encounter, like a flash, with the artist's mother country.

In Riley's fourteen-year career certain phases and changes of direction are evident. In broad terms, the 1987–88 canvases contain the seeds for much of the artist's later development. A distinguishing feature is the artist's use of plain, horizonless grounds that cannot be read as landscape topography upon which an assemblage of images is silhouetted, as in cave art (see fig.1). The years 1989–91 were marked by a series of experiments with small-scale works on wood or board as Riley's spectrum of colour on canvas began to narrow. For this brief period he focused intensely on the triangular body-painting motif and developed a linear stippling in white on black or brown upon which topographical features or ancestral figures were silhouetted. This dense patterning of tones, characteristic of the small works on board, took precedence over bright colour and landscape imaging which re-emerged to great effect when Riley was introduced to Arches paper in early 1990. With the discovery of this support, similar in scale to the sheets of scrap plywood salvaged from the tip, Riley embarked on a colourist adventure. He found the paper enabled him to achieve a brilliancy and translucency of colour not possible on board. And, as if liberated from the need to paint on scrounged materials he experimented with spontaneous brush strokes, mixing and layering paint on a small scale and concentrating on getting the surface right (see fig. 2).
This concern with the dynamics of colour its oppositions, contraries, tonal densities and brilliance which continues to absorb the artist was given its grandest expression on canvas in 1993 when Riley was artist-in-residence at Araluen. Here he explored a totally new idea painting Limmen Bight country from 'top to bottom', as if 'seen from a cloud'. Some of the celestial perspectives of Ngak Ngak in flight, of cirrus clouds over a blue land punctuated with anthills, are amongst his most visionary compositions (see fig.3). He also began to picture the land in layers or terraces, celebrating important features from different viewpoints in the one composition. These brilliant colouristic experiments and radical perspectives continue to characterise Riley's painting style, which is never fixed or formulaic.

On the surface, it would appear that Riley's iconography has remained constant since he began painting, generally being focused on a sequence of events that took place in his mother's country. This country includes the riverine lands adjacent to the Limmen Bight River, from near the river mouth to its tidal reach near the Four Archers, some fifty-five kilometres inland. Central to Riley's art and spiritual vision of this land are the Four Archers four perfectly formed pyramidal hills, which stand out in the artist's mind and figure again and again as markers of his country as does the Limmen Bight River.
The Four Archers were created by Garimala, 'a taipan which can strike you dead in a minute' and is distinct from Bandian, the King Brown snake, Ginger's father's mother's Dreaming. Bandian travelled through and formed places within Ginger's mother's country, including Nyamiyukanji, a site associated with Riley's own Dreaming, Jatukal (Plains Kangaroo). Garimala travelled from far away and lives in the waterhole that he created near the Four Archers. From there Garimala journeyed to Nyamiyukanji in the Limmen Bight River, disappeared under the water, and metamorphosed into the Rainbow. Garimala as Rainbow, associated with water, the seasons and the life cycle, is believed to be present during the build-up of the wet season. In another dramatic transformation, Garimala, becomes an angry, fire-breathing serpent–dragon called Bulukbun who is always angry and has a dangerous malevolent power.

Apart from Garimala, the Four Archers and the Limmen Bight River, perhaps the most striking image in Riley's work is Ngak Ngak, the white-breasted sea eagle who plays the role of a sentinel or guardian, protecting the country. Riley's works are often framed by wedge shapes, derived from his own shoulder and chest body-paint designs, or parallel lines, another part of his inherited body design, used to decorate the waist and arms. The presence of the sun indicates a daytime view, but also has a deeper significance for the artist, being emblematic of his mother, as is the cloud.

Riley knows this country and can sing and name it in ritual contexts, but not for outsiders. He does not trespass upon anyone else's territory or cross the line between public and secret knowledge. The constancy of iconography is not a limitation to Riley but a source of inspiration and empowerment. He returns again and again to his mother country, yet, akin to the Mont Sainte-Victoire of Cézanne, it is transfigured by his imagination and continually takes on a different guise. It is the 'same but different': the artist's whole body of work can be read as a series of variations upon a single theme of great substance and moment, with colour providing the main point of differentiation. The presence of recognisable images disguises the subtle changes to his iconography that constantly occur for cultural and political as well as aesthetic reasons. It is usually a question of emphasis: certain aspects are underplayed or quietened while new elements are introduced and command centre stage.

In 1997, for example, Riley began to paint the Ruined City, an important site near Nathan River in his grandfather's country that originated before time. In the Gulf country there are several of these large rocky outcrops resembling huge buildings or cities in ruins. They are a maze of ravines that have gushing waterfalls in the wet but are hot, parched and snake-infested in the dry season. Riley images this rock formation as a cluster of twisted, pointed rocks, clearly differentiated from the pyramidal Four Archers, as shown in Nyamiyukanji, the river country 1997 (fig.4) and Ngak Ngak and the Ruined City 2001 (fig 5).
In 1999 Riley revealed that his works follow guditja, a continuous song line, which he might sing in ceremony for young men, for example. As the artist explains 'guditja is a road a line, you cannot make it up or steal it, you must follow that line. Guditja is about little pictures you think this series of pictures in your mind.' 6 The guditja that Riley paints comes from the old people, the Dreaming it is law.

The year 2000 signalled a further elaboration and extension of Ginger's iconography partly in response to his tracing of song lines in support of his native title claim. Most significantly, in his Native Title series of works, Riley included for the first time two species of bush yams, migal and lagurja that are integral to circumcision ceremonies. The yam plants are seen in the foreground of Ngak Ngak the hunter 2001(fig.6) as an abundance of branching roots with edible tubers, the underground roots appearing to climb up the picture plane. Ancestral women collected this bush food in preparation for ceremony in the Dreaming, cooking the food for families before sunset and singing the women's songs associated with guditja the continuing story of culture going forward. Women look after the young boys all night, feeding them the yams as well as showing them songs and dances. Next morning the women hand over the boys to the men for the next stage of initiation. The inclusion of this detail parallels Riley's addition of new iconographic elements pertaining to ceremony such as wedge-shapes, scallops and stripes derived from body designs, which entered and enriched his art at different stages of the 1990s.

The new body of work exhibited in Australia at ARCO 2002 (see figs 7 & 8) reveals subtleties in the artist's palette and brushwork that are marks of his mature sensibility. Wet season at Wamungu 2001 shows his ability to paint the spirit and the atmosphere of the land, its breath or air. As a painter with a profound and spiritual vision of his mother country that moves through the rainbow of his imagination, Riley sees it in ever more delicate hues and nuances captured by ethereal strokes of the brush. By painting in layers of light over dark in these and other works, Ginger enables the uppermost semi-translucent skin of colour to reflect deeper or contrary tones that lie underneath. This painterly depth built up through different densities and irregularities of colour from the bottom-most brush-strokes upwards, serves to differentiate Riley from other contemporary Indigenous artists.


1 Ginger Riley, interview with author, Ngukurr 1996. Unless otherwise stated all other quotes are from this interview.
2 In July 2000 the Federal Court of Australia decided that substantial native title rights exist on the old St Vidgeon's Station and on lands adjoining the Roper, Cox and Limmen Bight Rivers near the Gulf of Carpentaria, Northern Territory.
3 See Judith Ryan, Ginger Riley, National Gallery of Victoria, 1997
4. Australia at ARCO 2002 is assisted by the Australia Council, the Commonwealth Government's arts funding and advisory body, through its Audience and Market Development Division
5 E. Tériade, 'En causant avec Picasso', Intransigent (Paris), 15 June 1932. Reprinted in Verve (Paris) Nos 19-20, 1948 as 'Propos de Picasso à Tériade'.
6 Ginger Riley, interview with Beverly Knight, 1999.

Judith Ryan is Senior Curator, Aboriginal and Torres Strait Islander Art at the National Gallery of Victoria, Melbourne, where she curated a major exhibition of Ginger Riley's work in 1997


---
Subscribe to the Artlink newsletter now