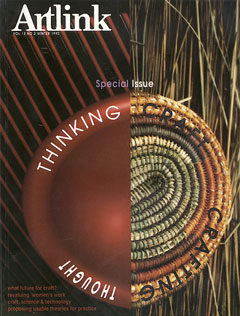 Thinking Craft, Crafting Thought
Vol 12 no 2, 1992
A special issue which in arguing the old art/ craft debate is proposing usable theories for practice. What is the future for craft? Re-evaluating 'women's work', craft, science and technology. Reviews
You are here
»
Artlink
»
Vol 12 no 2, 1992
»
Two Countries, One Weave?
Two Countries, One Weave?
Artist: Ms Kerry Giles Kurwingie, feature
Written with Phillip (Piri) Everett Over the last year Tandanya (National Aboriginal Cutural Institute) has received much bad publicity but is carrying on and slowly and steadily making history. It opened in 1989 with celebrations featuring Ernabella Inma and Yothu Yindi. Includes photographs of indigenous women at weaving workshops in the South East of South Australia at Camp Coorong Cultural Centre.
The full text for this article is yet to be uploaded.
---
Subscribe to the Artlink newsletter now