Patrick McCaughey Miegunyah Press 2014, 376 pp.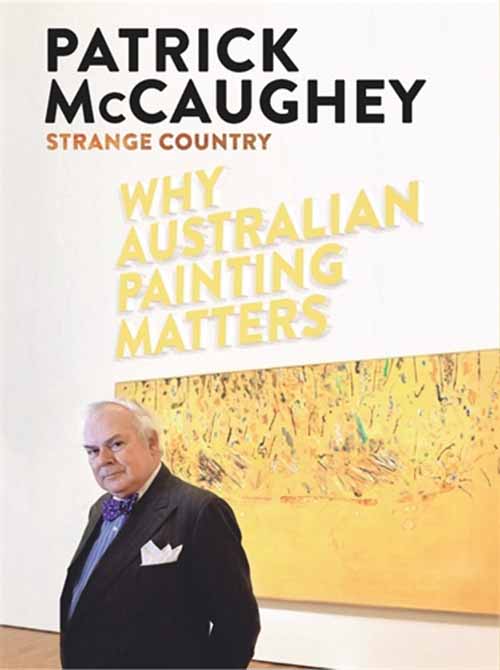 It's hard to read Patrick McCaughey's terrific new book, Strange Country: Why Australian Painting Matters without hearing the sound of the author's distinctive voice gallantly galloping across the page. Written in his renowned expressive tone, richly described details draw the reader deeper into each focus painting, persuasively reminding us that, yes, painting in this country really does matter.
This is McCaughey at his best, analysing, describing and making firm aesthetic judgements. But he fails to answer his own big questions. Featured hawk-eyed in signature bow tie on the front cover, he asks: ''Why has Australia, an island continent with a small population, produced such original and powerful art? And why is it so little-known beyond our shores?''
Following a prologue, the body of the text commences awkwardly yet correctly, acknowledging Australia's ancient visual foundation in Aboriginal and Torres Strait Islander culture. But McCaughey's literary dexterity becomes ungainly in this territory, especially when he enthusiastically suggests that ''... the occasional spear flung by a frightened and bewildered Aboriginal inhabitant awaited any who ventured into the bush''. Anyone familiar with original records of first European encounters with Aboriginal people will be astounded by the generalisation, inaccuracy and insensitivity of this remark.
Although rescued by the rigour of the author's art knowledge, high quality reproductions and new Australian scholarly research one cannot help but wince when confronted by its narrow scope. There are references to John Glover, Eugene von Guérard, Arthur Streeton, Arthur Boyd, Fred Williams and Brett Whiteley, but … where are Martha Berkeley, Alexander Schramm, Max Meldrum, Dorrit Black and Howard Taylor? This inequity is extended by the Melbourne-centricity of the featured contemporary artists.
Why is Australian art ignored internationally? Inadvertently, McCaughey answers his own big question. I would argue this ''spur'' as he calls it, exists because although Australian art is ''powerful'' and ''original'' it continues to be infected by parochial and insular critical evaluation.
Tracey Lock-Weir is Curator of Australian Paintings and Sculpture at the Art Gallery of South Australia