Martin Edmond
Giramondo Publishing 2014, 341 pp.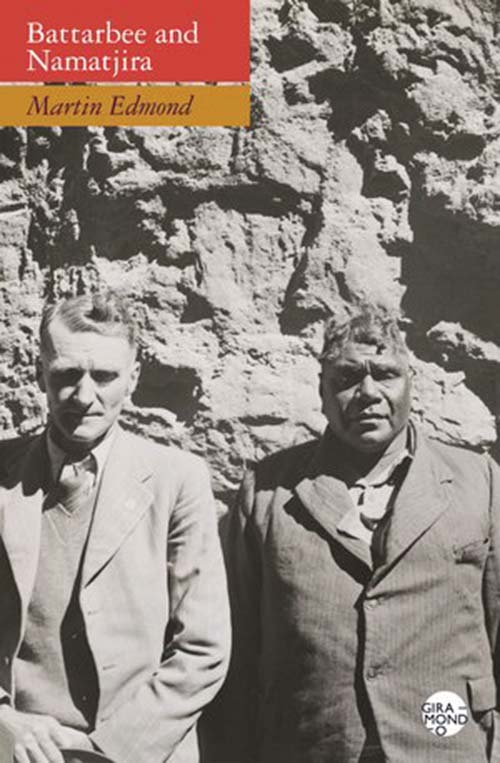 Martin Edmond's latest book is the product of a doctoral thesis undertaken in the Writing and Society Research Centre at the University of Western Sydney. Fifty years ago, Albert Namatjira, the Arrernte man from Central Australia, was probably the only Indigenous artist known by name by non-Indigenous Australians and Rex Battarbee, commercial artist-cum-landscape painter from Warrnambool, was known hardly at all save perhaps as Namatjira's teacher, certainly not as an artist in his own right.
Edmond tells a good story and, with the aid of Battarbee's daughter Gayle, has restored something of the balance in relating the relationship of the two men, but there is one omission, more important than the lack of citations and the absence of an index - which is surely a sine qua non for any biography – there are no illustrations of the artworks of either Namatjira or Batterbee. Of the 24 images which are included, two stand out. First is Axel Poignant's 1946 portrait of Namatjira and his wife Rubina in the MacDonnell Ranges. The other is Rennie Ellis' photograph of Rex taken shortly before his death in 1973.
There is absolutely no reason for the absence of Battarbee's artwork; apart from watercolours in public collections there are those retained by the family. Edmond states that he was refused permission to reproduce any of Namatjira's oeuvre and it is true that copyright passed to the Legend Press following its sale to John Brackenreg in 1983 by the Public Trustee of the Northern Territory for $8,500. As I have not heard of anyone before being without good reason refused permission to reproduce Namatjira's work, I contacted Philip Brackenreg, son of John and current owner of the Legend Press. As so often in publishing, it was just a matter of money ...
'What is the use of a book' thought Alice, 'without pictures or conversations'. Edmond has provided the conversations but without the pictures the book can only be of limited use.
Vincent Megaw is Emeritus Professor of Visual Arts and Archaeology at Flinders University, Adelaide. Together with his late wife, Dr Ruth Megaw, he edited and curated the book and exhibition The Heritage of Namatjira in 1992.