National Gallery of Australia, Canberra
13 December 2014 – 8 June 2015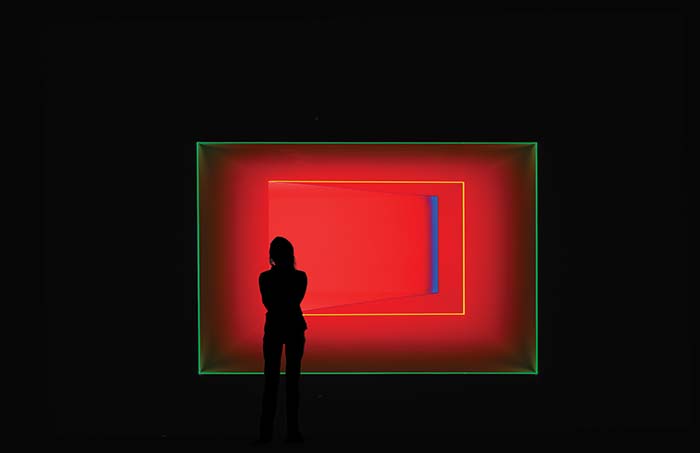 At the press launch, James Turrell declared this show to be 'the most beautifully made of all my exhibitions'. A daunting project for the National Gallery of Australia, Director Gerard Vaughan declared 'its scale and scope is unlike anything in our history'. The room construction and installation of the lighting required meticulous precision. But the NGA pulled off the challenge and it is a truly 'phenomenal' exhibition charting Turrell's 50-year investigation of the ways in which light is perceived and experienced.
'Light', Turrell explains, 'is an elixir ... Physically it's a food. It also has an emotional effect'. The artist sees himself as part of a tradition that includes Turner, Constable, Vermeer, Rembrandt, Rothko and Reinhardt. A work such as Joecar (Red) (1968) recalls both hard edge abstraction and the work of Rothko. Consisting of a projected red stripe against the corner of two white walls, it flickers between appearing like a corner and a three-dimensional oblong. A similar shimmering optical illusion is present in Afrum (White) (1966), a projected white shape against two white walls that moves between corner and cube. These optical illusions are also the basis for an exquisitely executed series of aquatints entitled First Light (1989-90). Other works on paper include documentation of Turrell's monumental Roden Crater project. But in a classic earthworks dilemma, the hologram, photographs, prints, drawings and maps can only hint at the actual scale and experience of the site work.
The works on paper are, also, easily overshadowed by the sheer spectacular nature of the light works in installation. These range from experiments with TV cathode rays utilising 1960s technology in Bullwinkle (2001), to Bindu Shards (2010), a perceptual cell which uses the latest lighting and computer technology to take each individual viewer on an intense, immersive light and sound journey that transports you to another space entirely.
The mysterious qualities of light mean that, like the effect of music, it is difficult to describe the immersive experience of Turrell's works. The highlight of the exhibition is the massive Ganzfeld installation, Virtually Squared (2014). On entering this space, one's depth of perceptions became blurred, and sensations shift as the lights change colour from the most intense reds to the subtlest grey-whites as part of a 50-minute colour cycle. The sloping floors and curved walls all reflect the light, causing you to feel almost weightless as if floating within clouds. Viewing Virtually Squared is like being inside a Rothko painting, only brighter and lighter.
The NGA now possesses an impressive 'vertical vintage' of Turrell's works, adding to the skyspace in the sculpture garden, Within Without 2010, and numerous works on paper, the purchase of five works from this exhibition, including Joecar (Red) (1968), After Green (1993) and Bindu Shards (2010). This extraordinary retrospective amounts to experiencing the depth of James Turrell's remarkable oeuvre across half a century.
Sarah Scott is a lecturer at the Centre for Art History and Theory, Australian National University.