Lawrence Wilson Art Gallery, Perth
26 July – 27 September 2014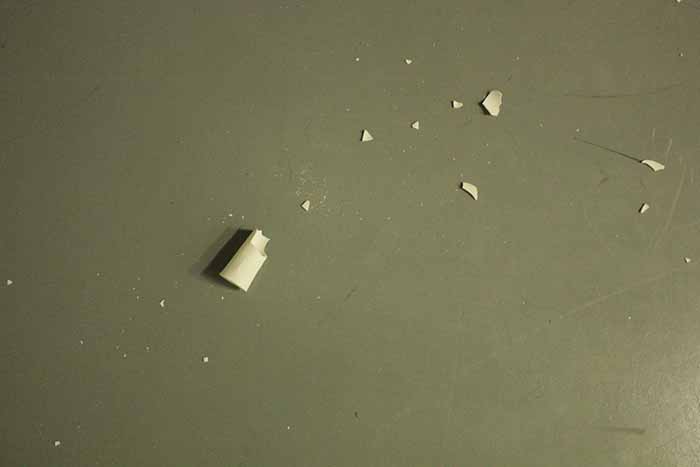 HERE&NOW14 marks the first time in a decade that a major Western Australian art institution has shown an exhibition dedicated entirely to ceramics. Striding up the limestone staircase to the entrance of the Lawrence Wilson Art Gallery, I experience a flashback to my early childhood. My father, a prominent commercial potter in Western Australia, used to plonk me in a huge hand-thrown terracotta pot while he worked in his shed. Looking up out of my ellipse shaped 'window' to Dad's clay-splattered world, I'd watch his slurry-coated forearms, moving rhythmically as he threw pot after pot.
Curator Emma Mahanay Bitmead insists that there is no distinct theme common to the artists' practices represented in HERE&NOW14. In place of a theme is a real desire to present what she describes as a 'snapshot' of clay's infinite creative potential when pushed, pulled, wedged, cast, thrown, extruded, found, documented or even destroyed, by contemporary artists.
Bevan Thompson's manual fashioning of clay into elegant carved and burnished forms serves to divulge stories of country and family. Graham Hay ruminates on the shift from the use of clay tablets to record information to digital means of communication in contemporary society. The cairn-like conglomerations Hay has constructed from 8000 roughly hewn paper clay iPhones deftly express the notion of technological progress over time. There are masterful skills in throwing ceramic forms in works by Greg Crowe, Warrick Palmateer, Stephanie Hammill and Pippin Drysdale that reflect on locality and landscape.
What is most unexpected, but striking, are the more unconventional approaches to working with and against the inherent properties of clay that are on show. Andrea Vinkovic's Shape of Thought and Ian Dowling's Slopey Rock Revisited are ambitious installations comprised of modular components that meld mathematical geometry with organic form. The sound of something fragile smashing to the ground leads the viewer into the blacked-out space reserved for Luke Aleksandrow's Broken Silence; a filmic meditation on how different kinds of silence can be associated with the breakage of a ceramic form.
Falling a little flat in this exhibition were separate bodies of work by Sandra Black and Andrew Nicholls. Both Black and Nicholls have a tried and tested approach to working with methods of painstakingly piercing delicate porcelain casts and applying hand-drawn decals to found decorated ceramic tableware, respectively.
Despite the closure of ceramic departments in many tertiary institutions around Western Australia, the use of clay, ceramic processes and technologies, both new and old, by Western Australian artists are most definitely alive and well. Perhaps Jacob Ogden Smith's witty compilation of pottery tutorials sourced from YouTube in his A video edited in a way as if to imply meaning, operates as a kind of critique on the state of ceramic affairs. Ultimately, the artworks in HERE&NOW14 clearly express that this age-old means of creative expression is finding new channels and new audiences in unfamiliar territory.