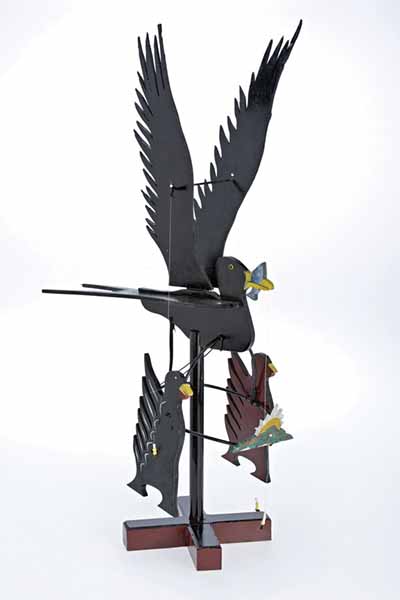 Saltwater Country widens the scope of discussion around the incommensurability of indigenous and settler cultures. Addressing ocean and water as Country is a groundbreaking thematic structure for an exhibition of indigenous works that side-steps the more usual engagement with desert and earth topologies. Curators Virginia Rigney and Michael Aird sought out sixteen indigenous Queenslanders who hail from both remote and metropolitan areas, not only to 'fulfill our role as a regional gallery and speak to the Gold Coast community', but also to 'bring more people into the conversation' about indigenous history and culture and to assert a far-ranging openness to deep connection to water as place.
Judy Watson's bronze sculptural casts of shoreline detritus entitled Sting Ray Hover, Burrum Heads (2014) and Dead Littoral (2014) speak of events left behind, such as net-floats, seed pods, animal skulls and the negative spaces burrowed in the sand by stingrays. The residues of water interacting with land become metaphor for layering personal and cultural histories, and the beauty and irony of casting in bronze to depict the ephemeral makes for a sense of timeless longing. Her painting Blue Float, East Coast, Flinders Chart (2014), a reworking of Matthew Flinders' map that was originally drawn by the explorer when he was held prisoner by the French at Mauritius, underscores the abstraction of European maps' representation of how land 'ends' and water 'begins', and contrasts dramatically with First Peoples' traditional seamless interplay within these zones.
Ken Thaiday's Whaleboat (2014), a beautifully crafted, small-scale and movable wooden sculpture, tells the story of another, different crossing-over between sea and land. Now in his sixties, Thaiday remembers how whaleboats had to anchor and be unloaded offshore to supply his village on Darnley Island before the jetty was built. His marvelous assemblage Frigate Bird (2014) with its outspread wings poised for action suffuses the viewer with the expectation of airborne freedom.
Both Michael Cook and Fiona Foley are represented by photographic series of dramatised Aboriginal histories lived or imagined along the Queensland shoreline. Foley's The Oyster Fishermen (2011), a narrative that unfolds in sixteen photographs, features male actors dressed in nineteenth century settler garb relaxing, reading the Bible, drinking beer and eating oysters at the shoreline. Their male bonding culminates in the brutal abduction, lashing and murder of an Aboriginal woman (Foley) who is left abandoned in the water, face down. Michael Cook's Civilised (2012) consists of six shoreline portraits conjuring Aboriginal men and women clad in European costumes (one man transformed by a horse's head), as if the characters were part of a 16th-century commedia dell'arte improvisation, all accompanied by handwritten text of Captain Cook's first observations of the Australians he encountered. Michael Cook upends habitual stereotypes with regard to what an Aboriginal looks like and invites responses to what course history might have taken if European and Aboriginal cultures had interfaced as equals from the moment they first confronted each other along the shoreline.
Vernon Ah Kee's wegrewhere #2 (2007–09) are photographs showing his cousins standing on the beach dressed in loud surf label clothing and holding surfboards painted in North Queensland rainforest shield designs. Wegrewhere comments drily on continuing disparities between whites and blacks to shoreline access. And both Megan Cope's Toponymic (2014) – nighttime video projections of Aboriginal place names on dunes and trees – as well as her paintings, like Jumpinpin (2014), of whitefella maps beautifully calligraphed with re-inserted blackfella place names confront loss and redemption of Country.
Saltwater Country ups the ante in the ongoing transformation of cultural narratives, weaving the undercurrents of Australia's sense of itself and its inexorable movement from provincial European settlement to the valuing of its own unique voice. As a group exhibition that beautifully demonstrates how this country is a site of 'the crucial potentialities and problematics of indigeneity for re-imagining the contemporary', (as pointed out by Huw Hallam and Anthony Gardner in a review of Terry Smith's 2009 book What is Contemporary Art?), Saltwater also quietly suggests that what happens here makes for global reverberations.
Saltwater Country will be seen in Washington DC and Utrecht, Netherlands before touring Australia in 2015.