Curator: Peter Lundberg Royal Tasmanian Botanic Gardens, Hobart 24 March 2013 – 23 March 2014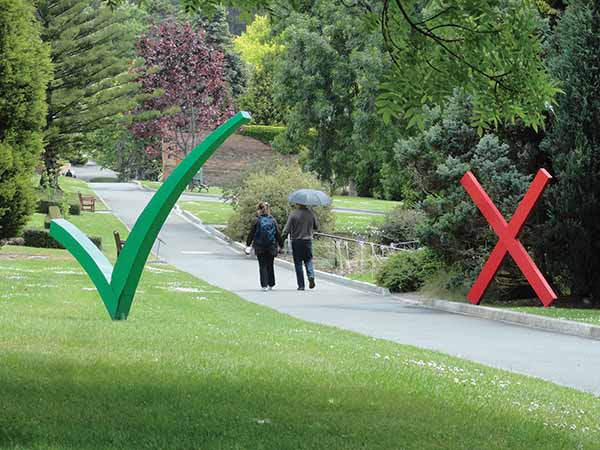 This series of sculptural installations by Marcus Tatton at the Royal Tasmanian Botanical Gardens, (Australia's second oldest being established in 1818), is truly an epic achievement. The time frame for its presentation was also appropriately epic, March 24 2013 to March 23 2014, and rightly so for an installation as varied and rich as it deserves time to be seen by many. Tatton arrived in Tasmania from his native New Zealand in 1987 to study at the University of Tasmania School of Art. He now works almost exclusively in large scale public sculpture.
Art in public places (as against 'Public Art') provides the best avenue for engaging with art in the most benign accessible way. A stroll around the various sites within the Gardens reveals eight distinct major installations. Their strategic placement throughout the whole Gardens makes for a series of rich unfolding experiences. At a stroll, one work remains in the memory until superseded by the next, without clash or competition.
Curator Peter Lundberg, based in Vermont, USA , who curates sculpture parks in the US and Europe met Tatton when he was represented in Sculpture by the Sea in Bondi in 2011. He accepted an invitation to curate this project for the most recent Ten Days on the Island Festival and has rewarded the visitor to the Gardens with a varied yet conceptually related experience of rare quality. The immense variety of work is testament to Tatton's wide range of skills, phenomenal work ethic and clarity of thought. While he would eschew the descriptor of 'political artist' Tatton is an artist with strong ideas about the way we operate within our environment. His work references everything from wood stacks, (Siege) as 'stand-in' ruins, to our dependence on laptops and other technological devices to communicate, socialise and locate ourselves in the world and in society (Roam). Tatton is capable of shifting with ease from one material to another without missing a beat. As in all good art, the form is determined by the concept and the scale is always appropriate to its situation.
The visitor is greeted by a massive Amphora (Vessel), a brutal and assertive raw concrete and metal monster which seems even more massive through its dwarfing of the substantial entry gates which it sits directly in front of. It is a confident and awe-inspiring statement. Within the Gardens you encounter work which, while substantial in scale, settles more quietly into the broader spaces. Corruption, a series of large black symbols in three dimensions gently reminds of the modes of communication with which we send our signals to others and to history, a sort of language or code with apparent meaning, a metaphor for connection. Scan is a netlike structure which cuts at a lateral angle through a cypress tree reminding us that our way of viewing the world is subject to processes of measurement and reproduction. That these works succeed purely as formal sculptural statements and are enhanced by their conceptual connections exemplifies the strength of the works as ideas and as singular aesthetic phenomena. This is not always a comfortable line to navigate but Tatton does so with great confidence and conviction.
In 2013 the place of sculpture is somewhat uncertain given the range of activity which appropriate its name. These works have all the core qualities that define the discipline, Form, Space and Mass are the grounding and Tatton employs all three to the fullest extent. It seems that the most comfortable place for such major physical statements is in the public realm, sited appropriately so that the place and the artwork exist in a dialogue of mutual weight. The experience of large scale sculpture in major garden spaces seems a natural fit particularly when there is such a sweep of major works to engage with in series, at a pace which allows them to unfold as they signal us from distance or surprise us at the turn of a corner.
I've rarely been as impressed by a major undertaking like this but Tatton's installations are significant enough to completely hold their own in such an extensive and beautiful place.