GOMA, Gallery of Modern Art, Brisbane 23 November 2013 – 11 May 2014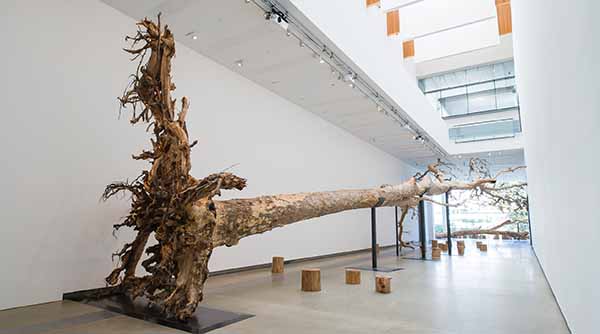 In Falling Back to Earth, New York-based Chinese contemporary artist Cai Guo-Qiang's crowd-pleasing exhibition of large-scale installations currently on view at GOMA, the artist attempts instruction through open-ended allegory on the subjects of death, the environment, our relationship as humans to the natural world and to each other, and the evocation of drama through spectacle. You understand while looking at, and being in this work, created by an artist who has previously worked with fireworks in the sky and makes drawings with gunpowder, that his vantage point is often from a bird's eye view - and that he is truly aspiring to being a 'global artist'. His art grows out of, yet questions, a tradition of aestheticising culture's relationship to nature. And he doesn't foreground the European struggle with existentialism and angst that Australian artists have tempered to suit their own twentieth century art.
Guo-Qiang's vision suits, but doesn't necessarily transcend, a 'now' in which competition for attention in the global art world vies with Damien Hirst, Disney, Abu Dhabi's architecture and the Esperanto of international biennials and triennials. GOMA's publicity texts inform us that two installations, Heritage (2013) and Eucalyptus (2013) are the artist's response to recent visits to Queensland's Lamington rainforest, North Stradbroke Island and the Moreton Bay seascape. (See article by Louise Martin-Chew in the December 2013 Artlink.) A third installation, Head On (2006), was first created for the Deutsche Guggenheim and makes reference to Berlin's turbulent history and the pitfalls of blindly following ideology.
Heritage brings together ninety-nine, life-size, fabricated animals – both predator and prey – encircling a lake embedded in clean, white sand. Viewers access an enormous gallery space and walk on white boards around the sand and animals drinking peacefully from the lake. All the beasts are frozen in time, silence broken only by a sole drip of water cadenced to fall regularly upon the lake's surface. Heritage awkwardly begs the question whether the words artificial and pristine (as this landscape is described by GOMA in its publicity brochure) are really interchangeable. While Cai considers Australia as "Earth's last paradise", he also plainly states that Heritage is not meant to represent reality. Yet, many of us here do still live in and continue to hold important close personal relationships to animals, plants, and most importantly – to place as Nature. To this reviewer, Cai's overwhelming artificiality disconnects from a mythological sense of art's ability to inspire meditation.
Compare Heritage to the eighteenth-century American painting The Peaceable Kingdom, by the Quaker Edward Hicks, which includes Isaiah's millennial vision: ''The wolf shall also dwell with the lamb, and the leopard shall lie down with the kid... and a little child shall lead them.'' Granted, when experiencing Heritage you might feel relief from the Old Testament's brutal capacity for moralisation, but you may also long for a sense of sloppy ol' humankind missing from Heritage. If Cai's paradisiacal vision doesn't include people then Heritage no longer invites us to enter an allegory in which animals stand in for us, and in which we could yield to a universal longing or truth. In his vision, we are ultimately shut out of the Garden. Eucalyptus, a thirty metre dead tree miraculously placed whole within GOMA'S middle hall, highlights that architectural space while furthering the artist's exploration of ready-mades' potent cut-to-the-chase aesthetic. A straightforward invitation is offered to confront this tree's death and to make proposals for its future. We are meant to connect that meditation to a greater understanding of "the cycle of life… and natural rhythms", similar to the contemplation of a scholar's rock. Head On, a gigantic installation comprised of ninety-nine fabricated, snarling wolves that are running, leaping and flying toward a glass wall is quite convincing and elegant. Again, however it is sensationalism that reigns in both these works, and acts as the overriding glue that holds together the use of high artifice with the natural.
Ultimately, one grants Guo-Qiang due respect for the immensity of his project and commitment to crisscross huge cultural distances. However, I wish that Falling Back to Earth's exit survey had asked me questions of greater import than whether I knew its sponsors' names. My familiarity with those corporations' environmental report cards would be more to the point.