Curator: Eleanor Scicchitano FELTspace, Adelaide 4 September – 21 September 2013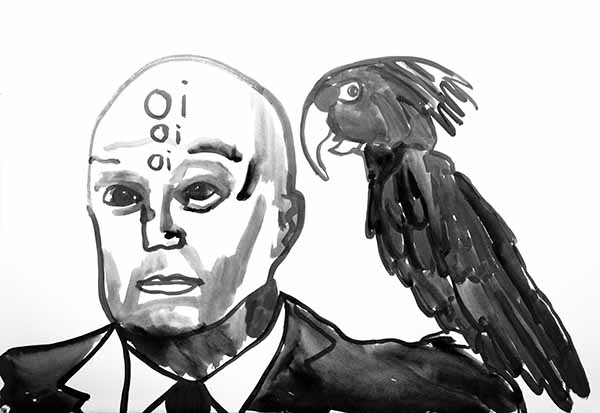 The idea of curating an exhibition that is explicitly about men is one that might raise eyebrows within some art circles. You don't have to look very far to see that male artists are vastly overrepresented within contemporary Australian art. Websites like CoUNTess, run by artist and activist Elvis Richardson, make it very clear: there are a lot of female graduates from art schools but vastly less opportunities for them to exhibit than their male counterparts.
So why would an artist-run space decide to dedicate an exhibition solely to male artists? Rather than a statement about gender inequality in contemporary Australian art, On Men is an exploration of masculinity and Australian identity. Curator Eleanor Scicchitano selected a group of artists from around Australia whose practices interrogate contemporary antipodean culture. Each of the four artists present individual viewpoints that examine and reinterpret our mutable history. How does the Australian man define himself?
The gallery at FELTspace is occupied by a small number of strong works, enabling them room to breathe and be digested. The exhibition is considered, with works that are political, but not unruly or disorderly. Scicchitano posits the idea that national identity is not fixed, but an open framework continually in the making and worthy of ongoing criticism.
Will French contributes to On Men with an interrogation of his personal identity. Having spent seven childhood years living in Indonesia, French's view of Australia is influenced by the experience of being an expat. His work Self Portrait with Flag humorously questions the idea of national identity. Through stitching the word 'French' across the flag, French appropriates the national symbol as a family crest. His work A Note on the Gate is an embossed rubbing of the gates of Kirribilli House. The Southern Cross here becomes a symbol of Australian domination, ownership and power.
Dale Harding's cross-stitched works are unassuming and, because of their subtlety, became lost in the back corner of the space. However, their power lies in that they require time to slow down and read them for the multiple layers and voices that they embody. Harding represents the unheard minorities that have been ignored within Australian culture. In a muted palate, and within a practice normally associated with the feminine, Harding's statements morph into questions; I know my place becomes a question of how societal hierarchies are developed and maintained.
Paul Sloan's body of work, The Shire, looks at a defining moment in contemporary Australian history, the Cronulla riots of 2005. Within this series Sloan presents symbols of Australia that have become synonymous with racisim and boganism. The Australian flag, the Southern Cross and the popular slogan "aussie, aussie, aussie, oi, oi ,oi" are shown to be a 'call to arms' for macho violence. Sloan's portrait of broadcaster Alan Jones is particularly powerful, proving how extensively bigotry is imbedded within our national media.
But let's not forget that racism is not just a pursuit of ignorant bogans, it is also a colonial Australian pastime and is ingrained in our 21st century politics. On Men's critique extends to historical and contemporary politics, providing a space for the four artists to offer revisions to Australia's wealthy white male dominated written history. As an Australian with Aboriginal, English and Maori heritage, James Tylor's work fills in some of the gaps in Australian colonial history. Tylor's series Hopes, Dreams and Nightmares, features Becquerel Daguerreotypes of unpopulated farming land. These images represent the conflict between Indigenous people and colonial framers. Depicting the systemic erasure of indigenous culture, they act as lacunae in the landscape. In the back room of FELTspace Tylor presents a series of self-portraits that describe the story of a group of young Maori men who rebelled against colonial authorities and were sentenced to work hard labour on an island off the coast of Tasmania. Tylor's self-portraits highlight masculine energy while at the same time transporting the story into the contemporary to be reassessed.
On Men offered critical investigation and curatorial enquiry drawing on current art practice. The exhibition cleverly addresses race and gender relations, forming not a statement, but an ongoing and open dialogue about how we construct our identity in a country that maintains vast inequalities. Importantly, On Men is a platform to allow men to reflect on their own masculinity and how it informs their Australianness, allowing men to speak up about what they don't like about our blokey history, and be critical of contemporary masculinity.