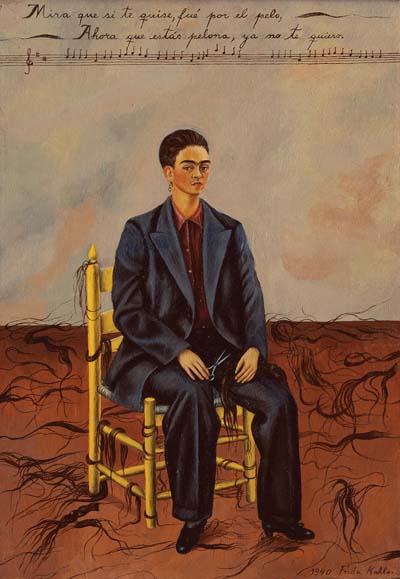 WESTERN AUSTRALIA
Lawrence Wilson Gallery
4 May - 13 July 2013
ORIENTing
Curator: Aaron Seeto
Ian Fairweather, his relationship with Asia; and new work by contemporary artists.
Gallery Central, Perth
5 – 27 July 2013
Slip Stitch
Maggie Baxter works in India with traditional artisans who work in weaving, printing, embroidery and appliqué.

PCP (Perth Centre for Photography)
9 May – 9 June?2013
Apache Contemporary Landscapes in Photography Clip Award
New perspectives in landscape photography.
Art Gallery of Western Australia
22 June – 2 December 2013
Van Gogh, Dali and beyond: the world reimagined
134 works by 96 artists from The Museum of Modern Art in New York. Includes Frida Kahlo and Gerhard Richter.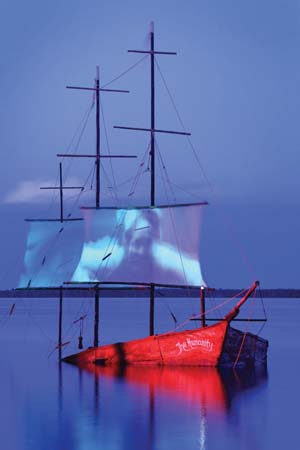 QUEENSLAND
Boreen Point, Sunshine Coast
31 May – 9 June 2013
Floating Land 2013
Floating Land stands for a future of mutual respect, harmony and sustainability. Site specific installations and the signature Welcome (WUNYA) and Farewell (THE CALLING) ceremonies.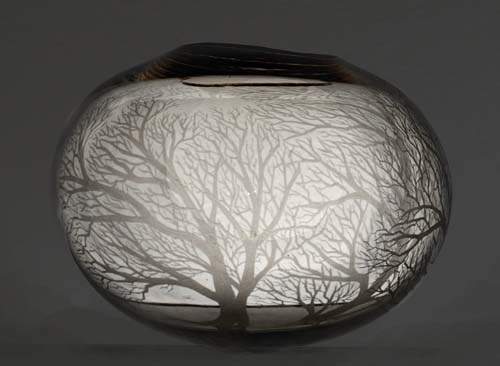 GoMA (Gallery of Modern Art)
25 May – 1 September 2013
Death and Life: Rakuny Ga Walnga: Contemporary Arnhem Land Art
Belief in the circulatory nature of death and life is integral to Arnhem Land art.
1 June – 7 October 2013
My Country, I Still Call Australia Home: Contemporary Art from Black Australia
300 works by 116 artists from every state and territory.
15 June – 22 September 2013
Quilts 1700-1945
From the Victoria and Albert Museum – more than 200 years of British patchwork and quilt-making.
IMA, Brisbane
8 June – 27 July 2013
Judy Millar?Be Do Be Do Be Do
New Zealand post-expressionist painter handpainting enlarged halftone dots.
NEW SOUTH WALES
Wagga Wagga Regional Gallery
10 May – 30 June 2013
Lost and found in translation: Kate King, Mee-Sun Park, Kayo Yokoyama
Three sculptural installations exploring the impact of mother culture and adopted culture on personal perspectives.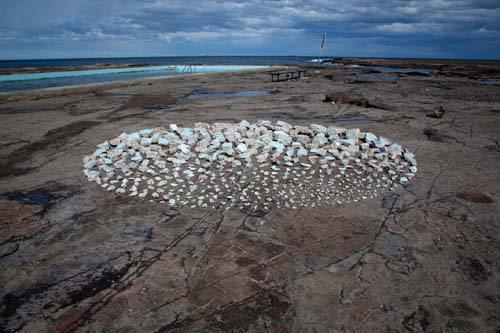 Wollongong City Gallery
12 April – 16 June 2013
Pool, The Alchemy of Blue
For five years Lizzy Buckmaster Dove has collected fragments of the Coledale sea pool from the beach.
1 June – 1 September 2013
Me, The Road & I: Narratives of Refugee Passage and Identity
Curator: Virginia Settre
Stories of the journey to become a new Australian.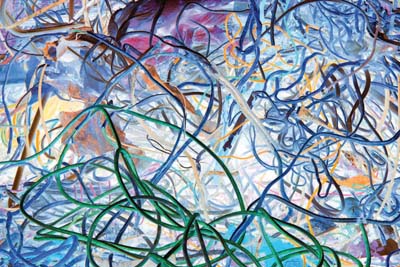 ISEA 2013, Sydney
7 – 16 June 2013
Resistance is Futile
19th International Symposium on Electronic Art. Conference. Workshops. Exhibitions. Performances. Talks. Special events.
Powerhouse Museum
7 June – 21 August 2013
Speak to Me: 5th International Biennial of Media Art
Presented by Experimenta. An invitation to consider what it means – at this time – to be together.
Manly Art Gallery & Museum
7 June – 21 July 2013
Jonathan Jones
Thinking Eora. Exploring history and connecting into the present.

ACT
Huw Davies Gallery
13 – 30 June 2013
Emilio Cresciani: Remains of the Day
Urban wastelands, recycling yards and landfills, the unseen machinery of our consumer culture.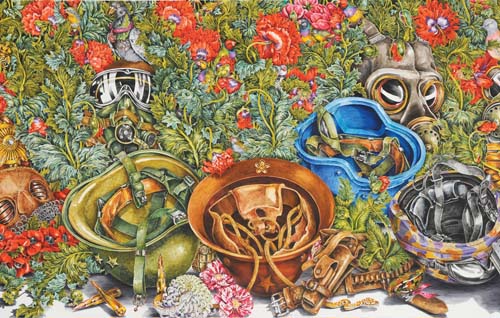 ANCA Gallery, Dickson
26 June – 14 July 2013
Gestalt – the coming together
Six artists who were at the remarkable Canberra School of Art in the infamous 80s.
Canberra Glassworks
15 May – 20 June 2013
Digest
Curator: Scott Chaseling
As part of 100 Days of Glass – Alex Asch, Giles Ryder, Lucio Auris, Claire Healy and Sean Cordeiro respond to Digest.
26 June – 4 August 2013
Parlingarri Mamanta (Long Time Friendship)
Fruits of the ongoing collaboration between Tiwi Islander Jock Puautijimi and Luna Ryan.
Drill Hall Gallery
• 28 June – 11 August 2013
eX de Medici: Cold Blooded
Curator: Jenny McFarlane
Major survey of large and small works on paper. The politics of power: technical virtuosity: in your face.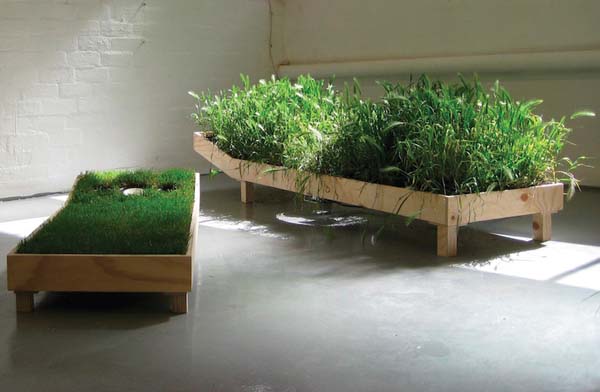 • 16 August – 22 September 2013
Creative Power: The Art of George Baldessin
Retrospective of prints, drawings, sculpture selected by Tess Edwards Baldessin, the artist's widow.

VICTORIA
Counihan Gallery in Brunswick
28 June – 21 July 2013
My River
Rivers are not only spaces of contemplation but are contested spaces of contradictions.
2 August – 25 August 2013
Play Money
Curators: Jane O'Neill, Melissa Kavanagh
Using toys, games, currency and building materials, raises questions about urbanism, growth and home ownership.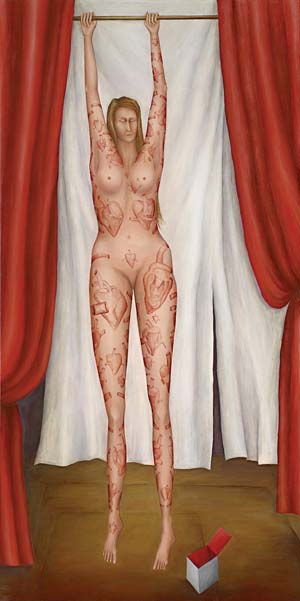 Linden Gallery
18 May – 7 July 2013
Like Mike
Curators: Jan Duffy, Geoff Newton
Eight artists influenced by the energy and restlessness of Mike Brown's art, his use of materials and intuitive processes.
NGV
11 April – 1 September 2013
Mix Tape 1980s: Appropriation, Subculture, Critical Style
Curator: Max Delany
Australian art, design, fashion, music and film from the 1980s.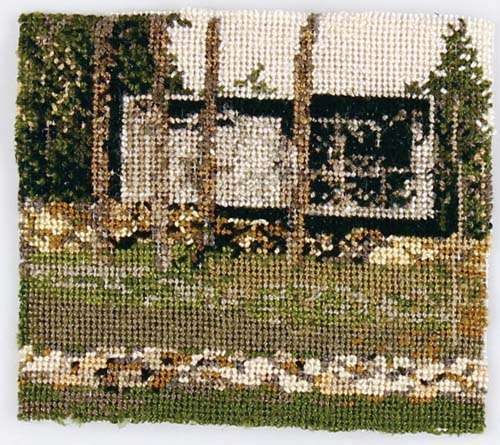 10 May – 8 September 2013
Monet's Garden: The Musée Marmottan Monet, Paris
"My garden is my most beautiful masterpiece," said Claude Monet.
McClelland Gallery and Sculpture Park
30 June – 6 October 2013
Nest: the art of birds
Curator: Janice Burke
Avian architecture from the Melbourne Museum and the London Natural History Museum.
Arts Centre, Melbourne
23 March – 23 July 2013
Performative Prints from the Torres Strait
Ricardo Idagi, Brian Robinson and Alick Tipoti celebrate the links between traditional performance and contemporary art.

SOUTH AUSTRALIA
Adelaide Central Gallery
25 June – 20 July 2013
Neck of the Woods
Exploring the mind and memory, death and the supernatural, the fantastic and galactic.

Anne & Gordon Samstag Museum of Art
19 July – 20 September 2013
Narelle Jubelin: Vision in Motion?
An Australian history of modernism in petit points made over the past three decades, alongside newly commissioned works inspired by architecture.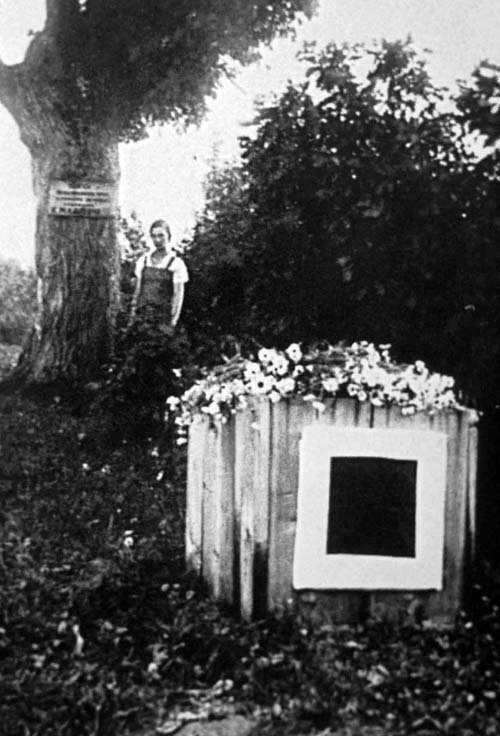 FELTspace
5 – 22 June 2013
Team Textiles: The Knitted Poo Machine
Finger-knitting – interactive, participatory. Share stories, make experimental souvenirs.
3 – 20 July 2013
Refrain
Making and unmaking: Cherie Redwood, Renate Nisi and Elizabeth Bevan-Parrella.
Australian Experimental Art Foundation
• 14 June – 13 July 2013
Black Square – 100 Years
Facilitators: Iakovos Amperidis, Alex Gawronski
Artists respond to Malevich's Black Square painting 100 years after its first appearance.
• 26 July – 17 August 2013
Blender
Curator: Christine Morrow
Experimental works from country South Australia. Remote and regional dialogues between centres and peripheries.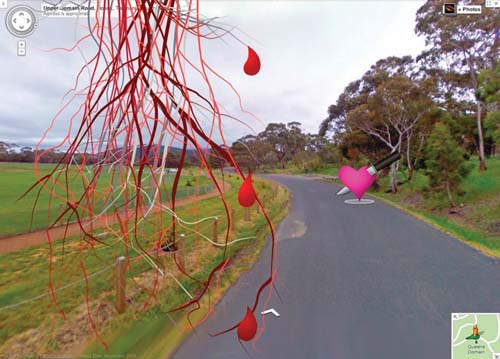 TASMANIA
CAST, Hobart
31 May – 30 June 2013
Networked Art Forms and Tactical Magick Faerie Circuits
Intensive 31 May-2 June. Inspired by computer culture. Artists, programmers and thinkers from the frontline.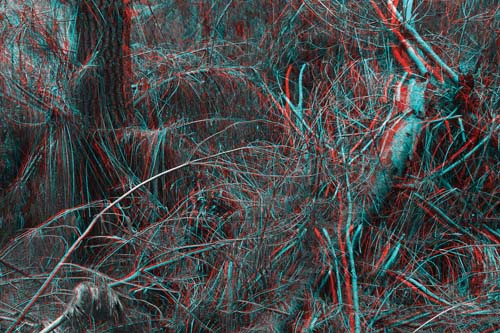 MONA, Hobart
19 June 2013 – 21 April 2014
The Red Queen
Curators: David Walsh, Olivier Varenne, Nicole Durling, the MONA team
Why do humans make art? The Red Queen in Through the Looking Glass said
we must keep running to stay in the same place.
Constance ARI, Hobart
10 May – 1 June 2013
Distorted
Experimental work from seven emerging photo-media artists from Adelaide and Hobart.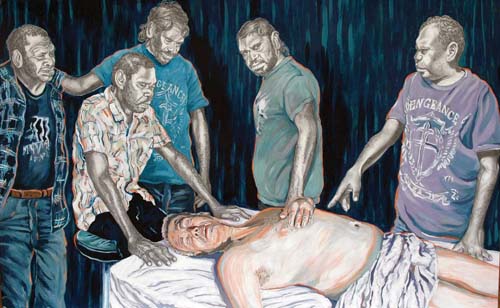 14 June – 6 July 2013
Improper Fractions
Emerging collaboration between Madison Bycroft and Anna Horne.
NORTHERN TERRITORY
Araluen Galleries, Alice Springs
28 June – 11 August 2013
Rod Moss: Anatomy lesson – You. Me. Us.
First major retrospective exhibition of history paintings from 1987 to the present day.
Charles Darwin University Art Gallery
18 April – 28 June 2013
Common Ground
Curator: Anita Angel
From the Collections of Batchelor Institute of Indigenous Tertiary Education and Charles Darwin University.
Paul Johnstone Gallery, Darwin
5 July – 2 August 2013
Buchanan/ Bundi
Performance and static art by Adelaide's Thom Buchanan. Cowboys and everyday life by Bindi Artists Lance James and Conway Ginger.