Curator: Volker Albus RMIT Gallery, Melbourne 7 December 2012 – 9 March 2013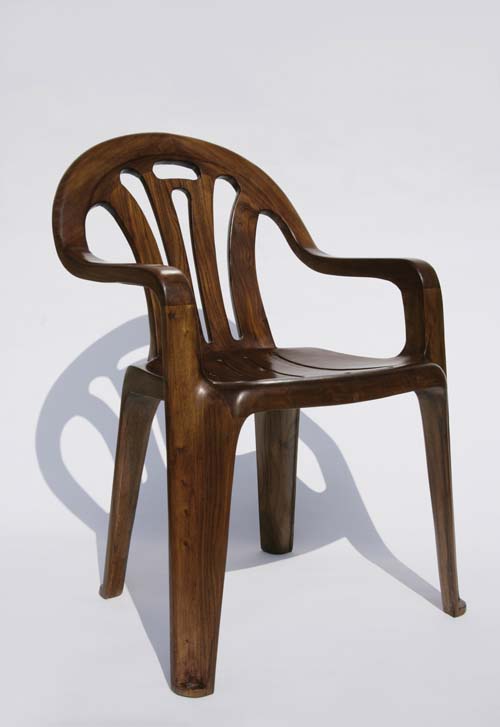 The New Olds - Design between Tradition and Innovation exhibition is a touring international exhibition, featuring designers from Germany, other European countries, the US and local designers. In looking at tradition in design we gain insights into our own cultural constructions, expectations and identities, we capture an essence of the cultural psyche. Curator Volker Albus stresses that investigating our own cultural traditions is crucial.
Khashayer Naimanan's Incognito crockery collection for the Nymphenburg porcelain manufacturer, for example, places the manufacturer's seal in the centre of the crockery piece with the ornate pattern on the underside as a commentary on our prestige-obsessed behaviour with brand names and branding.
New Olds is a layered dialogue featuring design objects and object groupings thematically clustered around materials, construction, configuration, production, and traditional use. It considers contemporary cultural assumptions about design positioning where tradition meets innovation. There are several lighthearted non-commercial statements and elements of cultural critique. It is the third exhibition at the RMIT Gallery curated by Volker Albus, from the State Academy of Design in Karlsruhe, Germany.
Several designers look at the Western cultural obsession with the Oriental carpet's significance in our homes and our attitudes to bourgeois signifiers of status. Albus' own Pixel Persian carpet has taken a minute detail from a Persian carpet and blown it up. This pixillated geometric grid underlying the very structure, colour and pattern of a carpet is normally hidden by the decorative whole. While Soner Ozenc's El Sajjadah, a prayer rug, has a hidden compass and shines brightly with electroluminescent (EL) phosphorus when the piece is correctly aligned to Mecca, an interestingly practical reference to the fact that much religious ritual takes place in the dark of night.
Many of the designers are internationally established and there is additionally a healthy contingent of final year and recent graduates. Local recent design graduate Dale Hardiman bases his design philosophy directly around the sustainability credentials of the materials available for use. His focus is on making objects that are non-toxic for ecosystems and humans within them. The material informs the design of Irregular Forms, where he sourced sticks from Bells Reef in Maldon and constructed lights using the inconsistent organic forms to direct a major part of the design process. Also focused on the sustainability of materials is Bow Bins by Cordula Kehrer who uses found objects like old plastic buckets reconfiguring them with traditional weaving techniques using reed, hemp and other natural materials.
What design exhibition would be complete without the Chair and its many iconic manifestations. The work of Netherlands designer Maarten Baas' Plastic Chair in Wood encourages audiences to 'rethink' the seemingly nondescript plastic outdoor versions that grace many a BBQ area or outdoor café setting. In Frankfurt this chair is banned from many terraces because of its 'cheap and nasty' aesthetic. Baas requires us to look beyond the material to the actual design itself. What is apparent is the innate 'good design' that is obscured by the mass produced plastic versions.
On a smaller scale, American designer Constantin Boym makes a political statement with his miniature replicas Buildings of Disaster. While we may take home an iconic souvenir like an Eiffel Tower replica to remind us of Paris, Boym identifies the more notorious buildings that have come to be identified with a particular city and a particular catastrophic event, like the nuclear reactor at Chernobyl or the Parisian tunnel where Princess Diana died. These are perhaps the antithesis of the great buildings, the souvenirs that would be too tasteless to even consider.
New Olds asks us to reconsider what we have perhaps already discounted as either design classics or only 'classic style' wares. For example Nina Kappenstein's dTales features seemingly classic style dining ware replete with pastoral vedutes but also present are the 'Golden Arches' of McDonalds. Nowhere is safe from consumerism and contemporary branding culture.
The exhibition presents the gallery visitor with an insightful commentary on where design is situated in the first decades of the 21st century as the international thirst for design objects grows. It asks us to consider what our own quirky cultural design traditions offer and how innovation may interact with these traditions in our future homes and dwellings.